Chelsea vs. Barcelona: Dani Alves Unwise to Add Fuel to Blues' Fire
April 17, 2012
Jamie McDonald/Getty Images
It began innocently enough, with Barcelona right back Dani Alves answering questions about Wednesday's UEFA Champions League semifinal tie with Chelsea.
Surely, at some point, someone was going to bring up the 2009 semifinals, which saw the Blaugrana advance to the last match in Rome, where they topped Manchester United to nab yet another European title.
Alves did plenty to praise the effort of that Chelsea squad, telling The Guardian, "There is no doubt that was the hardest game we have played, with everything that was at stake, the moment and everything that happened."
True enough.
Despite a 1-1 draw on aggregate, Barca got by on account of scoring their lone goal at Stamford Bridge rather than at the Camp Nou.
Alves offered his thoughts on the referees, who drew staunch criticism for their performance that day.
"We do not control the referees," Alves wisely insisted. "We are there to play football, to compete and to try to reach the final. What can we do about the referee?"
It was what followed that figures to irk the holdovers from the 2009 edition of the Blues. Alves said:
Chelsea did not reach the final because of fear. The team that has got a man more, is playing at home and winning should have attacked us more. But of course, if you don't have that [attacking] concept of football that Barcelona have, you stay back and you get knocked out.

You have to go forward. Stay back: losers. Go forward: winners. I think Chelsea lacked the courage to take a step forward and attack us. They paid for it.
Again, there is certainly some truth to that notion. The Blues went up on a ninth-minute volley by Michael Essien, only to see potential penalties wiped away by referee Tom Ovrebo before Andres Iniesta drove a dagger into their hearts in the 93rd minute, in a game that saw Barcelona control 71 percent of possession.
There also happens to be a touch of arrogance, at the very least, in Alves' words.
His claims that Chelsea lacked courage and that Barca's style is superior, while not exactly false in and of themselves, aren't likely to sit well with the likes of Essien, Didier Drogba, John Terry, Frank Lampard, Jose Boswinga and Petr Cech, among a host of others who were there that day and still call Stamford Bridge home.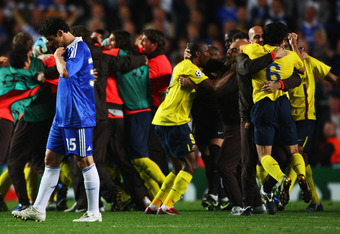 Jamie McDonald/Getty Images
As if the home side needed any additional motivation to prepare for their biggest match of the season.
Now, Chelsea—undefeated since March 21st and playing some of their best football of the campaign—will step onto the pitch against Barcelona that much angrier, that much more ready go at Alves and his 'mates.
Not because the Brazilian's comments were at all off-base, but rather, the public reopening of a wound as painful as the one left from that match three years ago can only awaken a sleeping giant.
Or, at least, caretaker manager Roberto Di Matteo will have to hope that's the case. Otherwise, he'll need more prayers than bulletin-board material to put Chelsea within so much as smelling distance of a Champions League crown.