Mayweather vs Cotto Predictions: Why Cotto Can Threaten Mayweather's Record
April 17, 2012

Jeff Gross/Getty Images
Floyd Mayweather versus Miguel Cotto will electrify a sold-out MGM Grand Garden Arena, but if Mayweather overlooks his competition, "Pretty Boy's" record may leave blemished.
The obvious: Floyd Mayweather is undefeated. He's entered the ring 42 times as a pro, and left with a reassured, signature smile on his face in all 42 bouts.
He's unapologetically cocky, because nobody has given him a reason not to be.
The much-maligned fighter is the poster-boy of HBO's critically-acclaimed 24/7 series. In each installment that he has partaken in, HBO provides two distinct angles that contrasts the boxers' characterizations as if night was fighting day.
The opponent is portrayed as relatively introverted with a docile, welcome-to-my-humble-abode-like personality.
Then, the rhythm of the background music jumps, sunlight consumes the background, a panoramic shot of the Las Vegas strip is broken by chrome rims spinning and a boisterous Floyd Mayweather forces viewers' brain activity to fluctuate.
If something's not broke, don't fix it—right?
To the casual fan, Mayweather/Cotto is the same story with a few subtle revisions. Mayweather embraces the camera and flaunts his lavish lifestyle in front of it. His words provide the fuel, critics retort with fiery rebuttals and ignite a media fire-storm that transforms into a cash cow.
And "Pretty Boy" milks it for all it's worth.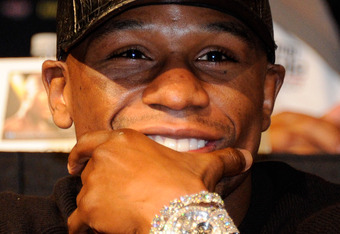 Ethan Miller/Getty Images
But what if Mayweather drops to the canvas for the first time in his flawless career—does the sport of boxing fall with him?
Miguel Cotto's gloves may hold the key to the aforementioned mystery.
Here's a list of Mayweather's previous five opponents in chronological order: Oscar De La Hoya, Ricky Hatton, Juan Manuel Márquez, Shane Mosley and Victor Ortiz.
De La Hoya, Márquez, and Mosley were past their prime (although, the latter two have been competitive against recent opposition.)
Ricky Hatton was outmatched technically, and his punches looked like they were in slow-motion while Mayweather's were breaking the sound barrier.
Victor Ortiz shed light on the solution to bypassing Mayweather's renowned fortified defense—blatant, unforgiving aggressiveness.
Nobody will ever illustrate enough ring-savvy to outclass Floyd and defeat him on a scorecard. He's a technical surgeon that dissects his opponent's weaknesses, then exploits and showcases them on public display.
Standing directly in front of him throwing pot shots has the same success rate as trying to shoot a cheetah with a slingshot. 
But, before the Ortiz head-butt and Mayweather's controversial left-right combination after the break, Victor had demonstrated his most effective flurry throughout the fight. He fearlessly stalked Floyd and trapped him against the ropes, unleashing a barrage of combinations with no regard for his opponent's well-documented counter-punching.
If Miguel mimics this game-plan, he could overcome the obstacles Mayweather presents.
Cotto isn't as lightning-quick as Mayweather, but he's arguably the quickest opponent that has stood in the opposing corner from Floyd since Zab Judah.
Miguel is an intelligent fighter with impeccable stamina, so endurance shouldn't factor into the equation (see Mayweather vs De La Hoya.)
Cotto's biggest advantage is his body punching. Mayweather's head is constantly on a swivel, moving in unison with his adversary's flailing combinations. Obviously, his body is an extensively wider target, and Cotto has repeatedly proven that his hands are like sledgehammers capable of stopping fights with one shot to the midsection.
These factors, combined with Mayweather stepping up to 154 lbs., could make Larry Merchant a very happy man.