Manchester United Reserves: Can the Kids Make the Step Up?
April 19, 2012

Laurence Griffiths/Getty Images
For those of us who have been following the Manchester United Reserves, the news just in is that they came from behind against Newcastle from three goals down to beat them 6-3 and also secured the Barclays Reserve Premier League North Title. They will soon play Aston Villa for a National playoff.
While some of us may dismiss saying, "Oh, it's just the reserves," a point to note is that the team which won this comprised mostly of winners from last year's FA Youth Cup. The Keane brothers (Will and Michael), Paul Pogba, Larnell Cole, Jesse Lingard and Ryan Tunnicliffe. While it is always the desire of many Red Devil fans to see youngsters come through the ranks, they should also know that it isn't as easy as it looks.
Usually when some of the players begin playing in the academy, if their good form continues. Then they play for the reserves. If they begin to outperform in the reserves, it's usually a sign that they can step up to the next level.
A good example of this would be Tom Cleverley. He played with Leicester City where he helped them to promotion from League One to the Championship in 2009, helped Watford FC stay up in the Championship in the 2009-10 season and helped Wigan Athletic stay up in the Premier League in the 2010-11 season. He has been earmarked as one for the future.
Cleverley's path is what a player with a desire and ability to excel needs to take. Some have been luckier, like Pogba and Zeki Fryers who were readily thrust into first-team action and the former Red Devil Ravel Morrison. Apart from securing the Reserve League, they were also runners-up in the Dallas Cup against Coritiba FC, in front of whom they lost 2-1 playing with nine men on the pitch.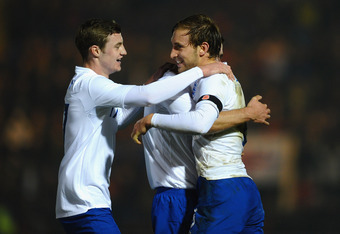 Laurence Griffiths/Getty Images
When a player excels in the reserves, it is usually a sign that he is ready to take the next step which would be playing either as a substitute or starter for the first team or being loaned out to a League One/Championship side. Scott Wooton and Oliver Norwood are currently on loan at Nottingham Forest and Coventry City, respectively, and have had fairly good performances for the side so far.
Then again, this is where the best are separated from the rest. Those who are able to perform consistently when called upon are the ones who are considered to make the cut for the first team, and those who are unable to do so are again loaned out, or eventually, sold. As was the case with Craig Cathcart who now plays for Blackpool FC. Ryan Shawcross and Guiseppe Rossi were cases of not enough first team action and thus they decided to seek greener pastures.
So the question which comes to mind is, who, out of the current reserve crop, will one day play for the first team? This is a tough one to call. While there are many chances that many will make the cut, there are those who might have to look for football elsewhere.
William Keane has been very impressive this season having played played 17 matches for the reserves scoring 14 times and also making five goals. This is clearly a sign that he can develop into a good player if he is given game time and must be sent on loan to either League One or the Championship before he can test his credentials in the Premier League.
MUFC Reserves Captain Davide Petrucci, it is rumored, will shun all interest and sign a three-year contract with Manchester United, according to The Mirror (h/t Tribal Football). This would give him his chance of cutting his teeth and maybe one day playing for first team after bagging six goals and seven assists for the Reserves.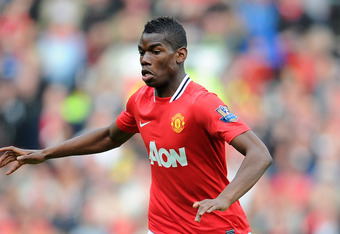 Michael Regan/Getty Images
Then there are Larnell Cole and Jesse Lingard, two wide men who have played well this season, but it remains to be seen whether they can consistently perform the same way in higher divisions where they will have lesser time on the ball and the physicality increases.
Then there is Paul Pogba, whose future itself is in question as he is playing a tug-of-war with Manchester United over whether he should stay or leave for Juventus, who allegedly gave him a deadline over his response, according to goal.com.
Michael Keane, William's younger brother, has also been having a good season with the reserves so far and has elected to play for Ireland despite being eligible for the Three Lions.
Ryan Tunnicliffe, who spent a considerable chunk of the 2011-12 season on loan at Peterborough United under the watchful eyes of Sir Alex's son, Darren Ferguson, has also done well. He played nearly 26 games and created two goals despite playing as a defensive midfielder. 
Oliver Norwood has been at Scunthorpe United, Carlisle United and Coventry City and is yet to dazzle despite having scored two goals for the Sky Blues this year.
Scott Wooton at Nottingham Forest has helped his side secure survival in the Championship, and it remains to be seen whether he too, like Shawcross, would be loaned out once again in the 2012-13 season in order to continue his development. 
While it would be impossible to see another class of '92 which consisted of the Neville Brothers, Paul Scholes, Nicky Butt and David Beckham, we can hope for some of the aforementioned lads to make the first team. The Manchester United academy has produced players such as Darren Fletcher, John O'Shea and Jonny Evans but have also seen players like Sylvan Ebanks-Blake, Jonathan Spector, Phil Bardsley and Darron Gibson, who aren't exactly world beaters.
But the signs, as of now, are positive and there is a genuine feeling that some lads from the current reserve team will one day be playing for the Manchester United first team.
Feel free to leave criticisms/comments, if any. 
Glory Glory Man United!