College Basketball Recruiting: The Top 50 Prospects of 2013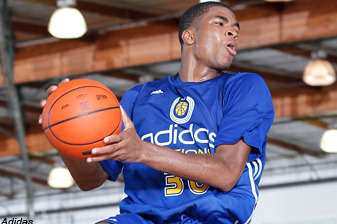 Image from Rivals.com
College basketball recruiting is a race with no finish line, and even as teams put the final touches on their 2012 classes, coaches need to be looking ahead to the summer of 2013. Star center Nerlens Noel may have reclassified to 2012, but there's plenty of talent yet to recruit in the next round.
For one thing, 2013 will mark the debut of college basketball's next great brother act. Texan twins Andrew and Aaron Harrison are both superstars in the making, and like Duke's Plumlees, they're looking to head to the same campus and battle for a national title together.
Herein is a closer look at the Harrisons and the rest of the 50 best prospects in the rising senior class at high schools across the country.
Begin Slideshow

»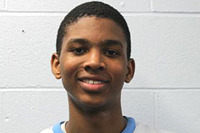 A 6'5" swingman from Illinois, Malcolm Hill is a dangerous passer and mid-range scorer with the potential to become a three-point threat as well. He's a solid defender, but could stand to gain some additional muscle (Scout.com lists him at a wispy 165 lbs).
Hill gave a verbal commitment to Illinois in September, but a lot has happened in Champaign-Urbana since that time. It will be interesting to see if new coach John Groce can keep Hill in the fold for the rebuilding Illini.
Image of Malcolm Hill (and all subsequent images in this article) from Rivals.com.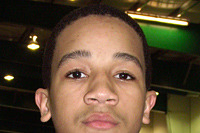 Billy Garrett, Jr. is a classic pass-first point guard whose 6'4" frame lets him see the whole floor.
He's a smart player (his father and grandfather were both coaches, with the former currently serving as an assistant at DePaul), though he could stand to improve his scoring ability.
Unsurprisingly, Garrett's dad (one of the Blue Demons' top recruiters) managed to convince his son to stay in Chicago. He's committed to DePaul, where he'll be a vital piece of Oliver Purnell's attempts to turn the program around.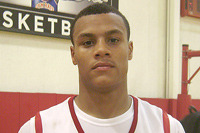 Bryson Scott is an instinctive guard who's a terrific scoring weapon and a solid defender as well.
The Fort Wayne native's biggest downside is his size (just 6'0", 175 lbs), considering that his skill set makes him very much a 2-guard at the college level.
Scott wasted no time in picking a school, having committed to Purdue in November of his sophomore year.
Matt Painter has had his share of success with undersized guards (see Jackson, Lewis), and the Boilermakers will certainly be able to find a place in their rotation for Scott when he arrives.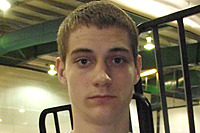 Austin Nichols is a 6'9" center with terrific fundamentals, and he's a notably effective passer. What he doesn't have yet is muscle: Nichols is listed at just 205 lbs, and he'll need to put on some additional bulk for the Division I level.
Nichols hails from Memphis, but the Tigers are just one of many programs he's considering for his next step. Most of the SEC is on his list, so don't be surprised if he stays in-state at Vanderbilt or Tennessee when he makes his choice.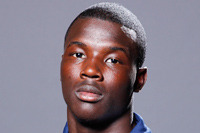 As a 6'6" SF, Derrick Griffin has established himself as a tremendous weapon in the transition game, getting to the rim and the free throw line with great effectiveness.
He's also a solid defender, but has yet to develop the high-precision jump shot he'll need to contribute as a half-court scorer.
Griffin, out of Rosenberg, TX, will be staying in-state for college. He's committed to Texas A&M, where Billy Kennedy's sputtering offense will be glad to have any kind of scoring option.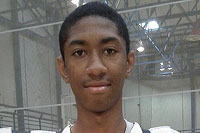 The basketball factory that is Findlay Prep in Nevada never runs out of talent, and Christian Wood is a major part of its next round of stars-to-be.
The 6'8" forward fits the mold of a stretch 4, weighing just 175 lbs, but having the ability to take opposing post players out to the three-point line, and use his length to block shots on the other end.
Unlike this year's crop of Nevada-based standouts (with the possible exception of Findlay's undecided Anthony Bennett), Wood won't be going far for college.
He's committed to UNLV, where the similarly-built Chace Stanback did just fine for himself on the perimeter in new coach Dave Rice's offense.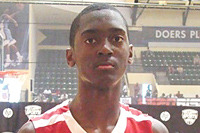 As an athletic, 6'9" PF, Bobby Portis is already doing a fair impression of a college-level shot-blocker and rebounder. His offensive game is a work in progress, but he has potential to burn.
A Little Rock native, Portis has been a lifelong Arkansas fan. Little wonder, then, that he committed to the Razorbacks, where he'll bring some welcome length to Mike Anderson's guard-focused attack.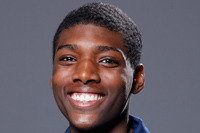 Austin Colbert doesn't exactly have the bulk you'd like in a college post presence, carrying just 205 lbs on his 6'8" frame.
As an athlete, though, his leaping ability and quickness are definite pluses, and he's a valuable scoring option in the face-up game with good range on his jump shot.
Colbert started off in New Jersey before transferring to Connecticut's Hotchkiss School, so it makes sense to see the Big East and ACC heavily represented on his list of potential colleges.
He already has offers from Pitt, Seton Hall, Miami and Xavier (with more likely to come), of which the Pirates seem like a particularly good fit for the offensive-minded forward.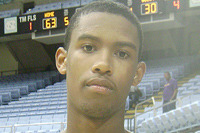 Another potential inside presence who badly needs some extra muscle mass is Malik Price-Martin, who weighs in at 6'8", 195 lbs. What he lacks in physicality, though, he makes up for with a quality shooting stroke and good decision-making.
A Miami native, Price-Martin unsurprisingly has the Hurricanes high on his list, but Louisville, Ohio State, South Carolina and Syracuse are all in the running as well.
Don't be surprised to see Rick Pitino snap him up for the Cardinals, where Price-Martin's mobility and shooting touch would be especially welcome.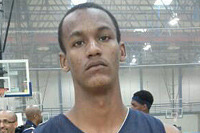 Greg McClinton is a high-energy wing player with the leaping ability to be an outstanding finisher. The 6'6" SF doesn't have a great perimeter game at this stage, but if he can improve the range on his jump shot he'll be a force on offense.
McClinton is from Winston-Salem, and both NC State and Wake Forest are vying for his services. Even so, he's just as likely to end up out of state, where schools including Georgia Tech and Louisville have also expressed interest.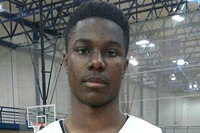 At 6'6", 220 lbs, Semi Ojeleye has tremendous toughness for a high school SF. He's a first-class jump-shooter, but his ball-handling needs a good deal of work.
As a Kansas native, Ojeleye has understandably garnered lots of attention from the Big 12.
He'd be a particularly valuable addition for new K-State coach Bruce Weber (no stranger to elite three-point shooters) as he tries to establish himself in a new conference.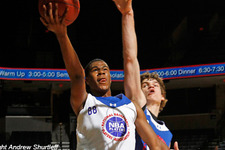 The son of a former East Carolina SG of the same name, 6'4" Anton Gill got his dad's enviable shooting range. He's also a strong finisher off the dribble, and his quickness makes him a force on the defensive end.
Gill committed to Louisville in December, a smart move even before the Cardinals' sensational postseason run. His combination of aggressive defense and shooting prowess will make him an instant hit with Rick Pitino.
One of the flashiest players in the country, point guard Aquille Carr uses his lightning quickness to produce turnovers on defense and points on offense, both in large quantities.
Unfortunately, "large" is a word rarely used of Carr, who's listed at a microscopic 5'7", 148 lbs.
A Baltimore native, Carr (hoping to add core classes to make sure he graduates on time) transferred in March to St. Patrick (N.J.)—despite expectations that the school will cease to exist by next fall.
Even if he's only in New Jersey for a few months, it'll give him an idea of what to expect as a collegian, considering that he's already committed to Seton Hall.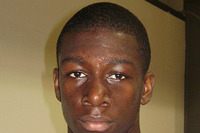 If you can live with his lack of elite size (6'1", 175 lbs), Kendrick Nunn is a fine option as a combo guard. The lefty has an outstanding three-point shot and improving playmaking skills, not to mention solid defensive abilities.
A Chicago native, Nunn has enough offers to go just about anywhere on the map, from Arizona to Providence. He briefly committed to Texas A&M last summer, but is now back on the open market.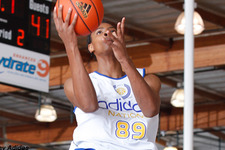 More of an athlete than a basketball player at this stage, Jordan Mickey's game needs a lot of polish, especially on the offensive end. Still, the 6'7" combo forward is impressive in the open floor and has shown strong rebounding ability.
Mickey's only two offers at this time have come from Providence and Houston, though several other Texas schools have shown interest.
Still, after Cougar coach James Dickey pulled off a coup to bring in one of the top recruiting classes of 2012, it would be foolish to count him out in the race for Mickey's services.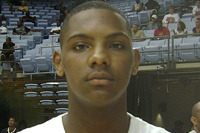 Big for a combo guard at 6'4", Sindarius Thornwell has terrific court vision and the unselfishness to create open shots for teammates.
He can also knock down plenty of shots of his own, though there are questions about his ability to maintain his focus game in and game out.
South Carolina and Clemson would both like to keep Thornwell in his home state, but the competition is fierce. Of nine schools that have made offers, Tennessee looks like it could be a particularly good fit for a versatile guard with loads of offensive talent.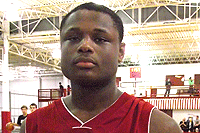 An aggressive, slashing SF at 6'5", Deonte Burton specializes in attacking the basket. He's a terrific rebounder from the outside, though his shot (and his subpar right hand) could stand improving.
Burton, a Milwaukee native who transferred to New Hampshire's Brewster Academy, will be coming home when his high school career is done.
He committed to Marquette in September, giving him a chance to join a growing tradition of physical perimeter players for the Golden Eagles.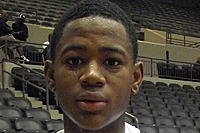 Jarrell Martin is a first-class athlete with a great small forward's build at 6'7", 210 lbs. He's tremendously inexperienced (he didn't play high school ball until his junior year), but with patience he's likely to develop into a superior player.
LSU would love to land the Baton Rouge product, but they're far from the only horse in this race.
Louisville might be the optimal pick among Martin's half-dozen offers, considering that in Rick Pitino, the Cardinals have a veteran coach who can afford to be patient, and whose pressure game can get maximal benefit out of Martin's raw athleticism.
Stephen Domingo is an iffy rebounder who isn't especially effective off the dribble. Of course, it's easy to overlook those weaknesses in a 6'7" small forward with a lethal perimeter shot.
Domingo has excelled in the classroom as well as on the court, and the 15 schools that have offered him a roster spot include Harvard and Penn, along with usual suspects such as Arizona and Memphis.
The San Francisco native has also shown interest in Stanford and Cal (though the former hasn't yet made him an offer), so staying closer to home is a definite option.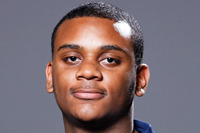 A rare combination of size and skill, Thomas Hamilton is a 6'9", 230-lb center with a nice passing touch and impressive shooting ability.
He can also be a game-changing rebounder, though there is some concern about whether he'll put in consistent effort.
Hamilton, out of Whitney Young in Chicago, has focused his college search on the Big Ten. New Illinois coach John Groce would be happy to sign him, but Michigan State is just as big a contender (and one with a much more established coach at the helm).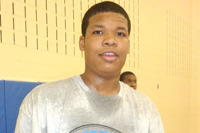 One of the most devastating pure rebounders in the class, Kennedy Meeks is a 6'9", 275-lb monster in the paint.
He's not much for quickness or leaping ability, but there isn't a recruit on this list who holds his ground any better or plays with any more toughness.
Meeks could easily stay close to home in North Carolina, and if he becomes a Tar Heel—one of several ACC programs in the mix—he'll conjure up memories of Sean May inside.
Other destinations that could be terrific fits include Georgetown (he has ample passing skills for the Hoyas' offense) and Florida State (always a good home for physical big men).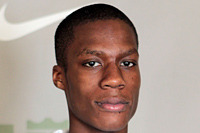 Although Tyler Roberson doesn't have any one skill that can take over a game, he does everything well. The 6'7" small forward is effective as a passer, ball-handler, scorer and (especially) defender.
Home-state schools such as Rutgers and Seton Hall are pursuing the Union, N.J. product, but it's entirely likely that he'll land elsewhere.
Pitt and Syracuse both have plenty of use for an agile forward who can both create havoc defensively and keep an offense flowing.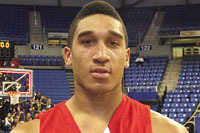 Small forward Ishmail Wainright is a first-rate defender who won't hurt you on the offensive end. He's not a wonderful jump-shooter, but his ability to attack the basket or set up his teammates off the dribble more than makes up for it.
Wainright (from Raytown, MO) had committed to Missouri a year ago before changing his mind.
The Tigers are still a very plausible choice (and a fine home for such a disruptive perimeter defender), but Big 12 rivals including Baylor and Texas are certainly in the running at this stage.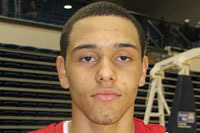 Tyler Ennis isn't a bad scorer, but the 6'2" point guard's real calling is creating opportunities for his teammates. He's an aggressive defender (almost to a fault), allowing him to force plenty of turnovers and set up easy transition baskets.
Ennis, a Canadian who's playing his high school ball in New Jersey, likely has another long-distance move ahead of him. Among his many suitors, Kansas and Arizona seem like especially good options for honing his craft at the point.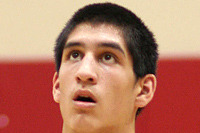 A polished, finesse-oriented power forward, Derek Willis can put points on the board in a hurry.
The 6'9" Kentucky native has enough skill as a ball-handler that he might wind up at SF down the road, but wherever he plays, his offensive instincts will be a major asset.
Willis committed to his home-state Wildcats in January. He's already decommitted once (from Purdue), but John Calipari doesn't lose many recruits, and isn't likely to start here.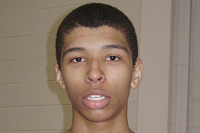 At 6'8", Marc Loving has the potential to excel at either forward spot at the college level. He's a respectable defender, but his real strength is his scoring ability, whether it's in the low post or from the perimeter.
The Toledo native is headed to Ohio State, having committed way back in August of 2010. Considering how well the similarly-skilled DeShaun Thomas has fared in Columbus, Loving's future looks bright.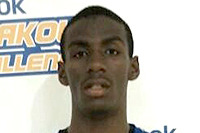 A 6'3" point guard with excellent strength, Rysheed Jordan is a big-time distributor. He's also an effective scorer, though his shooting range isn't exactly his best asset.
A Philadelphia product, Jordan is high on the wish lists of hometown programs such as Drexel and St. Joe's. Of course, with offers from the likes of Maryland and N.C. State, he's fairly likely to wind up further afield.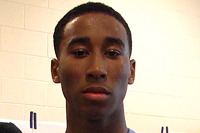 Rondae Jefferson is a 6'6" small forward whose wingspan and intensity make him a tremendous rebounder and defender. He hasn't yet mastered the half-court game, but he has the speed and leaping ability to be a devastating transition scorer already.
Jefferson (out of Chester, PA), already has offers from nearby Temple and St. Joseph's. Slightly farther from home, Pitt and Cincinnati could also be fine options for a versatile wing player who works hard on the defensive end.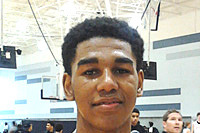 He's not going to break many ankles off the dribble, but Matt Jones is a pure scorer to be reckoned with. The 6'4" SG is one of the top three-point snipers in the 2013 class.
Jones committed to Duke last November, and it's hard to imagine a better fit. His long-range marksmanship will make him an ideal perimeter weapon in Mike Krzyzewski's attack.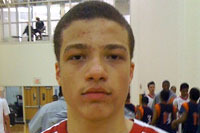 Shooting guard Brannen Greene is a versatile scorer who (at 6'6") makes for a tough matchup on the perimeter. Although he's a shaky defender at this stage, he's certainly got the potential to improve, given the right coaching.
He's likely to get it, because in December he committed to join Bill Self's roster at Kansas.
The Jayhawks' trip to the national title game was, in part, a testament to Self's willingness to stick with seniors, such as Tyshawn Taylor and Jeff Withey, over four years—a patience that's sure to help Greene thrive in Lawrence.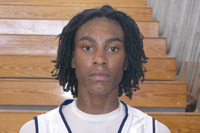 He's no Allen Iverson, but fellow Hampton (Va.) native Anthony Barber does a better impersonation than most.
The 6'2" point guard has exceptional quickness and stays on the attack whether on offense or defense, but he does have a lot of work to do on his long-range shooting.
Unsurprisingly, Barber has an ACC-heavy list of potential schools, with Virginia and Virginia Tech both hoping to keep him close to home.
He doesn't yet have an offer from North Carolina, but if it comes, it's a good bet that Roy Williams' high-speed offense would entice Barber to pick the Tar Heels.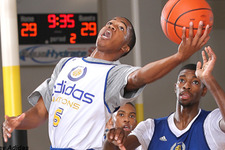 A point guard with no serious weaknesses, Kasey Hill is an outstanding playmaker with plenty of scoring punch.
At just 6'0", 170 lbs, he does need to get stronger to penetrate against collegiate defenders, but that will come with time, and he's already close to a complete package.
Hill will also have the benefit of playing for a coach with some recent experience in dealing with undersized point guards. He's committed to join Billy Donovan's Florida team in the fall of 2013, not even 18 months after the graduation of 5'8" star Erving Walker.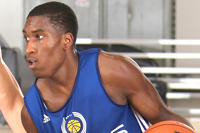 A scoring point guard with blinding quickness, Solomon Poole can beat defenders as a penetrator or a jump shooter. He's only 5'11", though, and still needs to develop his distributing skills to excel at the college level.
Poole's brother Stacey will be joining Georgia Tech as a transfer this fall, and the Yellow Jackets could well land Solomon to go with him.
Failing that, Memphis or Oklahoma State (among others) would be happy to swoop in and sign the Jacksonville native instead.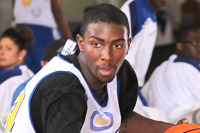 Though he can be streaky, Isaac Hamilton is a pure scorer with few equals in the 2013 class. He needs to concentrate as much on defense as he does with the ball in his hands, but he's going to be a fearsome offensive weapon as a collegian.
Where the L.A. native will be playing, though, is still an open question. UCLA is certainly an option, but conference rivals Arizona or Colorado could easily beat the Bruins to the punch.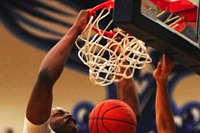 High school post players frequently need to grow into their bodies, and 6'8", 255-lb BeeJay Anya has plenty to grow into.
The bruising center is an overpowering presence on the glass, though he could really use some better finesse moves to help him score.
Anya (out of D.C. powerhouse DeMatha Catholic) is naturally a Georgetown target, but the Hoyas aren't his only option by any means. His physical style would be just as good a fit in the Big Ten, where he has offers from Indiana and Ohio State.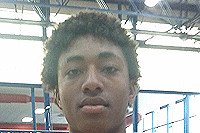 One of a surprising abundance of left-handers in the 2013 class, James Young is an A+ athlete with the potential to be even more.
With more consistent focus and a smoother jump shot, Young would be on track for a full-fledged starring role at the college level.
The Michigan product is looking to stay close to home, a choice that will make some Big Ten coach very happy. Either the Wolverines or the Spartans would benefit from adding Young, and Indiana and Ohio State are both in the mix as well.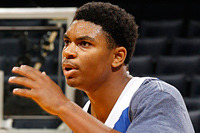 Allerik Freeman doesn't have a well-defined position for college coaches to target, but wherever they play him, he'll be a force.
The 6'4" Freeman could wind up anywhere from PG to SF, combining the passing touch of a true point guard with the athleticism and attacking mentality of a wing player.
Although Freeman hails from Charlotte, he won't be headed to Tobacco Road. Kansas and Villanova have established themselves as front-runners to land him, with UCLA and Ohio State both trying to come from behind as he wraps up his junior year.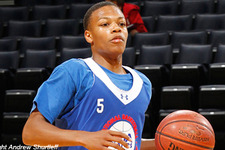 Nate Britt is a game-changing distributor who has the patience to thrive in the half-court as well as in transition. He isn't the greatest scorer around, but he compensates by making better scorers out of every teammate on the floor with him.
Unsurprisingly, Britt's leadership qualities endeared him to PG connoisseur Roy Williams at North Carolina. In November, Britt committed to join the Tar Heels' long line of high-powered playmakers.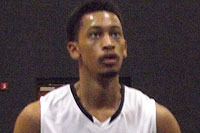 A versatile 6'8" forward with the agility and ball-handling skill to thrive outside, Johnathan Williams III will be a leading contributor to any team as a scorer, passer and rebounder.
Williams has battled some nagging injuries, but when healthy, he can take over a game on either end of the floor.
Memphis would love to hold on to the hometown standout, but the Tigers will have to fight for him. Arkansas, Florida and Tennessee are all very much in contention for Williams' services.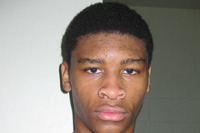 A 6'9" PF with limited shooting ability, Isaiah Hicks has made his mark with tremendous athleticism. His leaping ability makes him equally dangerous in finishing a dunk or swatting away an opponent's layup.
Hicks' ability to outrun opposing big men will stand him in good stead at his next stop. He'll get to finish plenty of fast breaks in Roy Williams' offense after committing to North Carolina last August.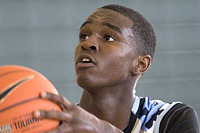 Jabari Bird is a 6'5" swingman with sensational finishing ability and a solid jump shot. He's a wonderful rebounder, but he needs some work on his decision making.
Bird, a Californian, is headed for a Pac-12 school, but which one remains to be seen.
He'd make a fine addition at Washington, where Lorenzo Romar's offense has showcased plenty of high-flying perimeter players, but Cal and Arizona will provide stiff competition for his services.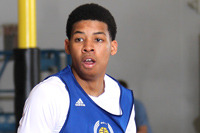 A 6'4" shooting guard who already boasts NBA range, Keith Frazier is nearly as effective in transition thanks to his tremendous physical tools.
He's not as aggressive as he should be when it comes to getting into the paint, but as his strength improves to match his quickness and leaping ability, he'll be more comfortable attacking the rim.
Frazier is a Dallas product, and Texas coach Rick Barnes would love to keep him in state.
Of course, Big 12 rivals such as Oklahoma and Baylor are very much in the picture as well, and Frazier would be a major asset to any of the host of schools with scholarships ready and waiting for him.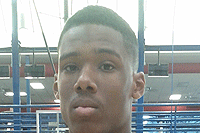 Nick King brings outstanding toughness and a sweet jump shot as a 6'7" swingman. He's a willing defender too, though there (as on offense), he would be more effective with a little more raw muscle.
King is part of the latest bumper crop of Memphis-area talent, and the hometown Tigers would benefit immensely from landing him.
Other front-runners for King's talents include Georgetown and Arkansas, both of whose offenses would welcome such an unselfish contributor.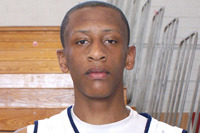 A long, lean swingman at 6'6", Troy Williams is a devastating defender with a tremendous work ethic. He could use work on his jump shot, but he's a highlight-reel finisher in transition.
Williams' build and defensive acumen match the profile of many John Calipari wing players at Kentucky, a group he might well join.
The Wildcats' main competition for Williams appears to come from North Carolina and Georgetown (the latter being a near-hometown option for the Virginia native).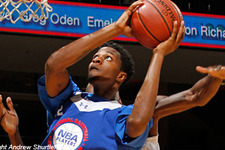 Like so many young big men, Chris Walker needs to add a lot of muscle to his slender 6'10", 205-lb frame.
Once he does, though, his rebounding and shot-blocking instincts (not to mention a small forward's jump shot) will make him a first-class frontcourt player.
Billy Donovan is making a push for the Florida native, but the Gators haven't closed the deal yet. Kansas and Ohio State are the other two leaders in this race, and both have plenty to offer an athletic forward like Walker.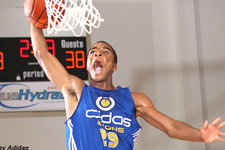 A physical, 6'5" shooting guard, Aaron Harrison is a potent defender and an even better scorer.
He's got a great feel for the game, and whether it's spotting up for jumpers or driving and kicking to an open teammate, he makes a lot more good decisions than bad ones.
Aaron and twin brother Andrew are a package deal, and they've narrowed their shared list to five finalists.
John Calipari and the defending champs from Kentucky are slightly ahead of the pack, but Villanova, Baylor, Texas and Maryland are all still in the hunt.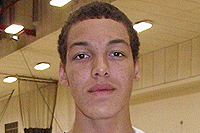 A high-motor defender who loves to run the floor, Aaron Gordon has the athleticism to play either forward spot at 6'7". He's a terrific passer (if only a competent shot) in the half-court, and he's as good as they come at finishing the fast break.
Although Gordon is a San Jose native, Stanford doesn't appear to be the favorite among the schools pursuing him. Rivals.com projects Washington as the front-runner, and his energy and skills around the rim would be a great fit with the Huskies.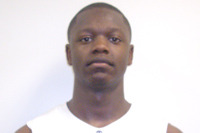 Julius Randle isn't going to wow scouts with his shooting range, but there isn't a better back-to-the-basket scorer to be found in the class of 2013. At 6'8" and 225 lbs, he's a gritty defender and a punishing rebounder to boot.
The Plano native is keeping his options open in recruiting, but he could do a lot worse than following in Tristan Thompson's footsteps at Texas.
The Longhorns have plenty of high-end competition, with Duke, North Carolina and national champion Kentucky all in the running for Randle.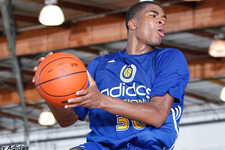 Andrew Harrison knows how to use his 6'5", 210-lb frame to be a dominant rebounder and defender on the perimeter. He's not a top-drawer three-point shooter, but he attacks the basket very well and has the smarts and passing ability to be an elite point guard.
With twin brother Aaron, Andrew could very well make Kentucky a national title contender again in 2013-14. The brothers haven't committed yet, though, and any of Maryland, Baylor, Texas or Villanova could yet score the best two-for-one deal in years.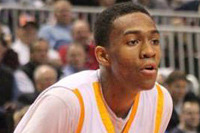 Five years after Simeon Career Academy sent Derrick Rose to Memphis, the Chicago-area school again boasts the single most talented recruit in the nation.
6'8" Jabari Parker is a multi-threat small forward with superlative athleticism, plenty of polish, and enough potential to draw Carmelo Anthony comparisons from ESPNU's scouts.
Parker hasn't ruled out staying local with schools such as Illinois (whose record books are loaded with Simeon alumni) or Northwestern.
Of course, with offers from every member of this year's Final Four (not to mention North Carolina, Duke and Michigan State), it's far more likely he'll end up taking his talents to Chapel Hill or Kentucky for what's sure to be a brief college career.