The Doctor's Weekly WWE Raw Recap: The 151 Things We Learned, Loved and Hated
"I bet shane never took Brock to any Lakers games" John Cena
Noel Vasquez/Getty Images
I want to begin by taking a moment to thank everyone who voted in the polls on last week's recap for SmackDown as well as those who left feedback in the comments section.
I enjoy writing these ridiculous recaps, but like anything, I always feel there is room for improvement, so I posted several polls asking for feedback on possible changes to the format I was considering.
The consensus seemed to be that other than switching up the games each week, I should not really change anything, so I do not intend to make any major changes anytime soon.
I truly appreciate my loyal weekly readers, but for those of you who are new, each week I recap Raw with a long list.
The entries are made up of equal parts humor, recap, play-by-play, revelations, speculations, questions, answers and anything else I notice during the show. I sometimes comment on commercials too, just because I get bored during them.
I have two games each week as well. The first game this week will be a final nickname game. See list items 118 and 119 . The other game is listing the best sign you saw in the crowd tonight. I will put up Polls on Friday's recap to vote for the best suggestions I receive for both games.
I do have to say that I will miss the funny Otunga nicknames, so if you ever come up with a really good one, feel free to share it.
I try and interject some fun into these lists, so I hope you have fun reading this week's list of the 151 things we learned, loved and hated from the show. Fair warning, this is a long one.
Rate the show from 1-5 stars
1. Raw is live (pre-taped) from London, England.
2. It must be Green Week again at USA Network. My USA logo is green.
3. Nice. The first match is the no-DQ WWE Championship match between Mark Henry and CM Punk.
4. Henry doesn't get his own entrance and is in the ring when CM Punk comes down. This can't be good.
5. I wonder if he had a full entrance before the taping began.
6. More replays of CM Punk getting "hit" with the bottle of whiskey.
7. Hey Lawler, shut up. I can't hear what the crowd is chanting.
8. Henry uses his power to take the early advantage over the champ.
9. Punk's head looked like it hit the ring really hard when Henry gave him a standing spinebuster.
10. Punk takes Henry down outside the ring with a nice suicide dive.
11. CM Punk jumps up on the guard rail and runs it until hitting a diving Bulldog on Henry.
12. That was a pretty cool spot. I remember Jeff Hardy used to do that in WWE all the time, but he always seemed to fall down or jump too early.
13. Damn. Henry catches Punk as he tries to dive off the apron and just whips him into the barrier. That had to hurt, at least a little.
14. After the commercial Punk brings a chair in the ring and goes to work on Henry.
15. I love how Lawler is encouraging Punk to use the chair again.
16. Henry hits a kick on Punk. It looked like it might have landed a little low.
17. The crowd in England is always very vocal, and tonight is no exception.
18. Hahaha. Punk hits a bunch of chops on Henry and the crowd is chanting "Yes" with each one instead of the traditional "Whoo."
19. Henry locks in the bearhug in Punk.
20. More "Yes" chants as Punk hits a series of elbow to break free.
21. I think the English fans must appreciate WWE shows a bit more since they have so fewer chances to see it live.
22. I am not saying they like WWE more, but they seem to get more amped up.
23. Henry runs right into the steel chair that was set up between the ring ropes and he looks like he is out.
24. Punk climbs to the top turnbuckle and signals for a chair-assisted Macho Man elbow drop.
25. Whoa! Did that actually hit Henry right in the face?
26. Punk wins after that huge move, which looked like it might have actually hurt Henry a little bit.
27. Honestly, how could that not hurt even if it was executed to perfection?
28. Jericho is up on the Tron with a bunch of bottles of booze surrounding him.
29. How does Jericho attacking Punk with alcohol week after week grant him a title match?
30. Punk says that a Chicago Street Fight is going to be the best way to beat Jericho because it will be in Chicago.
31. I'm going to Extreme Rules in two weeks. Who else is going?
32. Jericho plays a video of CM Punk walking into a pub and as he exits, he throws up his hoodie.
33. Jericho questions why Punk was there and Punk says he can come find out for himself if Punk is drunk.
34. Punk says he went there with some friends.
35. Note to self. If you want a cheap pop in England, mention fish and chips.
36. Damn, I could go for some fish and chips right now.
37. I wonder if Punk has ever had an O'Douls? It would be funny if they had Punk mess with Jericho by making him think he caught Punk drinking only to reveal it as non-alcoholic beer.
38. Michael Cole hypes a special interview with Brock Lesnar.
39. WWE seems like they want to pass this off as a shoot on Cena by Lesnar.
40. Awesome. R-Truth is finally getting some time to showcase his insanity. I have really missed this.
41. Truth is dressed as Sherlock Holmes as he talks to Teddy Long.
42. Little Jimmy Watson is his assistant? Priceless.
43. Truth says he is going to find Teddy a job and Teddy says it is the best news he has had all month.
44. Santino goes through a half dozen Football Jerseys during his entrance, each one getting boos until he gets to the Jersey they like.
45. David Otunga is out next as his opponent.
46. Otunga does a Masterpiece posing session on the ramp before coming to the ring.
47. This is for the US title. Appropriate seeing as they are in England tonight.
48. Otunga looks super-green in the first 30 seconds of this match but then he starts picking up the pace.
49. The crowd doesn't seem to into this match yet.
50. Santino does his drop to the mat to avoid a clothesline and Otunga just kicks him in the face.
51. Santino gets his foot on the bottom rope to avoid a pin.
52. Good God, what is happening? Otunga nearly landed on his neck when he barely made Santino's hip toss.
53. Santino wins with the Cobra, to the delight of the crowd.
54. That match looked pretty sloppy, and both of these guys have proven they have decent in-ring ability lately, so I am surprised it went off this way.
55. Cool. A Lord Tensai interview. I have been waiting to hear what he has to say.
56. Tensai says "You fear the unknown" and then something in Japanese before saying "I know what you should fear.":
57. That was odd.
58. Why does it seem like the word "piss" is only randomly bleeped? I hear it sometimes and other times it's censored. I don't get these rules!
59. And when did piss become a bad word? I seriously do not remember ever being told not to say it by teachers or parents.
60. But Bastard is OK to say, kids. Jericho proved that several times in recent weeks.
61. They finally air the full segment with Brock Lesnar.
62. I like how he claims no one in WWE has his accolades.
63. I guess we don't count Kurt Angle since he left WWE for TNA, right?
64. He talks about his time in UFC and being able to prove a lot of critics wrong.
65. I wonder where his career would be had he never had diverticulitis.
66. The second Lesnar says "This is real," I knew it was a work.
67. Before I forget, I have a prediction. Brock Lesnar will be Undertaker's opponent at WrestleMania 29 and he will put his career on the line, which will explain his departure after his one-year deal expires. I have to remember to check back on this article in a year to see if I am right.
68. Zack Ryder is out first to face Kane.
69. Holy Crap! As WWE put up the graphic for the Cena vs. Lesnar match I realized for the first time that WWE had paired up the two guys with the most square-shaped heads ever.
70. Also, am I the only one who thinks Lesnar's head sort of looks like the head from a Lego guy?
71. Amazing. I just Googled "Lego Lesnar" and I found an Ebay listing for a WWE custom lego Brock Lesnar. It sold for $10. It just looks like a Lego guys in his underwear, socks and knee pads. It's creepy as hell the way he is smiling, too.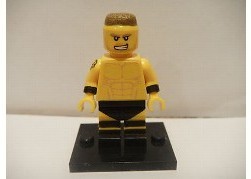 Photo: Ebay user chaos­prdgi­( 136)

72. WWE plays a clip of Randy Orton and his father being attacked by Kane on SmackDown.
73. Smart money says Orton shows up during Kane's match with Ryder.
74. Kane kicks Ryder off the apron into the announce table before the bell even rings.
75. Kane is punishing Ryder without the match even being official yet and the ref signals that the match won't even happen.
76. Kane ends Ryder with a chokeslam and then talks about how he hurt Cowboy Bob and Randy Orton.
77. Ha. Kane drops the mic as he goes to leave, and the little WWE cube on it broke off.
78. Kofi is talking to AJ backstage and Daniel Bryan walks up and gets pissed off.
79. The crowd is chanting "Yes."
80. Bryan changes the name of his LeBell Lock to the Yes Lock.
81. Bryan starts chanting "Yes" in Kofi's face and the crowd chants with him.
82. That was a little too heavy on the whole "Yes" thing, in my opinion.
83. Ha! Mr. Kennedy is shown in the promo for Edge's new DVD.
84. John Cena is out next to a mostly negative reaction from the London crowd.
85. Maybe if he mentions having taken a ride on a double-decker bus he will get a cheap pop like fish and chips got for Punk.
86. They keep playing the clip of Lesnar's punch to Cena's face that ended up busting Cena open.
87. Cena's speech is not doing anything to get the crowd on his side.
88. Cena's voice breaks a little when he screams "I will fight!"
89. Big John Laurinaitis comes out to some decent heat of his own.
90. Laurinaitis announces that Cena will be in an Extreme Rules match tonight against a mystery opponent.
91. We get some more coverage of PubGate 2012.
92. Lawler defends Punk saying the tape does not prove he drank alcohol.
93. I sometimes wonder if the personal issues between Jericho and Punk is overshadowing the WWE championship itself. The feud does not seem to ever focus on the actual title anymore.
94. I am sure that is all supposed to be part of Jericho's master plan, but they should be talking about the title itself a bit more.
95. R-Truth pops out from a bookcase and Hornswoggle seems too confused to use his words good. I mean well.
96. Kofi is out for his match with Daniel Bryan and he gets some heat since the crowd is clearly in Bryan's corner tonight.
97. Bryan comes out to a "Yes" chant from the crowd.
98. I wonder if WWE will continue to ignore the fact that Bryan is getting mostly face reactions these days and keep him as a heel until his support cools off a bit or if they will eventually turn him face again.
99. I can't help but laugh when Bryan gets a single takedown and then throws up his arms and screams "Yes" in Kofi's face only to get elbowed right in the jaw.
100. Kofi gets in a few hits and the crowd chants "No" every time he hits Bryan and then when Bryan hits him back they chant "Yes."
101. I am telling you, the crowds in England are some of the most vocal in the world.
102. Bryan is still in control when the commercial ends and AJ is shown backstage watching the match.
103. Is WWE trying to make AJ look like an idiot or just a naive girl in love? I can't tell anymore.
104. Kofi starts to mount some offense and he starts hitting all his signature moves, much to the dismay of the crowd.
105. He sets up for the Trouble in Paradise and Bryan almost counters into the Yes Lock until Kofi hits him with an SOS for a near fall.
106. This is a good match, but I think they could put on a 5-star match if given enough time on a PPV someday.
107. Kofi ends up in the Yes Lock after missing a cross body and Bryan makes him tap for the win,
108. I think Kofi might have been saying "Yes" when the ref asked if he wanted to give up, but it was hard to see with Bryan's hand in the way.
109. Bryan locks it back in after the match is over and Sheamus' music hits as he storms the ring.
110. Bryan avoids the Brogue Kick and bails.
111. Sheamus gets a mixed reaction. You can tell some people want to cheer for him but a lot of the crowd was still for Bryan as he got another Yes chant going from the ramp. I guess he doesn't think the chant is mocking him anymore.
112. "Were you saying Boo or Boo-urns?" "I was saying Boo-urns."
113. Brodus Clay is out to a nice little pop.
114. I think he lost a lot of his momentum when WWE took him off TV for several weeks awhile back. He just doesn't get the same kind of reactions that he first had when he debuted.
115. I do have to say that Clay looks extra energetic while dancing tonight.
116. Vickie comes out to a deafening heat to bring out Dolph Ziggler.
117. Here is another two people who have up and down momentum recently too. The match ends really quick when Swagger gets in the ring and attacks Clay only to get ejected from the ring. Clay celebrates with his dancers.
118. Okay, I have officially decided to end the nickname game so I can create some new ones, but I have to do one more about the fact that Dolph, Vickie and Jack Swagger are all decked out in pink tonight.
119. If you have a good nickname for a pink-themed stable to represent Ziggles, Swaggles and Vickie please leave it in the comments section below. Because this is the last nickname game, I will put up a poll on Friday's recap with some of the best submissions that you can vote on.
120. They show the video package remembering Chief Jay Strongbow. It is nice to see him get more than the Rest in Peace title card at the top of the show. They have shown this video multiple times now and it really shows how Vince must have felt about him.
121. Truth is shown telling Teddy he should be the GM of SmackDown. Teddy questions his sanity and then leave.
122. Khali is out next to team with Big Show to face Epico and Primo.
123. And it must be mentioned that Rosa, the most vocal of the team on Twitter according to Cole, is out with them.
124. I missed those legs.
125. AW is out scouting the match from the ramp.
126. Are we just forgetting that he was Abraham Washington of the terrible Abraham Washington Show?
127. Epico and Primo can't get in any offense against the two giants.
128. Rosa tells the champs to take the belts and get out of Dodge, but Big Show puts a stop to that and throws them back in.
129. The Chokeslam and Punjabi Plunge take out the champs.
130. Maybe teaming with Big Show is the best way to use Khali after all. Show can do most of the ring work and Khali being his partner makes them an instant unstoppable force simply due to their size.
131. Then again, Ziggler did make Khali pass out with the sleeper hold once, so maybe size doesn't matter.
132. Get your minds out of the gutter. I know what you were thinking.
133. Cena is out followed by Johnny Ace and the Mocha-Drinking Masterpiece.
134. Lord Tensai is Cena's opponent. This should be interesting. I haven't read the spoilers so I am curious to see how they will have Tensai perform against Cena.
135. I wonder if Tensai can be what WWE tried to make Umaga into. I miss that guy. Rest in Peace.
136. Cena looks a bit intimidated by the massive man across the ring.
137. I forget how big Tensai is sometimes but seeing him dwarf Cena, who is no small man himself, reminds me very quickly that this guy is gigantic.
138. Tensai is firmly in control in the first few minutes of the match.
139. You know who else was way more successful in Japan than in the US? Scott Norton. Remember that guy from the NWO who always teamed with Buff Bagwell?
140. I am a little shocked at how much Tensai is dominating Cena in this match. I like how WWE is booking him so far. The KO wins are a nice touch.
141. Cena tries to lift Tensai up for an AA but he was unable to lift him up.
142. Dammit, Cole! That's not an STF, its a Crossface!
143. Otunga runs in to break it up and Cena hits an AA on Otunga.
144. He gets up and turned into a blast of green mist from Tensai, Muta-style.
145. Tensai wins! Tensai wins!
146. I wonder if Cena really took that in the eyes, he is calling for water pretty furiously after the match.
147. I think had Cena not gotten any of that in his eyes, they would have had Tensai apply the claw before the show ended.
148. Overall, I enjoyed this show a lot. There were a few low points, but the London crowd always makes for an interesting show.
149. No Divas match this week. I am thinking that since the Divas matches have been happening at such a low frequency, that I should eliminate the game for something better.
150. A lot of people suggested a sign of the night game, so I think we will test that out. If you saw a funny sign in the crowd tonight tell us what it is and on Friday's recap, I will put some of the best in a poll so people can vote for their favorite.
151. I hate even numbers.
Thanks for reading and feel free to share your thoughts and additions to the list below. Also, please take a moment and make your favorite signs from the crowd as well as your pink-themed nickname for the stable of Vickie, Swagger and Ziggler..
This article is
What is the duplicate article?
Why is this article offensive?
Where is this article plagiarized from?
Why is this article poorly edited?