Washington Nationals: The Franchise's Top 7 Prospects Not Named Bryce Harper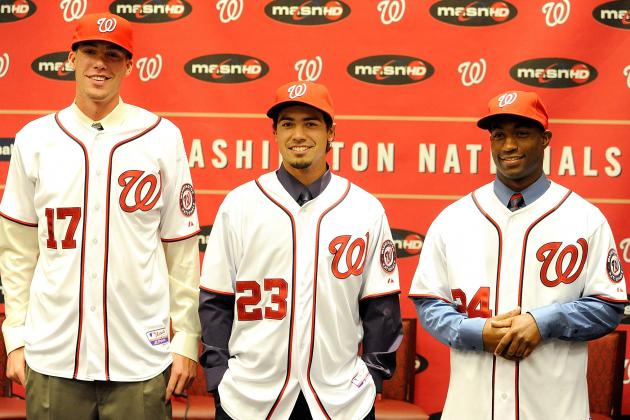 Greg Fiume/Getty Images
Alex Meyer, Anthony Rendon, Brian Goodwin (L to R).
Bryce Harper is only 19 years old, but many seem ready to send him right to Cooperstown. He is currently rated by Baseball America as the No. 1 overall prospect in the minor leagues. He will be making his major league debut very soon, probably before this year's All-Star break.
But as Harper has quickly become one of the most hyped prospects in recent baseball history, he has cast a long shadow on the rest of the Washington Nationals farm system. Now, it is time to bring the best of the rest into the light of exposure. This group helped the Nationals earn the 12th spot in Baseball America's 2012 organization talent rankings. And just like Bryce Harper, these seven will soon be playing major league baseball for the Washington Nationals.
Begin Slideshow

»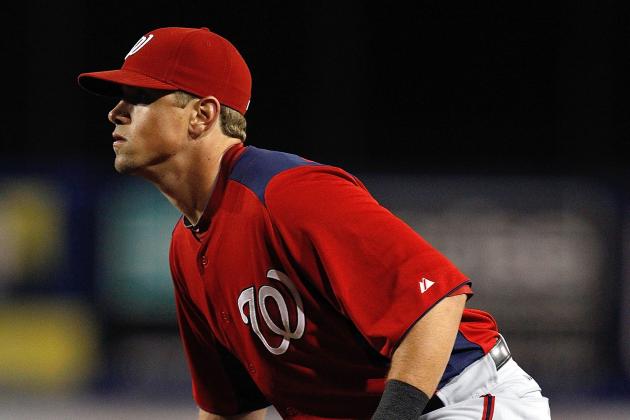 Sarah Glenn/Getty Images
Tyler Moore, durig 2012 Spring Training.
Tyler Moore can flat out hit. The 25-year-old Mississippi State standout has impressive power numbers, and finished each of the last three minor league seasons with an OPS over .800. He also struck out at least 100 times in those same three seasons.
Moore was selected by the Nationals in 2008, and was chosen as an MLB.com organization All-Star in 2010 and 2011. Tyler Moore is the only member of this list at Triple-A Syracuse. But with the return of Adam LaRoche to the Washington Nationals, this right-handed slugger's ascent to the major leagues has been slowed.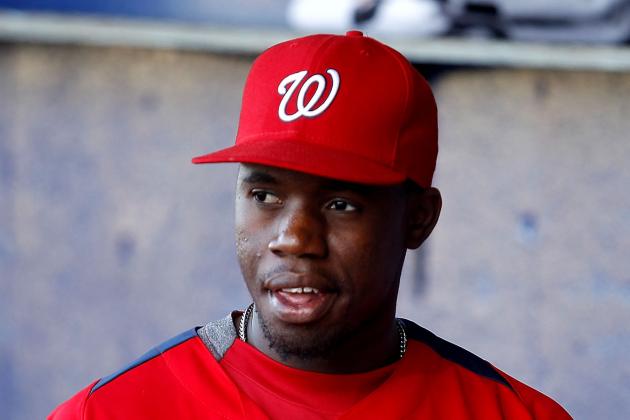 Sarah Glenn/Getty Images
Eury Perez during 2012 Spring Training.
An excellent athlete, Eury Perez is considered by Baseball America to be the fastest base runner in the Nationals' system. The Dominican native signed with the team in 2007, and his minor-league career began two years later.
So far, Perez has shown he can hit for average and be a significant run-producer. He has put his speed to good use with 40 or more steals each of the last two seasons, and is only caught stealing 30 percent of the time. Perez would be a welcome addition to the outfield, and he is not that far from the majors at Double-A Harrisburg.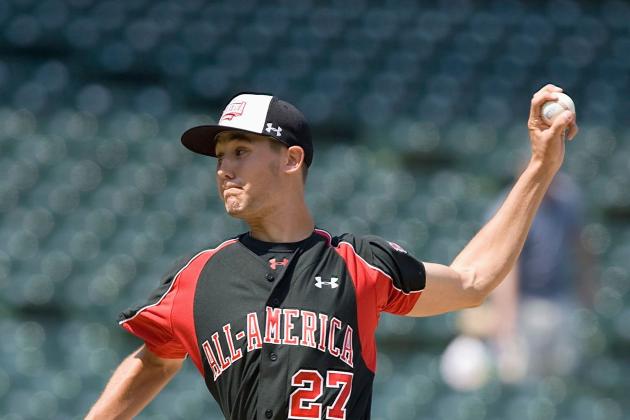 Dilip Vishwanat/Getty Images
Matt Purke, at the 2008 Under Armour All-America Game.
Matt Purke was drafted in the third round of the 2011 amateur draft, 96th overall. The 6'4", 205-pound left-hander from Texas excelled at TCU. He was set to begin his minor league career this spring at Single-A (advanced) Potomac, but is currently on the disabled list.
Matt Purke, considered the fifth-best prospect in the Nationals' system by Baseball America, will have to wait to start his journey to the major leagues.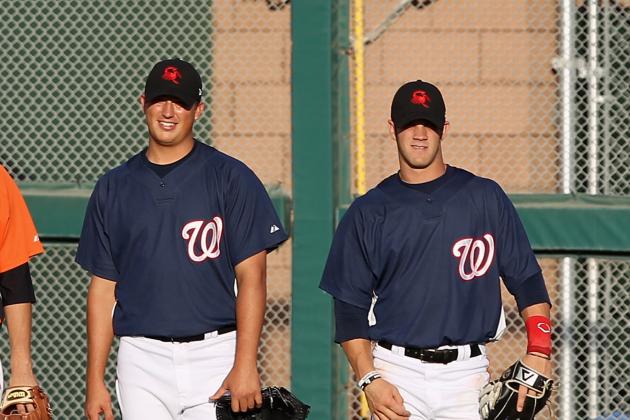 Christian Petersen/Getty Images
Sammy Solis, left, with Bryce Harper at the 2010 Arizona Fall League.
Sammy Solis is a power-pitching left-hander who could challenge for a spot in the Nationals' starting rotation in the near future.
In his minor league career to date, Solis has a strikeout-to-inning ratio of almost 1:1, and a strikeout-to-walk ratio of almost 4:1. The 23-year-old native of Arizona played college ball at San Diego State, and was selected in the second round of the 2010 First Year Player Draft.
Sammy is actually considered by Baseball America to be the sixth-best Washington Nationals prospect, right behind Matt Purke, but Solis rates higher on this particular list because he has gained more minor-league experience.
Sammy Solis played in the 2010 Arizona Fall League with Bryce Harper, and is currently at Single-A (advanced) Potomac.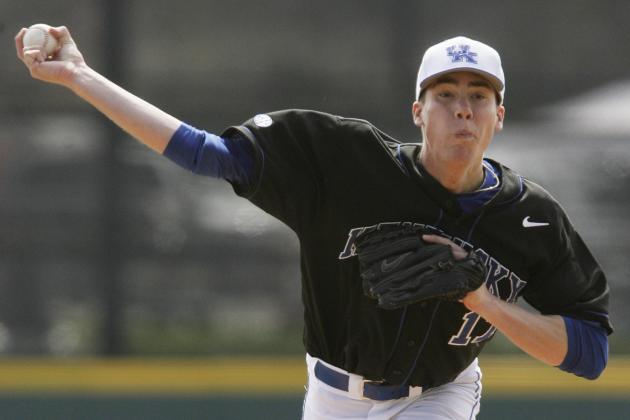 Alex Meyer at Kentucky.
Alex Meyer is an imposing figure, and the 6'9" right-hander from Greensburg, IN, should terrorize the minor leagues for the next two years.
His minor league career just began this spring at Single-A Hagerstown, and he already has 13 strikeouts in 10.2 innings pitched. Meyer's best pitch is his slider, which Baseball America rates as the best in the Nationals system.
Alex Meyer was actually selected by the Boston Red Sox in the 2008 First Year Player Draft, but finished his college career at Kentucky. He was then selected 23rd overall by the Nationals in the 2011 First Year Player Draft. Alex Meyer can take his time and develop properly in the minor leagues due to the strength of the Washington Nationals' starting rotation.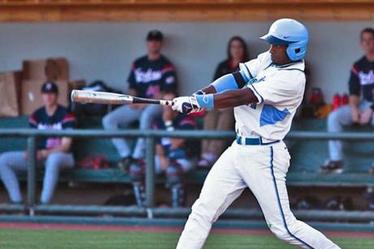 Brian Goodwin at UNC.
Brian Goodwin was so highly regarded by the Washington Nationals when they selected him in the 2011 Draft out of UNC that he received the fourth-largest signing bonus in club history.
So far, the center fielder from Rocky Mount, NC, has delivered on the investment. Currently at Single-A Hagerstown, Goodwin is hitting .375 through the first five games of his minor league career. He also has two home runs, eight RBI and 1.336 OPS.
The Washington Nationals are still looking for an everyday center fielder, but now they just have to wait for Brian Goodwin to make his major league debut.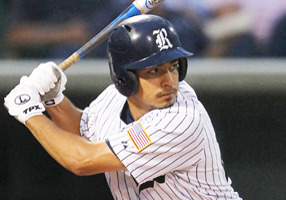 Anthony Rendon at Rice.
Anthony Rendon has a sweet swing, and the Washington Nationals coaching staff is already raving about him. The former Rice University standout was drafted sixth overall in 2011 to provide organizational depth at third base behind Ryan Zimmerman.
Anthony Rendon is considered the 19th-best minor league prospect by Baseball America, but a recent injury has derailed the start of his minor league career at Single-A (advanced) Potomac.
Baseball America rates Rendon as being the best hitter for average in the Nationals' system, as well as having the best strike zone discipline. Rendon won so many awards and accolades in college, including multiple Player of the Year honors, that he has a day named after him in Houston. If his career proceeds as expected, Anthony Rendon may soon have a day named after him in Washington, DC.