New York Yankees: Freddy Garcia Continues to Pitch Himself out of Rotation
April 17, 2012

Al Bello/Getty Images
Freddy Garcia needed a big start on Monday night for the New York Yankees.
He needed one because Andy Pettitte continues to shine down in the minor leagues, and when it's time for Pettitte to return to the majors, someone will lose his spot.
If Garcia were pitching well, maybe it would be Phil Hughes who gets bumped.
But Garcia did not have that start he needed. In fact, he was pretty awful for the Yankees.
Garcia was knocked around for nine hits and five runs by the Minnesota Twins and boosted his 2012 ERA to 6.97.
The Yankees weren't able to recover and lost the opener of the series 7-3.
Now, I know it's just Garcia's second start and it's only April, but Garcia is in a competition right now to save his job.
Against the Baltimore Orioles in his first start, he was downright lousy and got chased early. If the Yankees didn't rally to beat Baltimore, Garcia would have lost that game, but his offense bailed him out.
Garcia got chased again Monday night after pitching 5.2 innings, but his offense couldn't bail out his second straight lousy performance another time.
The 2011 and 2012 Garcias are completely different.
In 2011, Garcia, while not throwing as hard as he once did, was fooling hitters and using location and change of speeds to get hitters out, and it worked well for him.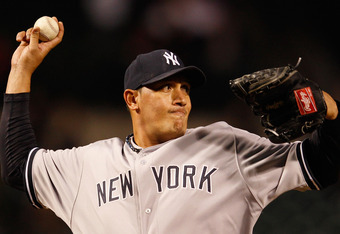 Rob Carr/Getty Images
In 2012, Garcia has the same velocity, but the location isn't there. His breaking pitches aren't breaking where he needs them, and he leaves a lot of pitches in the middle of the plate for hitters to drive.
And because of that, Garcia's ERA is just below the 7.00 point, instead of the 3.00 mark that it was right around in 2011.
Garcia wasn't exactly jumping for joy when the Yankees signed Pettitte to a one-year minor league deal that brought him out of retirement.
But with Michael Pineda's injury, Garcia got a chance to earn his job and stick in the rotation, and he might force the Yankees to bump someone else.
But Garcia is not convincing anyone that he deserves to keep his spot in the rotation.
If Garcia keeps pitching terribly, the Yankees do have David Phelps, who has shown a lot of potential by pitching well early on in the season, and he could end up switching spots with Garcia if the Yankees needed to make an early change.
Now, I know, it's early in April.
But Garcia has shown no sense of urgency that he deserves to keep his job and could eventually find himself out of the rotation and into the long-relief role.
It's only a matter of time before Garcia loses his spot if his poor performances continue.
Stay tuned, Yankees Universe.