NBA Draft 2012: Perry Jones III and 8 Prospects Desperate Teams Must Gamble on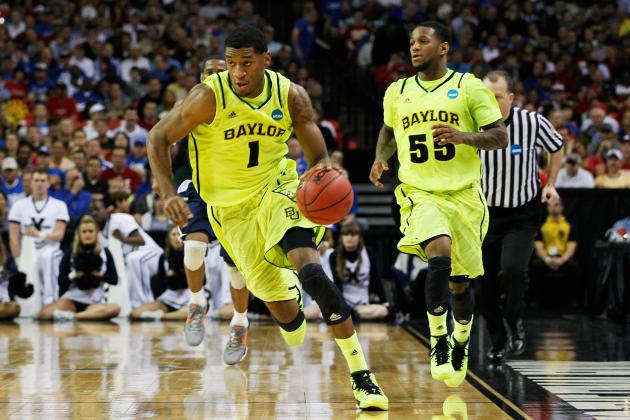 Kevin C. Cox/Getty Images

The NBA Draft is one of the best ways for a team to either add onto a very good core or begin the process of turning into a winner. If a team can hit on its draft picks, it can literally go from loser to contender in just a couple short years. But the draft is also a big risk.
Just about every pick is a gamble, and every year a team loses a golden opportunity gambling on a player that doesn't pan out.
Sure, there are the "can't miss" prospects, like Anthony Davis this year. All indications are, unless something unforeseen happens to him, Davis will be ready to make a big impact in the NBA from the minute he puts on a uniform.
But there are only going to be a couple teams that are in position to select these "can't miss" players. For the rest of the league, the draft is about finding players who have the character, work ethic and talent to become good or great players in the future.
Perry Jones III pretty much leads the way for players who could turn out to be great in the NBA, but they're not sure-fire prospects. The really great teams are the ones who hit on players like Jones, who has tremendous potential, but also the potential to flop.
The upcoming draft is exceptionally deep with these players. These players weren't just role players on their college teams, like you'll often see in the second round of the draft. These players were stud college players who had big success at the NCAA level or in Europe.
This is a list of 10 players in the upcoming draft who have the potential to be great for whatever team takes the gamble and selects them.
Begin Slideshow

»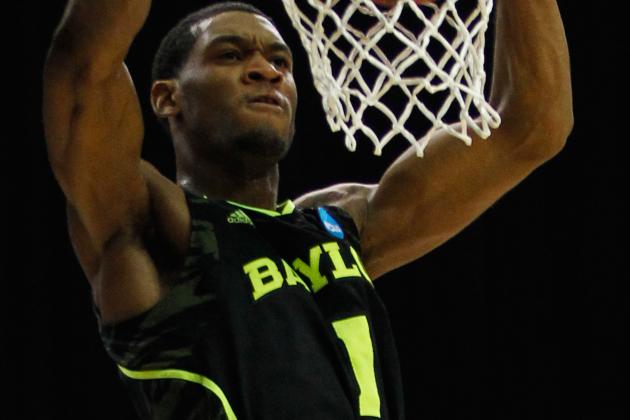 Streeter Lecka/Getty Images

Perry Jones III likely would have been a very high first-round pick in last year's NBA draft. However, Jones decided to pass on the draft and return for a second season at Baylor.
It turns out that wasn't such a great idea.
Jones really didn't build on a very solid freshman season for the Bears. In fact, it almost seems like he took a step back. Jones averaged fewer points in his second season and shot nearly 50 percent worse over the course of the year.
For a player with the hype Jones had after his freshman year to build his draft stock in a second year in school, he needs to show that he has improved various areas of his game and can dominate different areas. Jones didn't do that.
As a matter of fact, Jones was rather average during his second year, and he will most likely be drafted later this year than he would have last year.
Things aren't all bad for Jones though. At just under 7'0", Jones is about as versatile a player as you might see in the draft. Any team wanting a big man with the athleticism to make plays all over the court should give him a long look.
For the team that selects him, they could be getting a player who will become a cornerstone for their team for years to come. He has the physical ability and natural gifts to be able to make any play on the court. He is a player who a coach could ideally build an offense around and watch it succeed.
However, Jones also has some major red flags. The biggest is that he seems to mentally check out of games. Also, for all of the physical gifts he has, he is still extremely raw offensively and basically nonexistent defensively.
Jones is a coach's dream because every coach probably feels like they could get the most out of him. If the coach of the team that drafts him can do that, Jones will have a long and successful career in the NBA. If not, we might not talk about Perry Jones in the NBA for more than a couple years.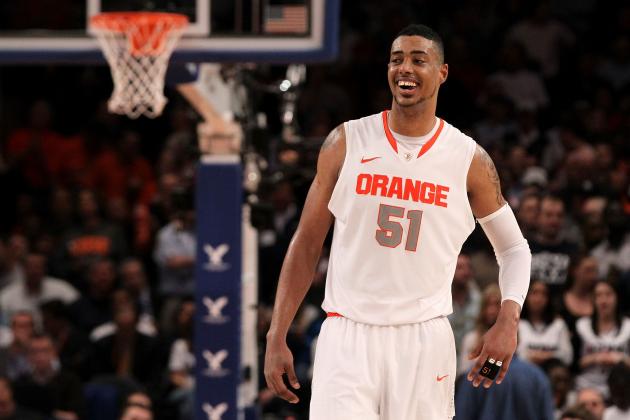 Jim McIsaac/Getty Images

Before being ruled ineligible for the NCAA tournament, Fab Melo was a major reason that the Syracuse Orange were favorites to reach the Final Four. Then, Melo was suspended, and Syracuse struggled to beat a couple of inferior teams before finally losing to Ohio State in the Elite Eight.
A true 7-footer, Melo was an absolute defensive stud for the Orange, as they cruised through their season. He ranked in the top 10 in blocked shots and was solid as a defensive player overall. When they lost him, they became fairly soft on their interior defense and that caused them to struggle.
Offensively, Melo is a project, plain and simple. He did average nearly eight points per game on better than 56 percent shooting, but the majority of his buckets came off of offensive rebounds or great passes from teammates. Syracuse really didn't run many plays for the big man.
A player can be a pure defensive specialist in the NBA and be recognized for doing such (see: Ben Wallace). But most teams hope to find a more multi-talented player in the draft.
For the team that drafts the big man, they could literally have found their center of the future. It's not hard to imagine Melo roaming the paint or finishing an alley-oop in the NBA. He certainly has many of the tools to be a great NBA center.
The team that drafts him instead might get a liability on offense and a player who can't keep up with the faster pace of the NBA game. Either way, Fab Melo is certainly a gamble this year.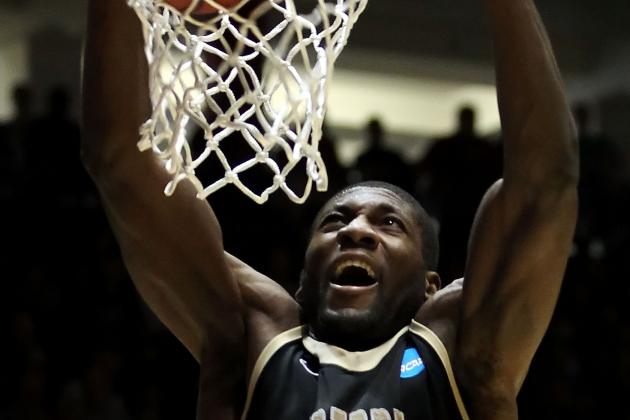 Christian Petersen/Getty Images

Yet another big man on the list, Vanderbilt's Festus Ezeli is truly an intriguing prospect in the upcoming draft. In just his three years at Vandy, Ezeli has made tremendous strides in becoming a solid NBA prospect.
Ezeli is a 6'11", 255 pound monster of a man out of Nigeria. Like Fab Melo, Ezeli is best known for some fantastic defense during his time at Vandy. He is a solid shot-blocker and a good on ball defender, whether on the perimeter or inside the paint.
At 10 points per game last season, Ezeli wasn't really a slouch on that end of the court, but there is certainly room to grow. He is very good at getting the ball down low and finishing in traffic. His offensive game doesn't really have more dimensions than that.
For a team looking for a big man to roam the middle and intimidate opponents, Ezeli would be the perfect fit. Ezeli could step in today and be a very good NBA defender.
However, Ezeli's offense makes him a gamble for whichever team selects him. Ezeli can finish around the rim and is strong inside, but he doesn't score from anywhere else. That team will have to decide whether his effort and defense make up for his lack of offensive skills.
Jamie Squire/Getty Images

In one of the fun stories of the NCAA basketball season, Andrew Nicholson led the Bonnies of St. Bonaventure to an A-10 Conference title and an NCAA tournament birth.
Nicholson is a 6'9" power forward, and he might just be the most versatile big man in this year's draft. First of all, Nicholson is fantastic in the paint, where he has a large variety of moves that allow him to get easy baskets.
Aside from his very solid post game, Nicholson is very good at playing on the perimeter as well. He has a pretty silky shot and can take other big men off the dribble.
To go along with his solid offensive game, Nicholson has always been solid defensively. He moves his feet well and is a very good shot-blocker.
Even with solid performances in the two major aspects of the game. Nicholson became known as a guy who doesn't necessarily give it his all every play. He can be a little spacy on the court and lose track of where he's supposed to be.
Any team needing help in the low post should look at Nicholson. He has the potential to step in right away and make an impact offensively and defensively.
The question they need to ask themselves before they draft him is whether or not Nicholson is ready to commit and focus on winning. If the answer is yes, Nicholson could become a big part of a very good team in the NBA.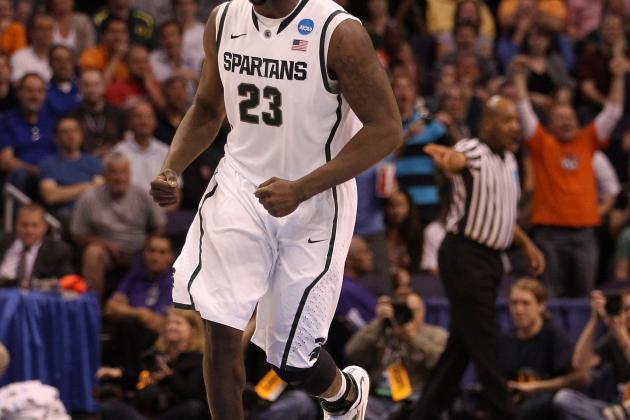 Christian Petersen/Getty Images

Draymond Green was the emotional leader of Tom Izzo's Michigan State Spartans. Excitable and loud from the beginning of every game, Green has the skill and determination to back up all of his trash talk.
Draymond Green isn't necessarily a great offensive post player. In fact, he's not very good in the post at all. What he's good at is stretching the floor, hitting open jump shots and passing the ball to open teammates. Green is a true team player who shows his will to win every time he takes the court.
The gamble with Green comes in when we start talking about his size. Green is six-feet seven-inches tall and doesn't have the ideal physical sets for either a starting NBA power forward position, or a starting NBA small forward position.
Green is built like a house, but he still has trouble with his men in the post. With his extreme height disadvantage, players in the NBA will eat him alive if he doesn't add even more to his first play. He doesn't have the height and size to be an NBA power forward, and he doesn't have the speed and ball handling ability to be a small forward. Unfortunately, his lack of a real position will really drop him down the charts.
A team that takes a chance on Green will get a player who wants to win like crazy, and who has many of the skills to contribute to that winning. They will get a player who can hit shots at a good pace from many areas on the court.
With all of that, they could gamble on him and wind up with a player who just can't find where he fits in the NBA. He may never get used to being out of position at all times, and that could force him to space out and get lost defensively.
Green is definitely a gamble some team will be interested in. If he plays to his potential, it could be a great move for whoever gets him.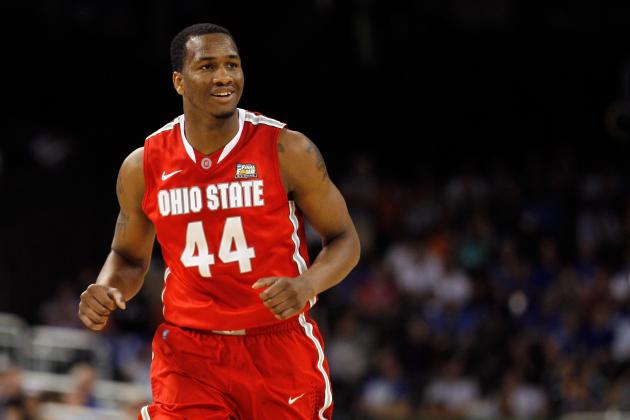 Chris Graythen/Getty Images

William Buford was a leader for an Ohio State program coming off of several years when they won at least a share of the Big Ten title.
Buford was Ohio State's go-to wing player this past year. He was consistently good at hitting shots from all over the floor, and showed a clutch gene several times this year. His most memorable shot was a last second game winner at the end of the regular season against Michigan State. When he spots up and sets his feet, there are few players as dangerous as William Buford.
Defensively, Buford is a solid player. He is quick enough to stay in front of his man and he has length, which makes shots and passes difficult.
Buford certainly has some areas he needs to improve. He is not a very explosive player, which can make him seem one dimensional offensively. He gets open looks as he runs around and plays the catch-and-shoot game. When he needs to create for himself, he struggles because he doesn't have the speed to get by defenders, and he doesn't have the ability to leap and finish at the rim. Buford certainly needs to get stronger and better at finishing inside the paint in order to succeed in the NBA.
Having said that, a team that gambles on William Buford could wind up with a player to make a focus of their offense. Buford is a guy who has the ability to take games over with his shooting, and there's no reason to think that he can't do that in the NBA.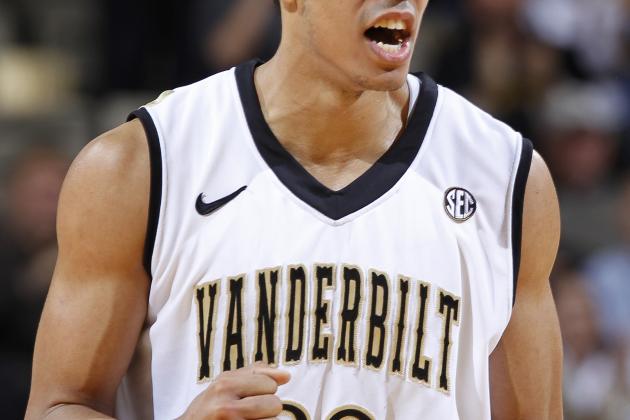 Joe Robbins/Getty Images

John Jenkins was the go-to player offensively for a Vanderbilt team that ended up beating Kentucky for the SEC tournament championship.
Jenkins is one of the best offensive prospects in the draft. He has the ability to join a team and contribute as a starting two-guard right off the bat. Any team looking for wing scoring should definitely have Jenkins on the radar, as he led Vandy with nearly 20 points per game. He did all his scoring efficiently, as he shot nearly 48 percent from the field and 44 percent from beyond the three-point line.
Jenkins, like Buford, isn't great at creating for himself. He's another guy who doesn't have tremendous athletic ability, but he still manages to get shots off and score with the best players in basketball. He's a fantastic catch-and-shoot player who could benefit greatly by playing on an NBA team with playmakers that would allow him to sit on the outside and drain open shots.
Defensively, Jenkins is undersized and struggles against many bigger shooting guards, something he will see a lot of in the NBA. This is where it is really a gamble to select Jenkins. Asking him to guard players like Kobe Bryant and Dwyane Wade poses a big problem for the not-so-athletic Jenkins.
However, the team that does gamble with Jenkins might be getting a guy who makes up for his defensive shortcomings with explosive scoring and stability. There are plenty of teams in the NBA who will give Jenkins a good hard look.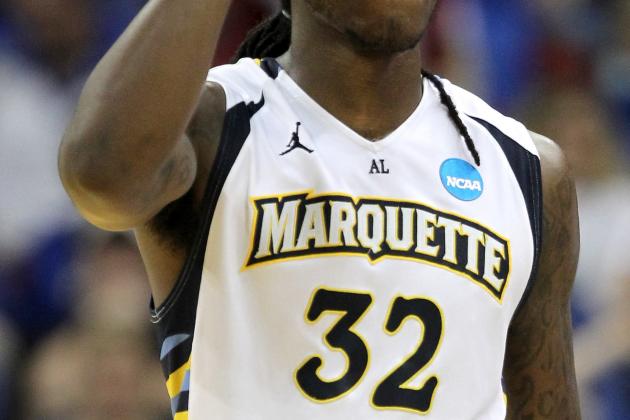 Jonathan Daniel/Getty Images

Jae Crowder is a player who received a lot of attention for his much improved play last season, but who is still flying under the radar a bit as teams look forward to the draft.
Don't let the small amount of chatter fool you, Jae Crowder has the opportunity to be one of the best players selected in the draft this year when it's all said and done.
Crowder is a very solid player offensively and defensively. On offense, Crowder is a forced to be reckoned with. He is an amazing fast break player who runs the floor with reckless abandon. Not only is he good around the rim, he's also very solid at scoring from beyond the three-point line.
Defensively, Crowder uses his length and strength to make life miserable for his opponents. He's a solid shot-blocker, and he gets some great steals that he often converts into points for his team.
The problem with Crowder is that he will struggle to create for himself in the NBA, where the opposition will be bigger and faster than what he is used to. Even in college, Crowder wasn't great at creating for himself, often relying on fast-breaks or off-ball movement to free him for shots. He will need to improve his ball handling and shot creation at the next level.
Every team in the draft should be considering taking the gamble on Crowder. If he pans out, he could become one of the truly great versatile players in the league and he can boost both sides of the ball for whoever selects him.