2012 Draft Preview: Who Do the Experts Have Going to the Pittsburgh Steelers?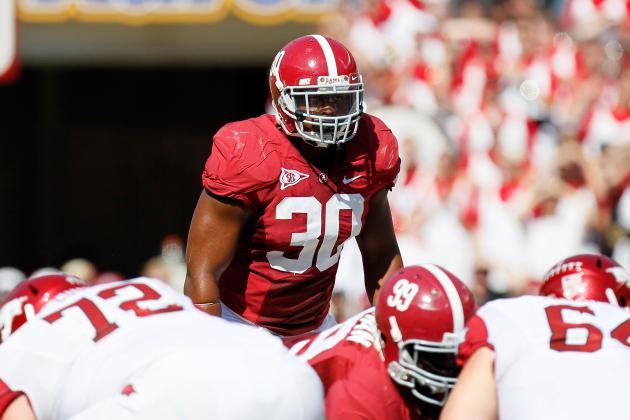 Kevin C. Cox/Getty Images

There may be no greater mystery in sports than trying to predict who an NFL team will draft in the first round. Outside of the top two choices in this year's draft, there are a lot directions that the rest of the teams could go.
The Pittsburgh Steelers are a particularly difficult team to predict this year because while they have distinct needs at guard, inside linebacker and nose tackle, they are a team that could go in a completely different direction and no one would question it.
Pittsburgh has a lot of areas that they can improve and will look to get the most value out of their first-round selection, whether it is by taking a player who will step in from the opening week of the season to a player who may need a season to develop.
With the draft getting close, the mock drafts are in full gear and the experts are beginning to make their final predictions.
Here is a look at who the draft experts are predicting for the Steelers in the first round and an analysis of each prospect.
Begin Slideshow

»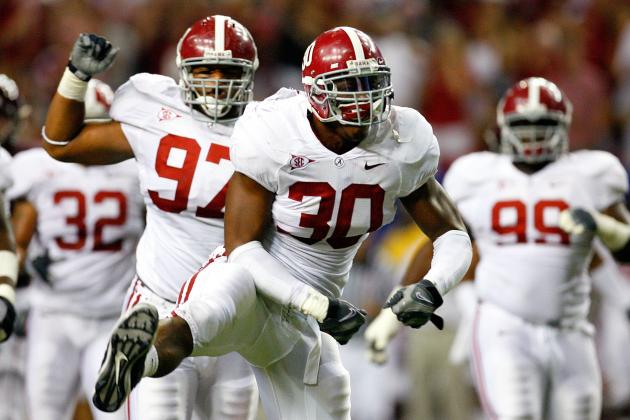 Kevin C. Cox/Getty Images

Mel Kiper Jr. (ESPN.com)—Dont'a Hightower, ILB, Alabama
Todd McShay (ESPN.com)—Dont'a Hightower, ILB, Alabama
Albert Breer (NFL.com)—Devon Still, DL, Penn State
Charley Casserly (NFL.com)—Jonathan Martin, OT, Stanford
Charles Davis (NFL.com)—Cordy Glenn, OL, Georgia
Steve Wyche (NFL.com)—Cordy Glenn, OL, Georgia
Don Banks (Sports Illustrated)—Dont'a Hightower, ILB, Alabama
Peter King (Sports Illustrated)—Kevin Zeitler, OG, Wisconsin
Clark Judge (CBSSports.com)—Jerel Worthy, DL, Michigan State
Pat Kirwan (CBSSports.com)—Dont'a Hightower, ILB, Alabama
Pete Prisco (CBSSports.com)—Dontari Poe, DL, Memphis
Rob Rang (CBSSports.com)—Mike Adams, OT, Ohio State
Will Brinson (CBSSports.com)—Mike Adams, OT, Ohio State
Dan Brugler (NFLDraftScout.com)—Cordy Glenn, OL, Georgia
Peter Schrager (FOXSports.com)—Dontari Poe, DL, Memphis
Sporting News—Amini Silatolu, OG, Midwestern State
Walter Cherepinsky (Walter Football)—Dont'a Hightower, ILB, Alabama
Scott Wright (Draft Countdown)—Dont'a Hightower, ILB, Alabama
DraftTek—Dont'a Hightower, ILB, Alabama
Ourlads—Dont'a Hightower, ILB, Alabama
Great Blue North—Jonathan Martin, OT, Stanford
Lou Pickney (Draft King)—Cordy Glenn, OL, Georgia
Mike Band (Draft Ace)—Dont'a Hightower, ILB, Alabama
Ben Standig (FF Toolbox)—Dont'a Hightower, ILB, Alabama
Daniel Wolf (National Football Authority)—Dont'a Hightower, ILB, Alabama
—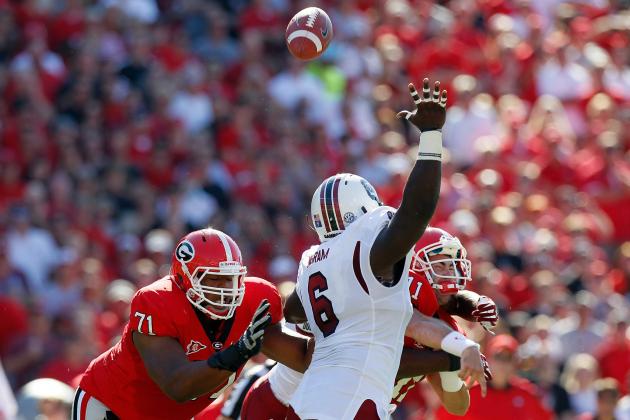 Kevin C. Cox/Getty Images

There is no mystery as to what positions the draft experts believe that the Steelers should take in the first round. Of the 25 mock drafts examined, 11 had the Steelers selecting inside linebacker Dont'a Hightower and 10 had them taking an offensive lineman.
No one will argue that those are two of the Steelers' biggest needs. There were four selections along the defensive line, with Dontari Poe being selected twice and Devon Still and Jerel Worthy selected once respectively.
Pittsburgh needs a nose tackle after spending first-round picks on Ziggy Hood (2009) and Cameron Heyward (2011). Poe could fill this need, but Still and Worthy project more as 3-4 defensive ends.
The most popular choice was Dont'a Hightower, who was selected by 11 experts, while Cordy Glenn came in second, selected by four experts.
Of the nine different players chosen by the draft experts, four were defensive players and five were offensive players.
Pittsburgh needs major upgrades on the offensive line and many of the drafts addressed this area, while all of the defensive players selected would help improve the Steelers' front seven.
Here is a player-by-player look at all of the first-round prospects predicted by the draft experts.
Jeff Gross/Getty Images

Pittsburgh needs to upgrade at guard, and Amini Silatolu is one of the top small-school prospects in this year's draft.
If the Steelers could quickly develop Silatolu, he could potentially challenge Doug Legursky for the starting job at guard. If he beat out Legursky it would be an upgrade for the offensive line and would also allow Legursky to be a backup, a role that he is better suited for.
Silatolu has great size at nearly 6'4" and 311 pounds, yet is athletic enough to move inside after playing tackle at Midwestern State.
As with any small-school player, Silatolu is a project who will have to make a major leap to the professional level. He did not face the top competition that many of the other prospects faced on a weekly basis.
That does not mean that Silatolu cannot succeed. He has a high upside and projects as a future starter.
However, considering that he is a developmental project, Silatolu would be a pretty big reach in the first round and would be a much better second-round choice for the Steelers.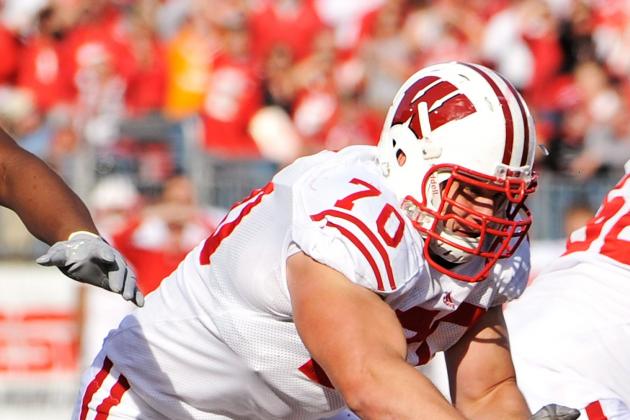 Jamie Sabau/Getty Images

If the Steelers are looking for a player who can step right in and play on their offensive line, there may not be a better choice than Kevin Zeitler.
Zeitler comes from a Wisconsin team that has produced a number of NFL quality linemen in recent years, including Joe Thomas and Gabe Carimi.
Pittsburgh needs a major upgrade at left guard, but Zeitler could compete with with Doug Legursky on the left side and Ramon Foster on the right.
Zeitler is an excellent run blocker with excellent size at 6'4" and 314 pounds. His game is very sound after being well coached at the college level and he should be considered one of the "safest" picks of the draft.
While Zeitler appears to be pro ready, he does not have the high ceiling that some of the other guard prospects, which is one reason why he has a second-round grade.
Zeitler is not an elite athlete for the line, but he has a high football IQ and should be a very good player for a long time.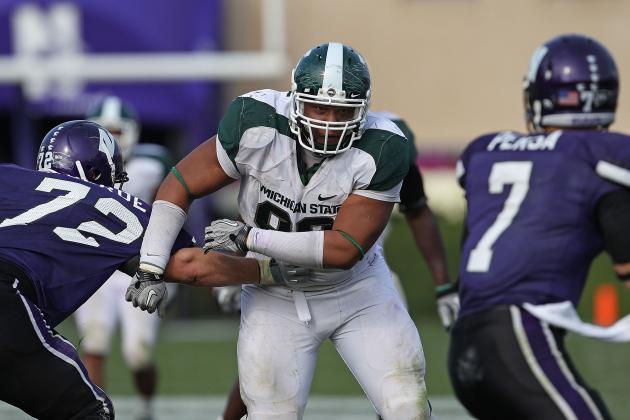 Jonathan Daniel/Getty Images

Jerel Worthy is a 6'2", 308-pound defensive lineman who has a ton of talent, but does not project to be an ideal fit for the Steelers' need on the defensive line.
Pittsburgh needs to replace Casey Hampton at nose tackle, and Worthy would be a better fit at defensive end, unless the Steelers want to change the mold of their nose tackle.
If Pittsburgh drafted Worthy to play nose tackle, it would signify a shift from a player who can occupy blocks and be a force against the run to a player who would add more to the pass rush, shooting the gaps.
That just does not fit the description of what Pittsburgh has historically wanted from its nose tackles.
While they need depth at defensive end, it is unlikely that they spend another first-round selection on one.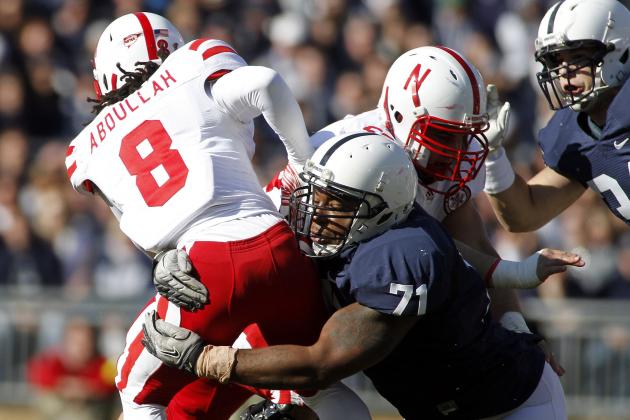 Justin K. Aller/Getty Images

Devon Still has excellent size to play on the Steelers' defensive line at 6'5" and 305 pounds. However, he profiles as a defensive end, not a nose tackle.
Still improved each year at Penn State and would be a nice physical addition to the defensive line, particularly since he plays the run well.
There is a lot to like about Still, particularly playing in a defensive-rich tradition at Penn State and his demonstration of good power and physical play.
But with two first-round picks already spent on defensive ends in recent years, as good as Still could be, it is not an area that the Steelers will need to address in the first round.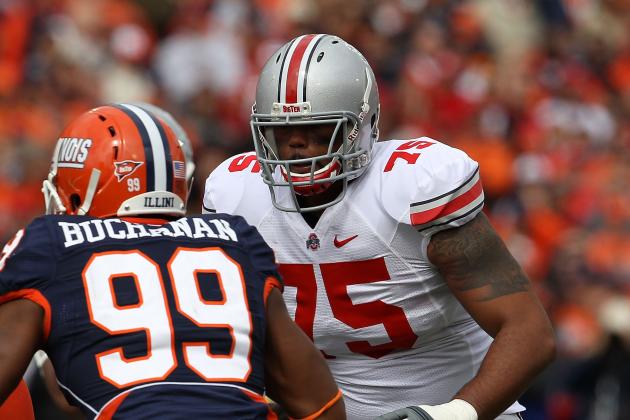 Jonathan Daniel/Getty Images

Mike Adams is one of the most polarizing prospects in this draft. I have seen Adams listed as a first-round prospect and as a late-second round player.
There are some who believe that Adams can be a franchise left tackle, which at 6'7" and with a 323-pound frame, he has the size to be dominant in the NFL. However, there are concerns that not only is he only a right tackle in the NFL, but he may be a bust.
Adams was, at times, excellent for Ohio State but had an overall inconsistent season last year.
Pittsburgh could use a franchise tackle, or simply an upgrade at tackle. I do believe that they like Marcus Gilbert as their long-term answer on the left side, but recent injury problems with Willie Colon make him a question mark entering the season.
Adams could play on the right side, and he should fit in as a solid run-blocker. As with many young tackles, he struggles some in pass protection, particularly against speed rushers.
There are concerns over Adams' lack of strength and work ethic. Those are two big areas to worry about, particularly for a team that has had a struggling offensive line in recent years.
With that said, the Steelers have not been shy about selecting Ohio State players in the first round as they have taken Santonio Holmes and Cameron Heyward.
Adams would fill a need and he has potential to be great, but there are a lot of questions which make him a risky choice in the first round.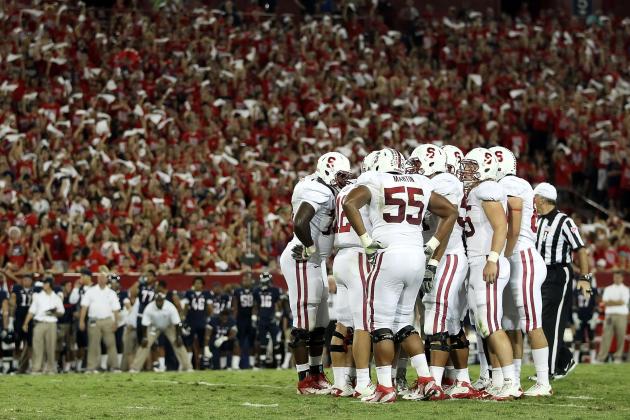 Christian Petersen/Getty Images

Jonathan Martin may be the opposite prospect of Mike Adams.
Martin is not quite as big at 6'5" and 312 pounds, and there are some analysts who do not believe that he can play left tackle in the pros.
Adams has a higher upside than Martin, but Martin is the more appealing prospect for a variety of reasons.
Martin helped anchor one of the top rushing attacks in the nation while playing for a pro-style offense. He is a solid run blocker, but is not overly physical.
One of Martin's best traits is that he is a good pass protector and helped shed off pass-rushers for the best quarterback prospect in this draft.
Martin has been well-coached and his technique is very good; he will just need to get stronger, which should not be an issue once he gets into an NFL training program.
Whether it be at left tackle or right tackle, Martin would be a fine choice at No. 24 for the Steelers.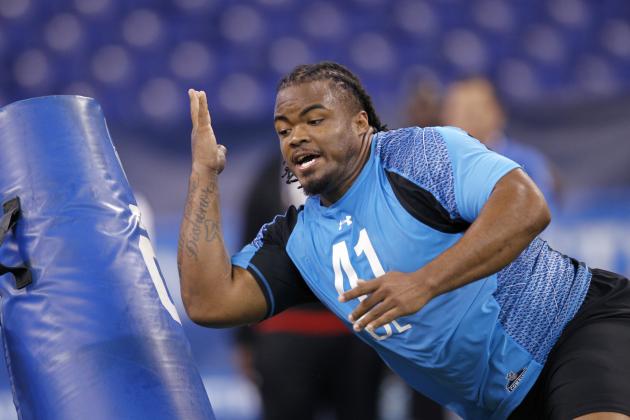 Joe Robbins/Getty Images

The Steelers need a replacement for Casey Hampton, and Dontari Poe may be the biggest and strongest option for them.
Poe is almost 6'4" and 346 pounds and would be nearly impossible to move in the middle of the defense once he develops. He can even be moved to end if needed.
After shooting up draft boards with an excellent performance at the combine, Poe has settled back as a mid- to late- first-round choice due to his lack of dominance on film.
Prior to the combine, it was a well-known fact that Poe was not dominant in college and would need to be "coached up" once in the NFL.
That was going to happen if he was drafted by the Steelers regardless of his talent. Defensive line coach John Mitchell strips players down of what they know and build them back up with the Steelers' way of play.
Poe will not be drafted because of what he will offer as a rookie, but instead what he can be in the future. He has a higher upside than almost any player in this draft given his size and athleticism.
The Steelers defense is best when they have a dominant force in the middle of it, and with time and coaching, Poe could be that man.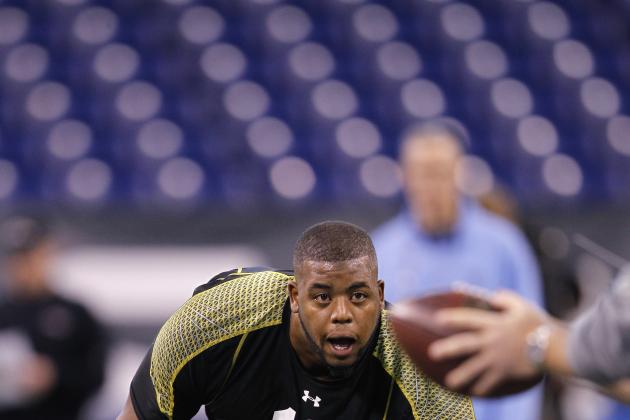 Joe Robbins/Getty Images

Cody Glenn's draft stock was helped by a good performance at the combine, but what makes him an intriguing prospect is his ability to play at guard or tackle.
There seems to be a sentiment that he will play on the inside in the NFL, but at nearly 6'6" and 345 pounds, Glenn has the size to play right tackle as well.
Either way, Glenn could compete to find a spot on the Steelers' offensive line this season.
Glenn was very experienced at Georgia as a four-year starter and played well at left tackle. The experience on the outside has helped Glenn develop pretty good feet for a man his size.
As expected, Glenn is very good at run-blocking and does pretty well in pass protection, but is limited against speed rushers and had a relatively inconsistent season last year, which is why he is a good candidate to move inside.
However, he could probably do well at right tackle where he would not have to protect Ben Roethlisberger's blind side.
If he shifts inside, he would give the Steelers a mammoth blocker for a ground game that is looking to get a shot of energy this season.
But as with any riser because of a great combine, there is concern that he may not achieve his potential.
Glenn would be tough to pass up if he falls to the Steelers given his high ceiling and ability to play both tackle and guard.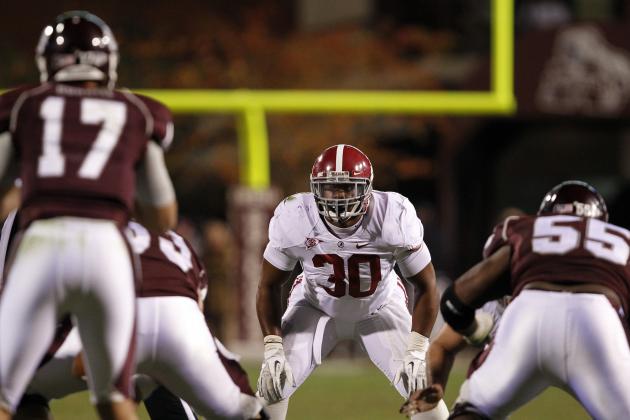 Butch Dill/Getty Images

If the Steelers take Dont'a Hightower in the first round, it is not because he is the best athlete in the draft or because they want him to drop into coverage on every play.
Instead, they would take Hightower because he is an intelligent defender who will maintain his responsibilities.
Hightower may not be able to run with elite tight ends and fast running backs, but he is an excellent run defender who can also make plays behind the line of scrimmage. He posted 11 tackles for a loss, four sacks and an interception last season.
On passing downs, Hightower can shift to end where he has experience at rushing the passer while the more athletic players will drop into coverage.
The question is whether the Steelers believe in Foote and Sylvester to hold over the position for a year while a possible mid- or late-round inside linebacker is being developed.
Hightower should be a solid, but not spectacular, player in the league and could step in early in his career.
However, inside linebacker is a position that the Steelers could find talent for later in the draft as well.
Hightower is a very knowledgeable defender who has excellent character and leadership attributes and would be a fine replacement for James Farrior. He is just not the athlete at linebacker that many would like.
Follow me on Twitter @ChrisG_FC