Peyton Hillis: How the Running Back Will Turn Heads as a Kansas City Chief
April 17, 2012

Rob Carr/Getty Images
No one expects Peyton Hillis, the recently acquired running back out of Cleveland, to do much of anything next season. 
That's why he will shine.
Hillis exploded into the football world with the Cleveland Browns in 2010. He came out of nowhere to rush for 1,177 yards and 11 touchdowns. He was thrown into the spotlight, being voted by fans onto the cover of Madden NFL 2012 and becoming the face of the Brown's organization.
Hillis became a household name. He was loved throughout the league for his work ethic and down-home style attitude. He seemed on his way to becoming one of the elite running backs in the NFL. He ran over defenders like a freight train, had surprising speed for a bigger back and exhibited the rare ability to be a receiver out of the backfield. 
Then the train derailed. 
In 2011, Hillis' play declined dramatically. Due to an alleged bout of strep throat, Hillis sat out a Sept. 25 contest against the Dolphins, which drew contempt from some teammates. He missed a treatment from an ailing hamstring injury when he left in the middle of the week to get married. 
The hamstring injury, which some think was over dramatized, forced Hillis to sit out five consecutive games. 
He also managed to change agents multiple times throughout the year while getting feisty with the Browns front office regarding his contract. People around the league started thinking the Hillis was turning into a diva.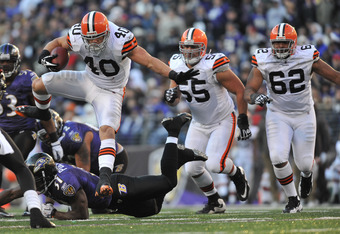 Larry French/Getty Images
This past offseason, Hillis signed with the Kansas City Chiefs. Chiefs head coach Romeo Crennel is confident the new running back will prove his naysayers wrong and act as a complement to current Chief's running back Jamaal Charles, who is coming off a season-ending torn ACL. 
"We are happy that Peyton decided to join us," Chiefs coach Romeo Crennel said in a release. "Peyton is a big, strong, physical back with a lot of talent and he should fit into our system well. We are looking forward to working with him and adding him into our offense."
According to Chief's general manager Scott Pioli, Hillis was somebody the team had targeted at the beginning of free agency.
"One of our goals going into free agency this year was to build depth at the running back position, and we are pleased to add a talented player like Peyton to the mix," Pioli said. 
Hillis acknowledged he let people down last season. He is looking forward to getting back on the field and competing. He is excited to play football. Hillis will be reunited with his offensive coordinator from 2010, Brian Daboll. Perhaps most important, Hillis won't have to shoulder the responsibility of being the team's only option at running back.
In the NFL's ever evolving world, a team usually has two rotating running backs to share the brunt of the ball carrying duties. This tactic keeps legs fresh and enables offenses to switch up their rushing attack by using two backs of differing styles.
Charles utilizes speed and agility to dodge defenders and run east to west, finding holes in the coverage and exploiting them by being able to quickly turn the corner.
Hillis, on the other hand, is strictly a power runner. He runs north to south and straight up the gut of the defense, utilizing his strength to gain yardage.
This strategy has proved effective in the past, as Charles and former Kansas City running back Thomas Jones kept defenses on their heels.
With Hillis playing the No. 2 role in the Chief's rotation, he will be able to capitalize. Unless Charles endures another injury, Hillis probably won't regain his 2010 form. He will, however, be the thunder to Charles' lightning and be incredibly efficient in the Chiefs' rushing attack in 2012.