Lindsey Vonn Taxes: Skier Is Latest Athlete to Make Up for Financial Pitfall
April 16, 2012

Alexis Boichard/Agence Zoom/Getty Images
If only they had as much sense as athletic ability. 
Lindsey Vonn joins the unenviable cast of athletes who allowed their finances to go unchecked. Sure, the subject may lack the zeal of a Vonn run down the mountain, but it's no less crucial for us all to learn from. 
At least for Vonn, she is vowing to change her ways after getting hit with a surprise bill worth millions from the IRS, via Washington Post. 
The world class skier posted on her Facebook that she had to pay $1.7 million in back taxes, a heft sum, especially when you are clueless to its existence. 
I am disappointed with this situation. I just recently became aware of the outstanding balance and I have done everything in my power to settle it immediately. The money owed was for the 2010 tax year, which was filed on time, and it has been paid in full. This is an important lesson for me. Not being in control of my finances and relying on someone else who you believed had your best interest at heart was a mistake and one I will not make twice. Lv 
It's a lesson for Vonn, but also serves as a lesson for anyone with an interest in paying attention. The unfortunate part is Vonn is not the first athlete to see their finances get away from them.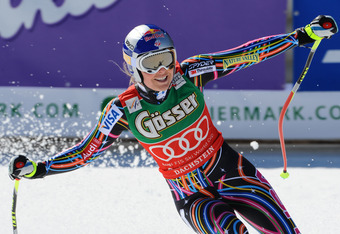 Alain Grosclaude/Agence Zoom/Getty Images
Vonn, by her own admission, wasn't in control of her finances and the funny thing about money is it needs to be nurtured like it was living. 
We all have to take a more watchful look at our expenses and just because you have a great deal of the stuff doesn't preclude you from having tremendous issues. 
The Washington Post report on Vonn reminds us of some other athletes that have had recent problems with finances. 
Former NFL star and current analyst Warren Sapp filed for bankruptcy despite bringing in a hefty sum due to his gig with the NFL Network. 
TMZ reported Sapp owes $6.7 million to various creditors, but only has $6.45 million. I know, the word only should never precede $6.45 million, ever. 
Terrell Owens proved he can still shock fans with his assertion that nearly all of the $80 million that he accrued over his career is gone, via GQ. 
Vonn's issue isn't the only one to ever surface, and it would be ridiculous to think it would be the last. It just serves to prove that the last thing you want to do with your money is ignore it.