5 Players the Oregon Ducks Can't Afford to Lose in 2012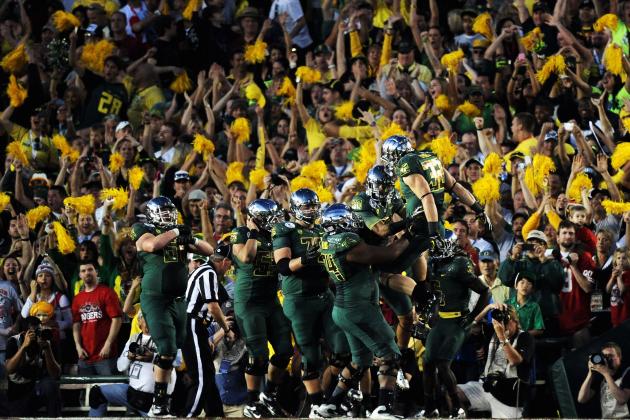 Harry How/Getty Images

It takes a total team effort to be successful in college football, like the Oregon Ducks' big win in the 2012 Rose Bowl.
If each one of the 22 starters on this year's team doesn't do their job—especially in the right place at the right time—the Ducks risk failure.
On each team, however, there are always certain key players whose absence can mean disaster. Dennis Dixon ring a bell?
Who will those players be this year? What headline about injuries—or worse, arrests—would make you cringe like you did when you first learned about Jeremiah Masoli and Cliff Harris' escapades?
Here are five players whose names I don't want to see in any news accounts between now and next January 7—unless it's their coach raving about their performances on the field.
Begin Slideshow

»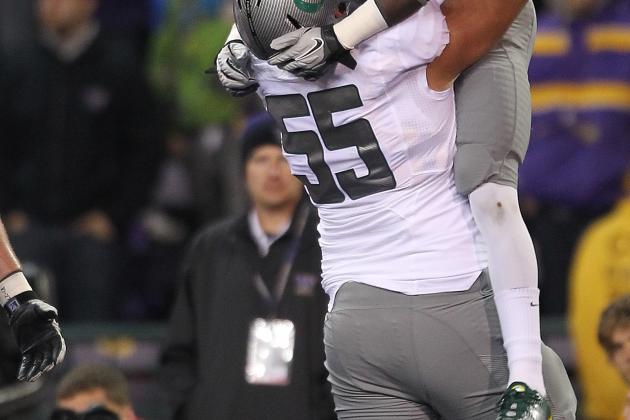 Otto Greule Jr/Getty Images

No matter who wins the quarterback role this season, he will be new as a starter and probably a little nervous, especially for the first couple of games.
For that reason, I hope Hroniss Grasu picks up right where he left off last year at center. Grasu showed amazing poise and football IQ for a freshman at one of the most important positions—if not THE most important position—on the O-line.
Grasu won the starting job and kept it, starting in all 13 games for the Ducks. I focused on him occasionally, and the kid gave tremendous effort on every play. Grasu was also extremely dependable last season, with very few goofs.
I think it's telling that Grasu was named "Top Newcomer of the Year" at Oregon's postseason banquet.
In 2012, Hroniss "Hizhonor" Grasu is no longer a newcomer, and his presence and leadership on the O-line will be crucial for Oregon's new starting QB and new starting RB, in particular.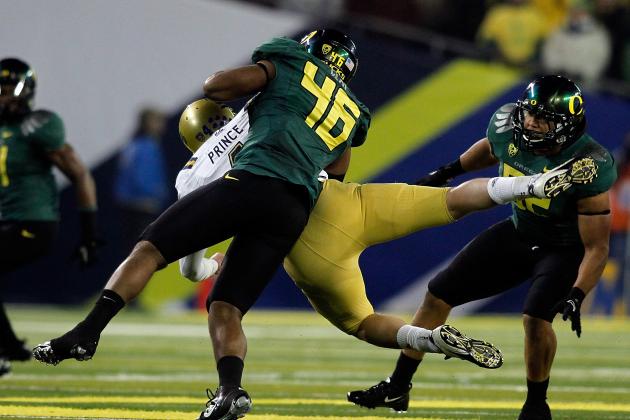 Jonathan Ferrey/Getty Images

Michael Clay, as a senior, will headline the linebacking corp. As 2011's second leading tackler, Clay is one of the defensive stalwarts in 2012.
Because I fear the Ducks don't have much depth at linebacker, I hope Clay stays healthy. I also believe that Clay's defensive leadership is very important—especially to the younger guys.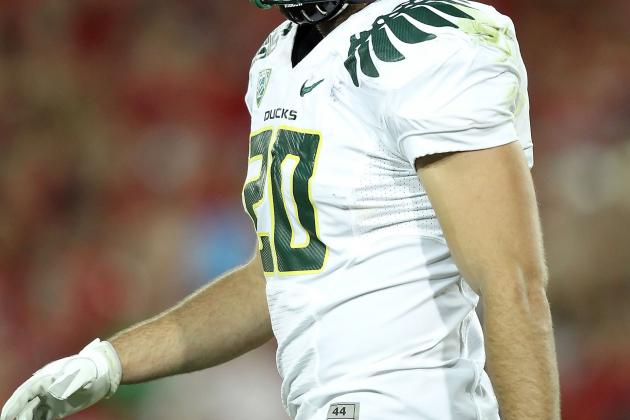 Christian Petersen/Getty Images

If Michael Clay was the second leading tackler in 2011, who was first? Safety John Boyett.
In fact, Boyett has been the leading tackler for the Ducks in two of the last three seasons. His 17 tackles in the Rose Bowl could have been the difference in the game.
It's almost impossible to consider the Ducks' defense without No. 20 runnin' wild. And I don't want to. Boyett is on this list because he's so good and because this is another position where the Ducks' depth is suspect.
Quick, tell me who goes in if Boyett is hurt? Yeah, I don't know either. Let's not think about it, OK?
P.S. I am starting a one-woman campaign, and have decided to include these words every time I mention Boyett in 2012: John Boyett for Heisman.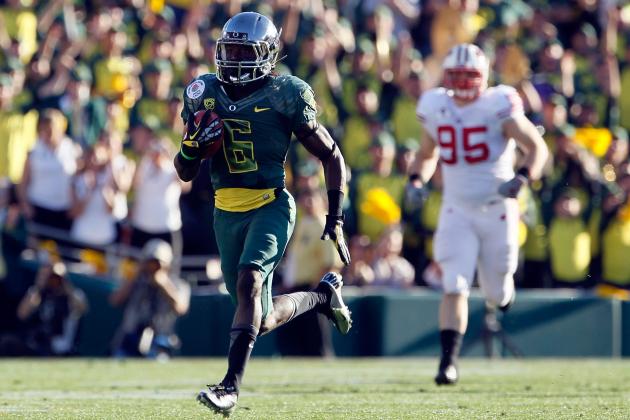 Jeff Gross/Getty Images

Please study the photo on this slide. Now I have some questions for you:
Are De'Anthony's feet touching the turf? How far ahead of the poor Badger is he?
Does De'Anthony look like he's huffing or puffing in the least? Does he look cool?
This is why we can't afford to lose DAT in 2012.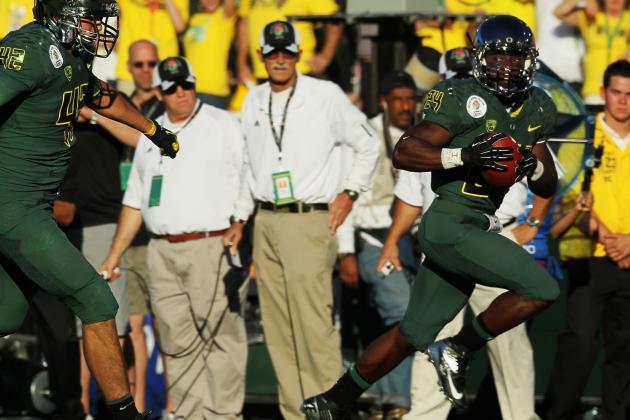 Stephen Dunn/Getty Images

Yes, De'Anthony Thomas will pick up some of the slack in the running back position from LaMichael James' departure. And, yes, some of the youngsters and some of the new recruits might be dazzling.
But we don't know that yet for sure. I feel the running back depth is uncertain at this point, which is why nothing can happen to Kenjon Barner in 2012.
Barner needs to be "the guy". He's ready, and the fans are ready to embrace him. A strong, healthy, smart Kenjon Barner will be crucial to the Ducks' success in 2012.
Let's hope he's a slow driver and likes to enjoy the scenery on I-5.