Why a John Calipari, Kentucky National Title Is Great for College Basketball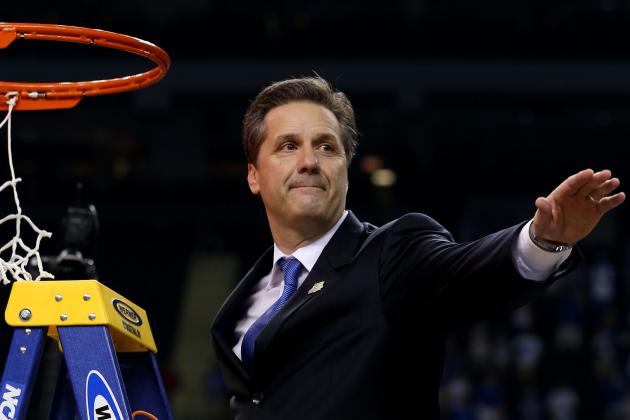 Jeff Gross/Getty Images

When the Kentucky Wildcats won the 2012 NCAA National Championship, it debunked arguments heard countless times in a myriad of different ways from people around the country.

They said John Calipari would never win a championship. They said a freshman-oriented team would never win a championship.

They were wrong. And college basketball is better for it.

Sure, everyone who hates Calipari and his method are not overjoyed, but in the long run, college basketball will benefit from the 2012 Kentucky Wildcats team.
For starters, this Kentucky squad put the emphasis entirely on team basketball. Calipari proved that he can, in fact, win a title with a young team and he has given all of his critics some serious thinking to do.
Instead of being the exception to the rule, Kentucky and Calipari are well on their way to rewriting the rules for recruiting, star players and college basketball in general.
Begin Slideshow

»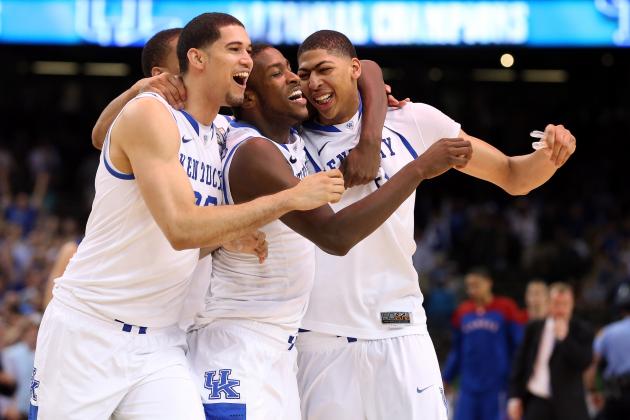 Jeff Gross/Getty Images

Like it or not, there is a rule in the NBA stating that players must be one year removed from high school before entering the draft. Critics can lampoon the rule all they want, but so far, it hasn't changed.

So what's the point of coaching and recruiting players as if it has?

John Calipari does what no other college coach in America will admit to doing—embracing the one-and-done rule if it is what is in his players' best interests.

Whenever a Kentucky Wildcats player has been asked about whether Calipari encouraged him to go to the NBA, all say a version of the same thing: we sat down and decided what was right for me. He told me that I should enter the NBA Draft if I wanted to. The caveat is always the "if I wanted to" part of the answer.

Calipari is honest with his players. If it is certain that they will be drafted in the first round, he will advise them to enter the NBA draft if they want to. Calipari is not intentionally trying to completely overhaul his roster every year. I doubt any coach wants that kind of pressure.

But if it is in the best interest of his players to make millions of dollars when they are all but assured of being a high selection, Calipari will not lie to them.

The reasoning used to be, if players saw college as a one-year stepping stone to the NBA, they would not be committed or contribute to the program. This year's Kentucky team proved that that reasoning was simply untrue.

Three top recruits—Anthony Davis, Michael Kidd-Gilchrist and Marquis Teague—all embraced team basketball and showed their commitment to the Kentucky basketball program and its fans every time they stepped on the court.
Doron Lamb and Terrence Jones, two players almost assured of being first-round draft picks last season, came back because they wanted to win a championship and they weren't ready to leave Kentucky.

As Calipari has stated time and again, he runs a "players first program." Every critic who wants to accuse Calipari of ruining college basketball should spend more time trying to change the rules and less time attacking a coach who embraces the rules he is given.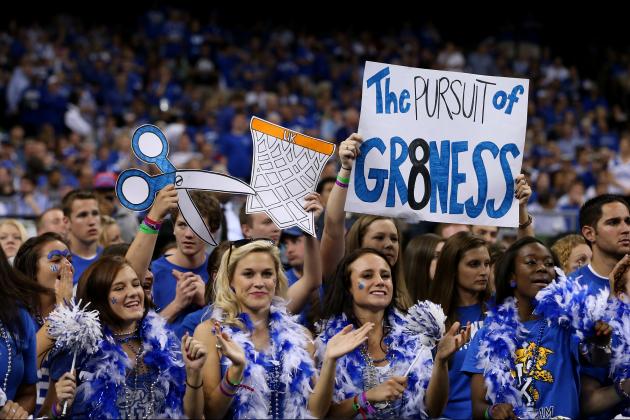 Jeff Gross/Getty Images

Kentucky Wildcats' fans have become accustomed to winning NCAA National Championships. After all, the school is ranked second all-time with (now) eight championship banners hanging in Rupp Arena.

At one point in time, from 1996-1998, the Wildcats enjoyed a three-year run of advancing to the last weekend in March every year and winning two championships.

That period, apparently, spoiled Kentucky fans. Oh, and the six national titles before then.

For a miserable 13 years thereafter, though, the state's basketball team failed to make it past the Elite Eight. Making matters worse, fans had to endure the Wildcats' first season without an NCAA Tournament berth since sanctions prevented the team from playing in the postseason.

The state of Kentucky was teetering perilously on the brink.

Remember those burned couches and turned-over cars the evening after the 2012 Wildcats advanced to the championship game? Think about what fans would have done if the team had lost.

College basketball fans obviously love when mid-major programs like the Butler Bulldogs and VCU Rams overcome the Goliaths of the basketball world, but no one can argue against tradition.

Traditional powerhouses have some of the most exciting fan bases in college basketball.
Teams like the Indiana Hoosiers, Duke Blue Devils and, yes, Kentucky, all inspire a collective love 'em or hate 'em response that just makes games more fun.

2010 and 2011 were the years of the mid-major. This year, the historic basketball programs took a stand.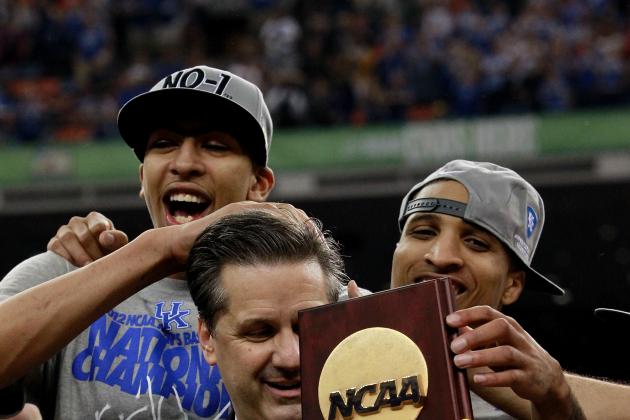 Ronald Martinez/Getty Images

The general logic was that a team full of freshman could be very talented, but ultimately not cohesive or poised enough to win a national championship.

Coaches and critics could always reassure themselves by pointing to John Calipari's Memphis Tigers teams or his 2010 Kentucky Wildcats team and say that teams led by freshman would always fall short in the end.

Not anymore.

Now these same coaches and critics must give young teams their due and prepare to play them at their very highest level. Anthony Davis, Michael Kidd-Gilchrist and Marquis Teague did not wilt in the NCAA Men's Basketball Tournament. All three thrived.

And college basketball is better for it.

No longer will it be possible to overlook a team because of the collective age of its players. Kentucky won a national championship thanks to chemistry, talent and drive.
Its opponent in the championship game, the Kansas Jayhawks, got there because of veteran leadership from Tyshawn Taylor and the emergence of Thomas Robinson, who benefited greatly from a spending two years learning under upperclassmen.

The championship game pitted the old school against the new school, showing that both styles can be successful, but that it is impossible to say which is ultimately better.
What now?
The commentaries have continued, unceasingly, since John Calipari began having success with his style of basketball recruiting and coaching.
He can never win with that kind of team.
The young players will fold in the end.
Veterans are necessary to win championships.
Players won't fully commit if their minds are on the NBA all season.
And on, and on.
So...what are these people going to say now?
By all accounts, Anthony Davis, Michael Kidd-Gilchrist and Marquis Teague are great kids.
Kidd-Gilchrist's smile makes it seem like he doesn't have a mean bone in his body (unless a basketball game is at stake).
Anyone who saw Davis' interview on Jimmy Kimmel can see that he is just a 19-year-old kid who loves basketball and is trying to make a tough decision about his future.
And Marquis Teague went from scoring over 20 points per game in college to barely even being an offensive option at Kentucky for the first half of the season.
Calipari proved that he recruited good kids who stayed out of trouble for the entire season and who were poised and together enough to win a national championship and lose just one regular season game.
What will the critics say about his win? That he didn't earn it?
Recruiting is half of the skill in coaching college basketball. And did anyone see Davis make a post move in the first 10 games of the season? All he seemed to know how to do was block shots and dunk (not bad skills to have, of course), but by the end of the season, he had a great baseline turnaround half-hook and a nifty little up-and-under post move.
How did that happen if not with coaching?
Yes, this Calipari team was special. But aren't all championship squads?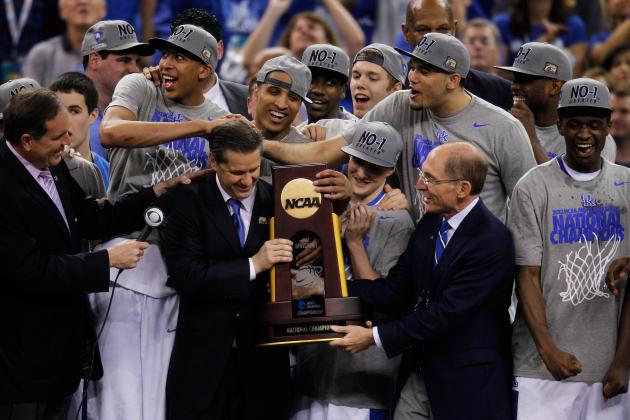 Chris Graythen/Getty Images

Most of all, the 2012 Kentucky Wildcats basketball team proved that no matter how many five-star recruits a team has on its roster, the secret to success is always to play team basketball.
Kentucky's most well-known star, Anthony Davis, was not known by many to be a huge offensive threat. Yes, he finished the season leading the Wildcats in points per game, but many of his buckets came on alley-oops or offensive rebounds as opposed to Davis taking control offensively.
Terrence Jones, Kentucky's second-leading scorer from a season ago, finished third on the team in scoring and took the backseat offensively in many a game.
Michael Kidd-Gilchrist could go from scoring 25 points one game to having two points and 10 rebounds in the next.
Marquis Teague had to learn to get his teammates involved before he found his offensive touch.
And so it went that Kentucky finished three Darius Miller points shy of being the first team in school history to finish the season with six players scoring over 10 points per game.
Yes, you read that correctly. One more three-pointer and the Cats would have broken the record.
A team does not need a certified star to put up 30 points a night in order to win games. This Kentucky team was better because on any given night, a different player could lead the team.
If Davis was struggling offensively, as he did in the national championship game, his teammates were more than capable of picking him up.
And, even better than that, Davis (and all Kentucky players) could find other ways to contribute.
College basketball will undoubtedly use the Wildcats' season as a motto. No one player needs to be a star because only when every player buys into the concept of team basketball will the entire team be successful.