NHL Playoff Predictions: 3 Scorers Who Will Carry Their Teams Past First Round
April 16, 2012

Elsa/Getty Images
Stephen Weiss, Claude Giroux and Alex Ovechkin will put pucks in the net to lead their teams out of Round 1 of the Stanley Cup Playoffs.
All three of these players have goals aplenty and established themselves as leaders on the frontline for their squads.
Here's why these three forwards will ensure their place on the scoreboard and in the second round.
Stephen Weiss
The Florida Panther's forward played in his first two playoff games this past weekend. The eight-year veteran has made them count.
Weiss, the team's assist leader in the regular season, scored the Panthers' first two goals en route to a 4-2 victory in Game 2. Tomas Fleischmann is the Panther's go-to scorer, but New Jersey has keyed on him in the first two games. This has opened the door for Weiss, who netted two second-chance opportunities on Sunday.
Florida will go as far as the lifelong Panther will take them. Hungry to extend his first postseason appearance, Weiss will continue to attack the net and be a difference-maker in Round 1.
Claude Giroux
Four Flyers have scored three or more goals in three games against the Penguins, but Giroux has been giving Penguins goaltender Marc-Andre Fleury nightmares.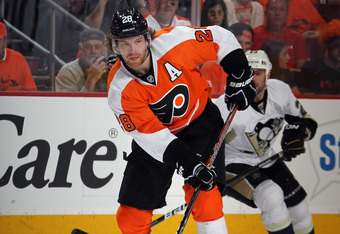 Bruce Bennett/Getty Images
Philadelphia's star center leads the NHL playoffs in points and among the leaders in every major category. He's been particularly effective during shorthanded situations, registering one goal and two assists.
Giroux has outperformed Sidney Crosby to the point that he has to be recognized as the best player on the ice.
Even if he doesn't get his due, the Flyers need one more game to end Pittsburgh's playoff hopes. Giroux and Danny Briere have figured out this Pittsburgh defense so well that it's evident they'll score their way into the second round. 
Alex Ovechkin
Call it a choosing a big-name or an easy pick. I think "Ovie" will breakout in the next few games of the first round. 
He's only had four shots in Washington's two playoff games thus far, but there have only been four goals scored in this entire series. Both contests have been complete slugfests that have gone into overtime.
Isn't Ovechkin due to play a role in this series narrative?
Some will say he's not the same player that was racking up 100-point seasons a couple years ago. Regardless, when Ovechkin stays engaged, he's one of the most dangerous shot-makers in hockey.
The Washington Capitals are in a unique situation for themselves this postseason. They came into the Stanley Cup playoffs under the radar with a conservative offensive approach. That goaltender, Braden Holtby, has been magnificent thus far, snatching 43 saves and keeping the Capitals within striking distance for victories.
Holtby will need to keep them close, but expect Alex Ovechkin to rebound and net some leads for the Washington goaltender.