Manchester United History: 1945-1957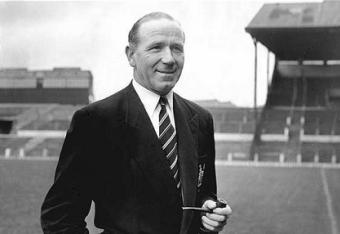 Sir Matt Busby (telegraph.co.uk)

Manchester United and the rest of the football world resumed after the war in 1945, and the club would be reintroduced to competitive football with a manager who would go on to become one of the all-time greats.
After agreeing to join the club in February 1945, Matt Busby took charge of United on October 1,1945. Busby, who played for both Manchester City and Liverpool before the war, was given total control of all aspects of the team, which was rare for managers of the era.
This level of control would set Busby apart and allow him the freedom with which he could build his team as he saw fit without interference from the board, which was common at the time.
Allowed to appoint his own staff, Busby named Jimmy Murphy the Reserve Team coach in one of his first actions as manager. The duo of Busby and Murphy would quickly become a partnership that would see United flourish in the post-war era. Murphy proved to be an integral part of United, and his influence on the players was immense. Rarely, if ever, has a coach had such an impact on a club.
Busby quickly set about stamping his own mark on the complexion of the team. Seven players were put up for sale, and Busby made his first signing, securing Jimmy Delaney from Celtic. Four members of United from before the war stood out as key performers in Busby's early plans.
Forward Jack Rowley had already made his debut prior to the war and became one of the stars in Busby's first team. Left-back John Aston and winger Charlie Mitten were both juniors prior to the Second World War and would make senior debuts at the conclusion of the war, becoming heavily involved in Busby's plans.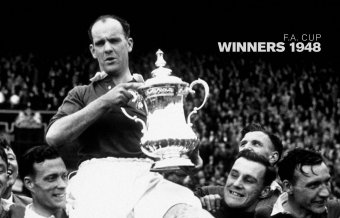 Johnny Carey had played for United prior to the war and continued to represent the club for a few years during the War League. A highly regarded right-back from Dublin, Busby named Carey as his first captain in the post-war era. Carey was also the first captain from outside the United Kingdom.
United's first foray back into competitive football was the 1945-46 FA Cup, but they were quickly dispatched from the tournament in the fourth round against Preston North End. The Football League resumed in 1946-47, and Busby led his team to a second-place finish, just one point behind Liverpool.
The club would finish second again the following season, this time seven points back from Arsenal. However, this season also signaled the end of United's long wait for another piece of major silverware. Carey would lift the FA Cup in April 1948, after United defeated Blackpool 4-2 in the final at Wembley. Rowley scored twice as United won the first of many honors under Busby.
Building off the FA Cup triumph in 1948, United finished runners-up for the third consecutive year in 1948-49 and made another run in the FA Cup, only to lose in the semi-final replay against Wolverhampton Wanderers. In their first season back at Old Trafford after repairs from the wartime bombings, the club slipped slightly in 1949-50 with a fourth-place finish but quickly returned to second the following season just behind Tottenham Hotspur.
Busby finally delivered the First Division title to the United faithful in the 1951-52 season. For the first time since 1911, United were league champions once again.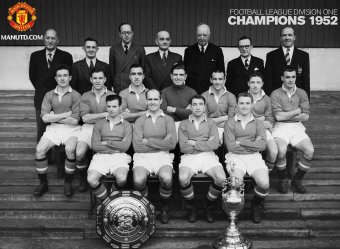 That season proved significant for numerous other reasons. James W. Gibson, who had saved the club from near extinction over two decades earlier, passed away in September 1951, just months before Busby would seal the title.
Gibson had established the Manchester United Junior Athletic Club (MUJAC) in 1938, which would become a crucial part of the foundation that Busby was laying at United. The first of the now famous Busby Babes would make their debuts in 1951, as both Roger Byrne and Jackie Blanchflower made their first appearances in November against Liverpool.
United would go on to win the FA Charity Shield against Newcastle United at the start of the next season, before failing to defend their title as they slipped down the table to an eighth-place finish. This signaled the end of Busby's first squad and the transition toward his next great team.
Carey retired that season after leading United to their first post-war honors. That 1952-53 season also saw debuts for Bill Foulkes, Dennis Viollet, David Pegg and the legendary Duncan Edwards, all of whom had come through the ranks at the club.
Edwards is still revered by supporters today as one of the best players not only in the history of United, but in the world. Such is his legend that he is so highly regarded by those who never even had the privilege to see him play.
A wing-half (defensive midfielder in today's game) of immense ability, those who saw Edwards play had nothing but praise for the player who at the age of 18 became the youngest to make an England debut since the Second World War. Nevermind his position, people claimed he was so gifted he could play anywhere on the pitch.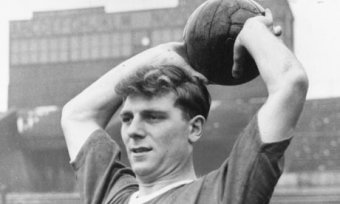 Friend and teammate Bobby Charlton said of Edwards: "Physically, he was enormous. He was strong and had a fantastic football brain. His ability was complete—right foot, left foot, long passing, short passing. He did everything instinctively."
Perhaps, the highest praise, however, came from future United manager Tommy Docherty:
There is no doubt in my mind that Duncan would have become the greatest player ever. Not just in British football, with United and England, but the best in the world. George Best was something special, as was Pelé and Maradona, but in my mind Duncan was much better in terms of all-round ability and skill.
Tommy Taylor was also signed from Barnsley that season for £29,999, which was the national record at the time. Busby reportedly did not wish to burden Taylor with the label of a £30,000 player, so he instead gave the extra £1 to the tea lady.
Busby had successfully laid the foundation for a new team to continue pursuing his goals at the club, although it would take a few years for his plan to become fully realized. Fourth- and fifth-place finishes in 1953-54 and 1954-55, respectively, would be key years in the development of the Busby Babes. Billy Whelan and Eddie Colman rose through the ranks to make their debuts during this period.
Byrne was named captain in the 1953-54 season and became Busby's voice on the pitch. He is somewhat famously known as a full-back of average talents, far less gifted than some of his teammates. In spite of this, he worked tirelessly and made up for his lack of ability with intelligence and grit. He was the ideal man to captain the Busby Babes, always leading by example.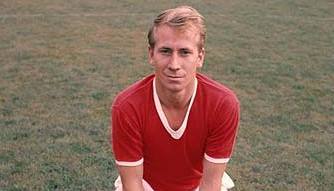 United would reclaim the First Division title in 1955-56 with the young squad that Busby had been grooming for years. Winning the league earned them a spot in the new European Cup competition, a frontier which Busby was eager to explore.
Busby then added another piece of silverware to his growing collection after defeating Manchester City 1-0 in the Charity Shield while taking his first steps in the great unknown of the European Cup. United made their first involvement in the new competition memorable with a 10-0 aggregate victory over Anderlecht.
Early in the new season, a young forward by the name of Bobby Charlton made his debut after rising through the ranks at Old Trafford. The Busby Babes went on to successfully defend their First Division title but fell to a 2-1 defeat against Aston Villa in the FA Cup final. United goalkeeper Ray Wood suffered a broken cheekbone early in the game during an era without substitutions. Blanchflower filled in before Wood returned in the final minutes, but it proved futile. Villa had prevented a historic Double.
United impressed on their first season in the European Cup, making a run to the semi-finals, only to be defeated by defending champions Real Madrid, who successfully defended their title that season. Failure in their first taste of European competition only served to motivate Busby and his players, and as champions of England once again, they would get another opportunity in 1957-58.
Back-to-back First Division titles and an appearance in the semi-finals on their first European Cup appearance certainly suggested that United's exciting young team was destined for greatness. However, one of the great tragedies in football was on the horizon, unfortunately, and all the hopes and dreams of a team would soon be devastated by a disaster that would forever change the club.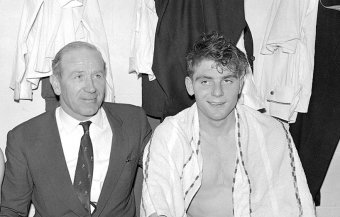 Honors
First Division: 1951-52, 1555-56, 1956-57
FA Cup: 1947-48
FA Charity Shield: 1952, 1956, 1957
Past Articles
Manchester United History: 1920-1945
Manchester United History: 1910-1919
Manchester United History: 1900-1909
This article is
What is the duplicate article?
Why is this article offensive?
Where is this article plagiarized from?
Why is this article poorly edited?

Manchester United: Like this team?