WWE's Worst Person of the Week: Kane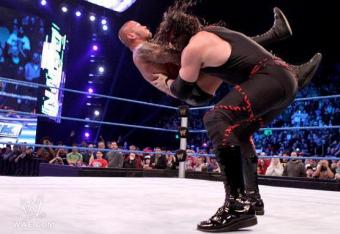 Photo courtesy of WWE.com

Plenty of WWE superstars earned their way onto the bad side of Santa's list last week.
Chris Jericho did so by giving CM Punk yet another beer bath, Daniel Bryan did so by once again treating AJ the exact opposite way of how a woman should be treated and Lord Tensai did it by beating the crap out of Yoshi Tatsu.
But only one man stooped to such a low level that he viciously assaulted another man's father. I'm talking, of course, about Kane.
After losing to Randy Orton on Smackdown two weeks ago, Kane was out for revenge on "The Viper," and he got that revenge by attacking Orton's dad, "Cowboy" Bob Orton, as Orton competed in a match against Mark Henry.
"The Big Red Monster" interrupted Orton's match with a promo via titantron, and the camera panned to a shot of Kane standing over an unconscious Bob Orton.
The angle was cheesy, sure. But it showed the lengths that Kane was willing to go to in order to get back at Orton.
He didn't stop there, though.
An incensed Randy Orton left the ring mid-match, sprinted to the backstage area and went on a search for both Kane and his father. Orton found his dad knocked out in an otherwise empty room…or at least that he thought it was empty.
As Orton tried to get a response out of his father, Kane attacked him from behind with a steel pipe and knocked Orton to the ground as well.
In case you're keeping score, at this point it was officially Kane: 2, the Orton Family: 0.
Kane had done what Jericho has done to CM Punk in the recent past, and that's target Orton's family to get to Orton. Jericho did it verbally, but Kane did it physically.
It's one thing to go after the guy that you are feuding with, but it's a whole different ball game to go after his father, a 60-year-old man who can hardly even defend himself anymore.
And that's precisely why Kane is the WWE's Worst Person of the Week.
Well, that and the fact that that "I'm a sucker for family reunions" line was one of the worst lines in wrestling history.
Note: As part of the new WWE blog, I'll be asking all of the B/R wrestling readers for questions for a new mailbag that I will post on Fridays. It will be a slideshow featuring 10-to-20 questions and answers on a wide range of topics. You can submit questions either through Formspring or Twitter, and the best ones will be answered in the B/R mailbag.
This article is
What is the duplicate article?
Why is this article offensive?
Where is this article plagiarized from?
Why is this article poorly edited?