WWE Raw Preview: 5 Things to Look for in Tonight's Episode (April 16)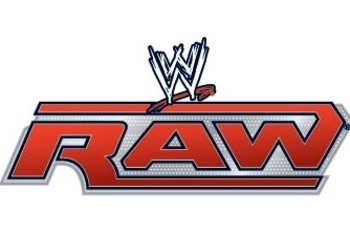 Photo courtesy of WWE.com
Tonight's episode of Monday Night Raw comes to you from across the pond.
The WWE will hold the Raw TV tapings at the O2 Arena in London, England later today, and thanks to the time difference between the UK and the US, we'll get a rare taped edition of Raw tonight.
Even though the show's spoilers will hit the Internet before it airs, that's not going to prevent me from giving you guys and gals a nice little preview of it anyway.
Raw should be a good show tonight and a very newsworthy one, so let's take a look at what to expect.
Here are five things you should look for in the April 16th edition of Monday Night Raw.
5. The Next Step for Lord Tensai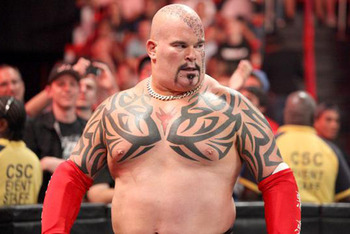 Photo courtesy of WWE.com
The debut/return of Lord Tensai has fallen a bit flat so far.
I don't blame it on Tensai himself because I like what I've seen from him. Rather, I blame it on the creative team for doing what it does with every returning/debuting monster heel and just giving him squash matches.
Aside from the random "Albert" chants in the crowd, no one seems to care too much about Lord Tensai, and I'd say that it's largely because no one cares about the lower-card workers that he's beating.
So might we see the start of an actual feud for Lord Tensai tonight?
While I'd love that to happen, I honestly don't think it will until after Extreme Rules, when a lot of these WrestleMania feuds have ended and fresh new feuds are being started.
Still, that won't prevent me from at least holding out a little hope that Lord Tensai does more than compete in a boring squash tonight.
4. The Continuation of the Partnership Between Brodus Clay and Santino Marella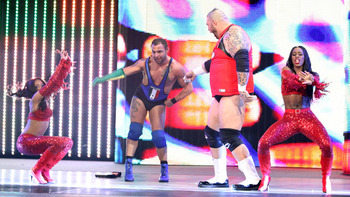 Photo courtesy of WWE.com
I think Santino Marella has found a replacement for Vladimir Kozlov.
Santino and Brodus Clay seemed to have formed a bit of a partnership as of late after Clay saved Santino from a post-match attack two weeks ago and the duo teamed up to beat Dolph Ziggler and Jack Swagger on last week's Raw.
"The Funkasaurus" finally has a storyline, and after his team's victory last week, we may want to pay attention to what happens with him and Santino this week.
Is their partnership a permanent thing? Will their feud with Ziggler and Swagger continue? Might they challenge for the WWE Tag Team Championship?
I really like the potential that this Clay/Santino duo has, so what happens with them on tonight's Raw will be something that I pay very close attention to.
3. What Are John Laurinaitis' Big Plans for the Miz?
In a backstage segment on last week's Raw, John Laurinaitis said something very interesting to The Miz:
"Miz, I know I owe for you WrestleMania. I have big plans for you, but tonight's a little crazy. Let's talk next week."
Obviously, Laurinaitis does owe The Miz something because if it weren't for The Miz, Laurinaitis might not be the GM of both Raw and Smackdown right now.
But what exactly are Laurinaitis' "big plans" for The Miz?
Realistically, there are a number of things that Laurinaitis could be referring to, but you have to think that what The Miz really wants is a World title shot.
Perhaps on tonight's Raw, we will find out what those "big plans" are and if The Miz is indeed going to be rewarded for saving Laurinaitis' job.
2. Will Brock Lesnar Appear?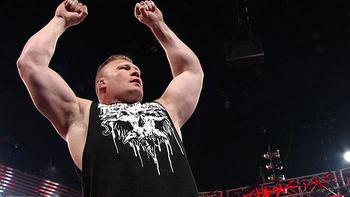 Photo courtesy of WWE.com
Brock Lesnar is reportedly signed to a one-year deal that will see him make a limited number of TV appearances through WrestleMania 29.
But given that tonight's episode of Raw is all the way in London, England, one would assume that Lesnar didn't make the journey across the pond to appear on the show.
At the same time, though, I don't think we're just going to get nothing from him on Raw tonight.
Given that Lesnar is involved in the WWE's biggest feud with John Cena and is now being pushed as one of the company's top heels, he's going to have to be involved in the show in some way, shape or form.
While I highly doubt that we see Lesnar in person in London, I'd bank on seeing some sort of video package or promo from Lesnar that leads to Cena responding with a promo of his own.
I guess we'll just have to wait and see, though.
1. Mark Henry vs. CM Punk in a No DQ/Countout Match for the WWE Championship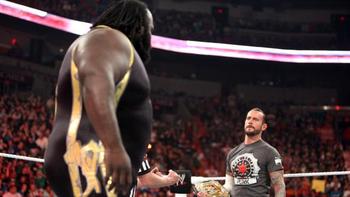 Photo courtesy of WWE.com
Mark Henry has beaten CM Punk in two WWE Championship matches on the last two Raws, but those victories came by countout and DQ, meaning that Punk held onto his title.
That, however, has all led to tonight's No DQ/Countouts match as Punk once again puts his WWE title on the line against the World's Strongest Man.
I, for one, don't think Henry is going to be the one who ends Punk's lengthy title reign, but tonight's match should be really interesting regardless.
With the no DQ and no countouts stipulations and Punk's ongoing feud with Chris Jericho, the odds are definitely not in Punk's favor to leave London as the WWE Champion.
Chances are that Jericho will make an appearance during the WWE title match and attempt to help Henry beat Punk, but my guess is that something goes wrong that leads to Jericho accidentally costing Henry the match.
That's just a hunch, but either way, I'm excited to see what goes down when Punk takes on Henry later tonight.
Note: As part of the new WWE blog, I'll be asking all of the B/R wrestling readers for questions for a new mailbag that I will post on Fridays. It will be a slideshow featuring 10-to-20 questions and answers on a wide range of topics. You can submit questions either through Formspring or Twitter, and the best ones will be answered in the B/R mailbag.
Keep Reading