Brian Wilson Injury: San Francisco Giants Have Bullpen Depth, but Closers Abound
April 16, 2012

Ezra Shaw/Getty Images
The San Francisco Giants got a rather serious answer to the "What's wrong with Brian Wilson?" question.
After the Giants' closer struggled to finish the team's 4-2 win over the Colorado Rockies last Thursday, concerns of a possible injury were voiced loudly by fans and media watching closely.
Wilson labored noticeably, giving up one run on three hits and a walk. He took 32 pitches to close out the ninth inning, throwing only 18 for strikes. Especially troubling was the diminished velocity on Wilson's fastball, forcing him to rely primarily on his slider.
As Andrew Baggarly writes, the story Wilson went with after the game (as well as during the game to Giants coaches and trainers) was that he turned an ankle, and that's what was causing him problems. But eventually Wilson had to fess up. His elbow was barking. Big-time.
Wilson underwent an MRI, which revealed "structural issues" in his right elbow, and that almost certainly means that Tommy John surgery is in the very near future. This would be the second time Wilson has undergone the procedure. He required elbow reconstruction nine years ago during his college career at LSU.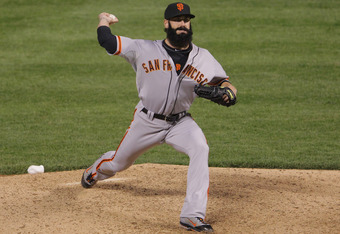 Doug Pensinger/Getty Images
Problems with Wilson's arm surely date back to last season, when he pitched only six times during August due to elbow inflammation.
While talking to the press on Sunday (as transcribed here by Carl Steward of the Mercury News), he admitted that he knew there were issues with his elbow in 2010, when he pitched 86 innings through the postseason. Subsequently, Wilson threw only five innings this spring.
As Baggarly points out, Wilson not only tried to fight through last season and spring training, but he also threw 10 pitches against the Rockies after he felt a pop in his elbow. He may come off like a clown with the persona and the beard, hanging out with The Machine and wacky Taco Bell commercials, but the man's toughness shouldn't be questioned. His honesty about the grueling rehab process after Tommy John surgery was also something you don't typically hear from an athlete. 
So, where do the Giants go from here?
If there's one bullpen that can sustain losing Wilson, it might be this one. Brian Sabean put together a deep relief corps, and Bruce Bochy apparently intends to rotate his late-inning relievers to get saves. Closer-by-committee! 
Most Giants fans would tell you that Sergio Romo is the team's best reliever anyway. But Bochy might not want to limit him to pitching the ninth inning, preferring to use him whenever a high-leverage situation arises.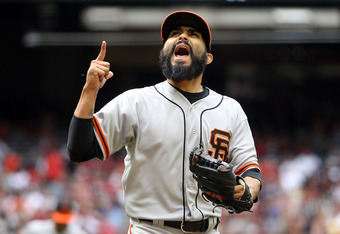 Christian Petersen/Getty Images
Bochy seemed to manage that way in Wilson's absence last season, when Santiago Casilla got six saves and Ramon Ramirez notched four. Ramirez is with the Mets now, but Casilla is still around and seems likely to get the call again. (He just needs to remember to wear the correct road jersey.) But Javier Lopez and Jeremy Affeldt are also available, though Bochy will use them primarily as situational lefties. 
Another possibility is Class AAA reliever Heath Hembree, who saved 38 games between Class A and AA last season, with 78 strikeouts in 53.1 innings. But Henry Schulman reports that the Giants prefer not to rush him to the majors, as he's pitched only three games with their top farm team in Fresno. 
So Sabean probably doesn't have to go shopping for a closer during the season. But if he does, there should be a few names available at the trade deadline.
Grant Balfour of the Oakland Athletics is just across the bay. Brandon League with the Seattle Mariners is also likely to be available. The San Diego Padres could conceivably put Huston Street on the trade block. Jim Johnson and Kevin Gregg could be on the market when the Baltimore Orioles fall out of contention, and the same goes for Carlos Marmol and Kerry Wood with the Chicago Cubs. 
It seems far more likely that if Sabean tries to make a deal to upgrade his roster, however, it would be for a hitter. The bullpen already has plenty of arms, while the Giants' lineup is having its usual trouble with scoring runs, especially with Brandon Belt and Aubrey Huff struggling to hit .200.