Fantasy Baseball Waiver Wire: Early Season Pickups That Will Get You Ahead
April 16, 2012

Elsa/Getty Images
The 2012 baseball season is under way and with it, fantasy baseball. The season is young and a lot of players have had slow starts.
If you have big name guys like Albert Pujols on your team then you just need to wait him out. Albert is going to get going eventually. Same goes for C.C. Sabathia. Sabathia is not going to continue to have an ERA above six.
Some of you might have had Jacoby Ellsbury or Brian Wilson. So now you're looking for guys to fill those holes left by the injured stars.
J.D. Martinez of the Houston Astros should be the first guy you look for to replace Ellsbury. So far through 2012, he is batting .371 and has three home runs. Martinez has had a hit in every game so far this year. He has also knocked in 10 runs already. If he's not on your team, you should run to the wire and add him.
Ryan Sweeney is off to a hot start in Boston. With the injury to Ellsbury he could be a nice fill in guy for you. He is mostly used against right handed pitchers but if you can spot start him against right handed hurlers you could get quality numbers. Sweeney is batting .400 with four RBIs.
Cody Ross, another Red Sox outfielder, will see a big bump in playing time without Ellsbury around. Ross has been on a hot streak of late—over the last three games Ross has driven in eight runs.
Chipper Jones could be a nice addition to your roster at third base. Jones is going to be in and out of the lineup much of the year because of his age. When he is playing he should be in your lineup. Through three games, Jones already has two home runs and five RBIs.
If you're looking for help at pitcher Joe Saunders of the Diamondbacks could be a nice add. In Saunders last start against the Padres he went seven full innings, allowed four hits, walked two and struck out four. Saunders goes against the Pirates tonight and you could easily get better numbers.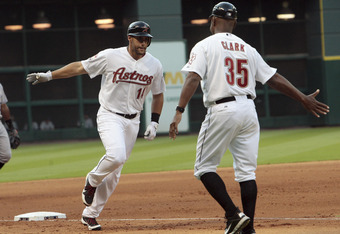 Bob Levey/Getty Images
Danny Duffy out of Kansas City deserves a look. He pitches tonight against the powerful Detroit Tigers lineup. Duffy is coming off a dominate performance in his first outing. He went six full innings, allowed one hit and struck out eight. Duffy's next two games will be at home.

Kyle Drabek of the Toronto Blue Jays is the last starting pitcher I'm going to suggest. Through two starts, Drabek has worked over 12 innings, given up nine hits and allowed only two runs. Drabek's next start is not until Friday but it's against the Royals. Drabek could easily be 3-0 after that start.
If you are looking for someone to replace Brian Wilson,d Joe Nathan of the Texas Rangers could be your guy. Nathan is off to somewhat of a rocky start but that could change. He blew a save against Seattle by allowing four hits and three earned runs, yet I'm going to call that a fluke.
Nathan already has three saves and the Rangers are going to continue to out slug people. That means plenty of save chances.