Tennessee Football: Latest News, Injuries and Updates on the Volunteers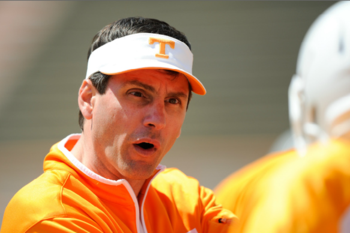 UT Sports
The Tennessee Volunteers are just days from kicking off their annual Orange and White Game, and there is plenty of news to report on. It's dangerous, really, how excited fans at this time of year are because we're still five and a half months away from the 2012 college football season!
I've compiled the latest news from Saturday's scrimmage, injury reports and a few updated quotes from the Vols' leadership.
One piece of news that is at the bottom of this entire spring has been the focus and determination of Tyler Bray. This team is his and will go has far as his cannon arm and mental fortitude can take it.
Latest News: Saturday, April 14th Scrimmage
UT Sports
I know it's just the spring, and I know that the Vols' scrimmages are played against themselves, but the fact that Justin Hunter reeled in a 50-yard touchdown bomb from Tyler Bray on Saturday is great news.
Hunter hasn't caught an in-game (or in-scrimmage) pass from Bray in seven months, but he was able to tally 70 yards on just three catches in Tennessee's second scrimmage.
Marlin Lane led all runners with 71 yards and one touchdown, while fellow sophomore Jacob Carter led all receivers with 102 yards. Carter was Justin Worley's primary target for the scrimmage.
An All-SEC freshman last year, safety Brian Randolph picked up another interception at the end of the scrimmage. That makes him two-for-two in pickoffs during spring games this year.
Michael Palardy and Derrick Brodus both cranked field goals of over 40 yards, an exciting piece of news considering the Volunteers' problems with kicking last year.
This weekend's Orange and White Game should be a lot more fun to watch than last year's where Bray completed five of 30 passes.
Injuries: Nathan Peterman out for Spring, Zach Fulton Coming Back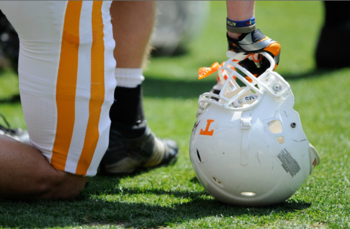 UT Sports
Nathan Peterman: His spring has been cut short due to a dislocated finger on his throwing hand. While such an injury to a quarterback shouldn't be overlooked, the immediate decision to shut Peterman down until summer is precautionary.
Zach Fulton: After suffering a stress fracture in his right foot during conditioning sprints, Fulton has been sidelined most of the spring. James Stone has filled in at right guard, but now that Fulton is starting to regain his health, the two are battling it out for the starting spot on what should be a fine offensive line.
Brent Brewer: Brewer was another ACL injury during the 2011 season for the Tennessee Volunteers, but he is starting to make his way back to the team. Expected to play move from safety to linebacker this year in the 3-4 defense, Brewer has a little more wiggle room for his weight and can focus on rehabbing and continuing to get stronger.
Christian Harris: Harris redshirted last season as a freshman and was looking forward to joining the talented Tennessee linebacker corp this season, but it looks as though that will be delayed another year. Unfortunately, the Woodstock, Georgia native has torn his ACL and is likely done for the year.
Updates: Quotes from a Couple of the Veterans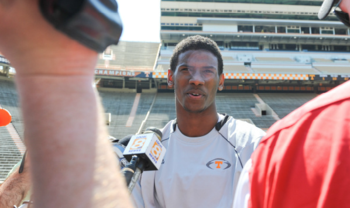 UT Sports
If Justin Hunter's knee isn't completely healed, we can at least bank on his confidence being back:
I think the first catch should have been a touchdown too, but they said he tagged me, which he didn't. I don't know who it was, but they weren't going to catch me. Since I saw that green, I was going to be gone. UT Sports
The most obvious difference you'll see when the Volunteers play defense this fall won't be the return of Herman Lathers or the numerous recruits coming in. It will be the switch to the 3-4 defense, which Maurice Couch is excited about:
Everybody loves it. I think going into the fall we are going to scare a lot of teams, running the 3-4 defense. We have a lot of talent on the side of the defense and depth will affect it a lot. UT Sports
After a tumultuous week in SEC football (Did you happen to hear about Bobby Petrino??), Derek Dooley remains focused on having a great 2012 season. Not only is a strong year likely due to the talent and the maturity of the players, it's a requirement in the make-or-break season for Dooley's future.
It's (Spring) Football Time in Tennessee!
Keep Reading

Tennessee Volunteers Football: Like this team?