Chelsea vs. Barcelona: Why Blues Can Upset Barca in Champions League Semifinal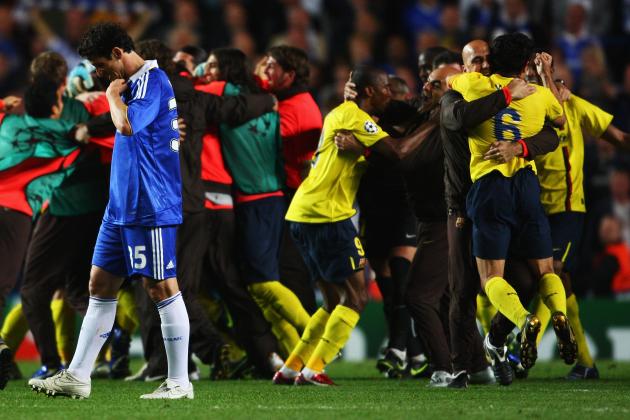 Jamie McDonald/Getty Images
Chelsea and Barcelona square off in another Champions League Semifinal
Chelsea facing Barcelona in the Champions League knockout round is hardly a dream fixture. It feels as if we have been here before and seen how this will play out.
The only thing less imaginative than a Chelsea-Barcelona tie would have been a Chelsea-Liverpool matchup. Thankfully, the FA Cup ensured those two would meet outside the Premier League once again.
Most people assume, and rightly so, that the Catalan club will have no problems brushing aside the Blues. The Champions League has become Barca's primary focus this season and a focused Barcelona team is one of the most dangerous in football history.
Only a fool would write off Chelsea, however.
This team may not be as good as they have been in years past but it still has a squad capable of beating any team in the world.
A lot has to go their way for that to happen though.
Here is why Chelsea can knock off the so-called best team in the world and advance to their first Champions League final since 2008:
Begin Slideshow

»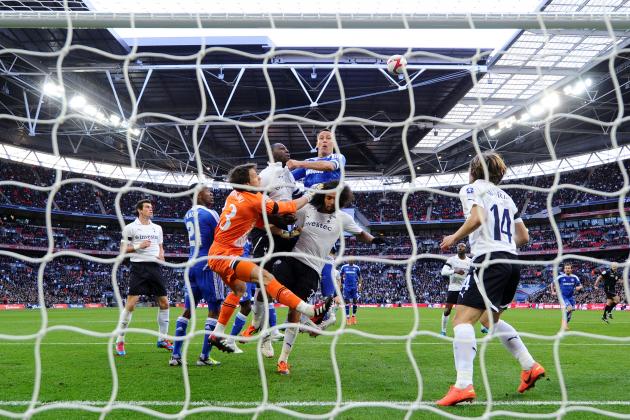 Mike Hewitt/Getty Images
Chelsea benefitted from a dubious call in Sunday's FA Cup semifinal.
Chelsea would seem to have luck on their side heading into the semifinal against Barcelona. Sunday's FA Cup semifinal was a prime example.
The Blues were helped greatly by referee Ron Atkinson against Spurs. It is not just domestically where Chelsea have been helped.
The London club were fairly lucky that Napoli were completely unable to defend from set pieces during their round of 16 matchup.
The quarterfinal draw was also rather kind to them as well. Benfica did not seem capable of an upset, nor did they remotely resemble the team that had given Manchester United such fits.
Football is about talent, skill and tactics but it does not hurt to have a little luck on your side. Especially if the best player on the planet happens to be playing for the opposition.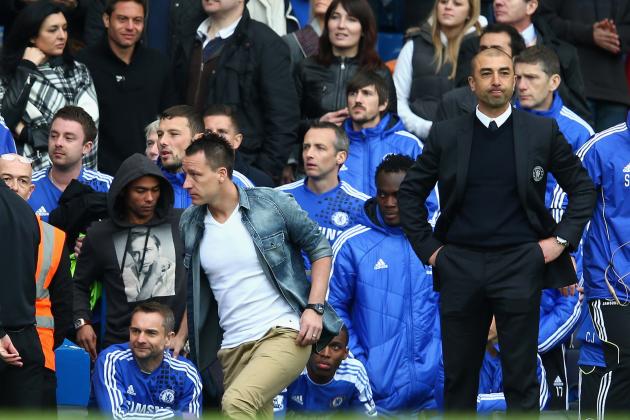 Clive Mason/Getty Images
Roberto di Matteo has sparked Chelsea's resurgence
By the time Roman Abramovich got around to sacking Andre Villas-Boas, Chelsea were in tatters.
The club had not looked as lost or disorganized since Claudio Ranieri was helplessly gesturing from the dugout during the Blues' shocking loss to Monaco in the 2004 Champions League semifinal.
Roberto Di Matteo took over as basically a last resort. Someone who simply there to fill the seat until the summer.
He has showed not only some tactical ability but supreme diplomatic skill during his current spell as Chelsea's caretaker manager. John Terry becoming his de facto assistant manager has seemed to helped his cause.
It is hard to know how much of Chelsea's turnaround is based on Di Matteo and how much of it is because the Chelsea players want to show just how bad Villas-Boas. Either way, it is working.
The Italian knows the result in Champions League will probably dictate his future status with the club. Anything less than the Champions League trophy being paraded around King's Road will see Di Matteo suffer the same fate as Avram Grant.
Barcelona must be wary of fighting a man with his back up against the wall.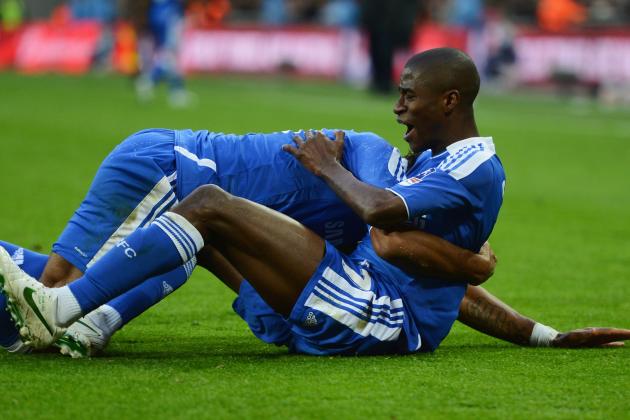 Mike Hewitt/Getty Images
Will Ramires and Chelsea be celebrating a trip to the CL Final?
Ramires has come into his own this season and could be the driving force behind an upset of Barcelona.
The Brazilian had struggled to find a role at Chelsea before this season but as developed into a powerful box-to-box midfielder.
His skills are not impressive individually, but his drive and ability to be everywhere his team needs him to be could prove vital against Barcelona.
Rarely do the Catalans have to come up against such a dynamic midfielder. Barcelona have faced skilled central midfielders but none are as forceful as Ramires.
His energy and running covers Chelsea's old guard which is exposed when he is not in the lineup. It is unlikely Chelsea will win the possession battle so the counterattack will be key for the Blues.
Ramires is a player equally adept at starting a quick move after the opposition loses possession or being in the right place to finish off a counterattack.
If Chelsea are to have a chance, they will need their powerful Brazilian to cause trouble for Barca's midfield in all aspects of the game.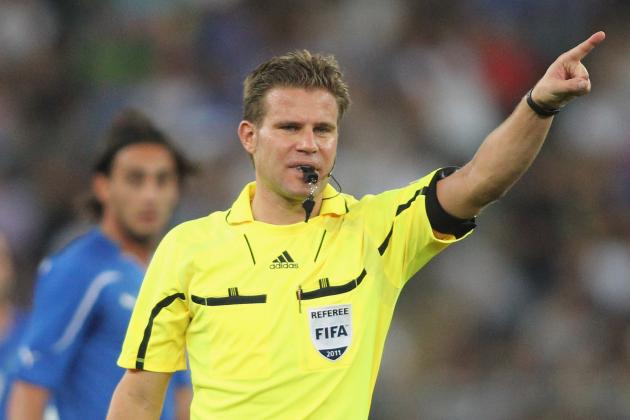 Maurizio Lagana/Getty Images
Felix Brych will be the man in charge of the first leg.
The one constant when Chelsea and Barcelona meet in the Champions League seems to be poor officiating. Too many of their matches seem to be marred by referee controversy.
UEFA appointed Felix Brych to officiated the first leg at Stamford Bridge. The last semifinal at the Bridge in 2009 was made memorable by Tom Henning Ovrebo letting the match spiral out of control.
It is unlikely the same will happen with Brych in charge. Known as a bit of a disciplinarian, the German referee will be uninterested in both teams' constant moaning.
A no-nonsense whistleblower will probably benefit Chelsea, who have constantly complained about referees being bullied by Barcelona players in previous encounters.
Brych will not be bullied by the players and he will not be afraid to reach for his cards either. If Chelsea lose the first leg, it will not be due in part to a weak referee.
Clive Mason/Getty Images
Lampard and Drogba's last chance for European success at Chelsea
This tie will probably define Frank Lampard and Didier Drogba's legacy at Chelsea.
Champions League success this season will have seen them win everything possible during their time at Stamford Bridge. A loss will prove the duo were never truly able to do it on Europe's biggest stage.
The future of both is up in the air at the moment.
Drogba seems likely to be heading to join Nicolas Anelka in China while Lampard has been on the fringes for Chelsea this season. There is a possibility the Chelsea stalwart could be heading for the exit.
That makes this match take on even more importance for them. Barcelona have haunted them for years and now is the last chance to slay the blue and red dragon.
Both have looked motivated in recent weeks and still have enough left to trouble the current Champions League holders.
Barcelona have looked complacent at times this season as they have already been here before. Drogba, Lampard and the rest of Chelsea's old hands are going to playing with a passion that could overwhelm Barca.