5 Reasons Boston Red Sox Fans Can Relax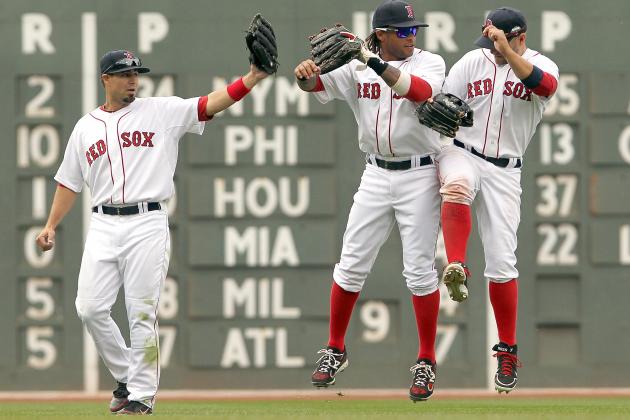 Jim Rogash/Getty Images

Having clinched their first series of the 2012 season—in a four-game set against the division rival Tampa Bay Rays, no less—the doom and gloom that dominated the Boston Red Sox's first six games is starting to lift.
The truth of the matter is that the fatalism of that first week was/is a bit premature (not that there's anything new with Sox fans reacting that way). This isn't to say that Boston is not without its deficiencies. But they are not the only team in the majors with significant improvements to make if they are to play deep into October.
And for all the scrutiny that the team habitually plays under, they have been enviously consistent. For the past five years, they have won no fewer than 89 games, reaching three postseasons and winning one World Series.
Do the resources the Red Sox possess make that success an expectation? Yes. But it's not a guarantee. Just ask the New York Mets, Chicago Cubs or other big-spending teams who struggle to play .500 ball.
Breathe easy, Boston fans. The sky isn't falling.
Here are five reasons why.
Begin Slideshow

»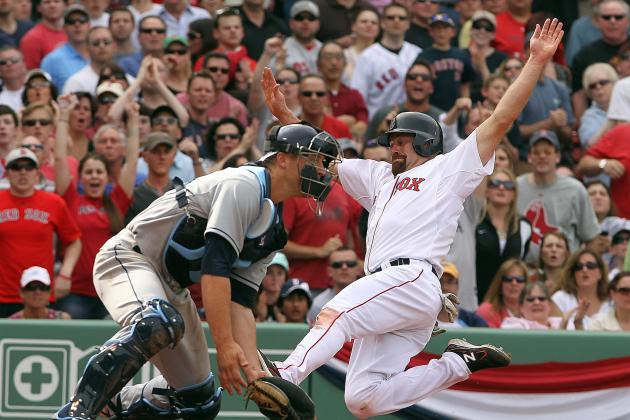 Jim Rogash/Getty Images

If the first week-and-a-half of play is any indication, the teams in the American League East will be beating up on one another for the entirety of this 2012 season, perhaps more than ever.
No team has been immune to the intradivisional warfare. The Rays swept the New York Yankees to open the season. The Yankees then swept the Baltimore Orioles, who bounced back and won 2-of-3 against the Toronto Blue Jays, who, in the series before, took 2-of-3 from the Red Sox.
For many years, this division was characterized by tightly fought contests between Boston and New York, and those two teams using the other three AL East clubs as punching bags—not anymore.
Why is this a good thing for Boston? Because it ensures that no one team will be able to run away from its division brethren. It will be the most hotly contested division in baseball, and the Red Sox will be right in the middle of that fight.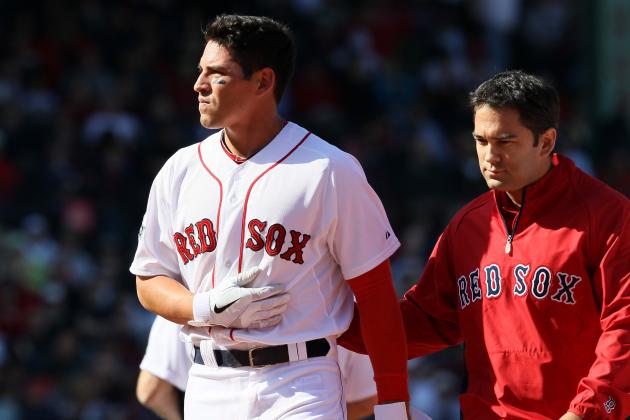 Elsa/Getty Images

With Jacoby Ellsbury's injuring his right shoulder last Friday, there are now 10 Red Sox players on the disabled list, a staggering number so early in the season.
John Lackey is out until 2013, and Bobby Jenks is likely finished in Boston—with Sox fans breathing sighs of relief for both—but the other shelved players are due back before the stretch run and can become key contributors.
Let's start with the pitchers, which the team needs the most. Closer Andrew Bailey is due back around the All-Star break and will immediately stabilize the bullpen, as will lefty Rich Hill, who has yet to allow a run in 12 innings with Boston.
Another southpaw, Andrew Miller is due back by the end of this month and could be used as either a back-of-the-rotation starter or a long reliever.
And of course, there's Daisuke Matsuzaka, who could be back by early June. In the final season of his six-year, $54 million contract, Dice-K could be properly motivated to step up his game and solidify the starting rotation.
All three position players on the Red Sox DL are outfielders, including two starters. Ellsbury helps Boston score in bunches with his combination of power and speed. If Derek Jeter's almost identical injury from 2003 is any indication, Boston's starting center fielder will be back and fully recovered by the end of May or early June.
Shortly before then, Carl Crawford will return following offseason wrist surgery. If healthy, he'll be able to put memories of a disastrous 2011 behind him and find a middle ground between that and his heyday in Tampa (hopefully closer to the latter than the former).
Ryan Kalish will also return during that time. With his speed, he'll be a threat on the basepaths and a capable late-inning defensive replacement.
Boston's problem right now is depth—something that the aforementioned players' return from injuries will address immediately.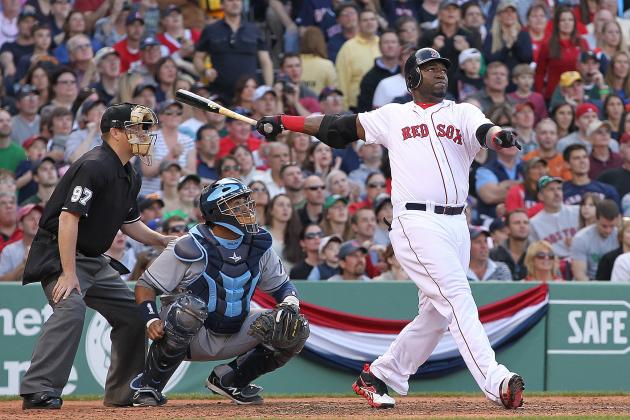 Jim Rogash/Getty Images

The Red Sox were held to four runs or fewer in five of their first six games, so it's little surprise they started 1–5. This team has too many good hitters—even with Jacoby Ellsbury out—to be handcuffed for six-game stretches on a consistent basis for the rest of this season.
Dustin Pedroia will take over as the table setter with Ellsbury sidelined, and mashers Adrian Gonzalez and Kevin Youkilis will have many opportunities to drive him (and others) in. We haven't even mentioned David Ortiz, who is off to the finest start of his career and validating Boston's decision to sign him to a one-year deal. Big Papi won't hit .400 for the season, but a .300/25/100 campaign seems well within his reach.
Considering the firepower that Boston's 1-5 hitters possess (when healthy), only one or two of those four other members of the starting lineup needs to be a difference maker. And Boston's supporting cast has the ability to step up on a game-by-game basis.
Both Cody Ross and Mike Aviles has already cranked two home runs, while Ryan Sweeney is batting .400 with four extra-base hits. And even though they won't hit for a high average, catchers Jarrod Saltalamacchia and Kelly Shoppach are capable of going deep batting from the No. 9 spot in the order.
The Red Sox's ability to score as many runs as any team in baseball has kept them in the thick of the postseason discussion every season since 2003. That will again be the case in 2012.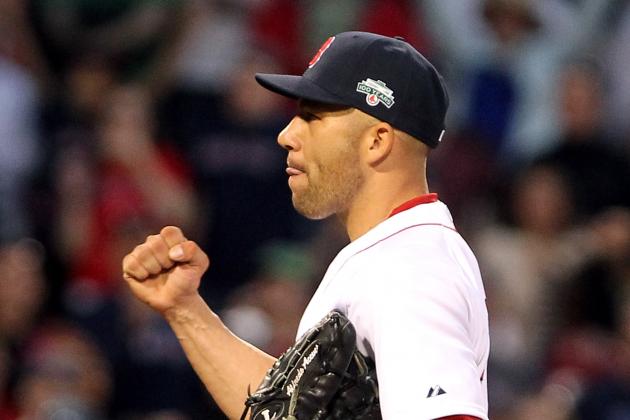 Jim Rogash/Getty Images

As the season goes on, Boston will have the ability to move its pitchers from one role to another depending on where they prove themselves to be most useful.
Felix Doubront and/or Daniel Bard don't cut it as the No. 4 and No. 5 starters? Call up Aaron Cook from the minors and reward him for the 1.88 ERA he posted this spring as a non-roster invitee. Or give Dice-K one last chance to prove himself when he returns from injury in June.
Alfredo Aceves has another flare up as the team's closer? Move Bard back to the bullpen and give Aceves a few spot starts, a la Derek Lowe in 2001. Bard was a dominant reliever for most of the past two seasons, and Aceves' workload in 2011 (114 innings pitched out of the bullpen) makes the possibility of stretching him out a feasible one.
And as discussed in the previous slide, having three other pitchers—Andrew Bailey, Andrew Miller and Rich Hill—coming back from injuries later this season will bolster the bullpen's depth and give them options for spot starts here and there. It's as if the Red Sox will be trading for reinforcements without having to give any players away.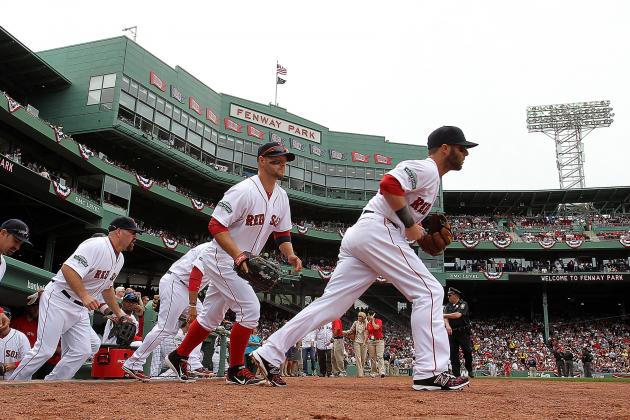 Jim Rogash/Getty Images

More than any other sport, the major league regular season is a marathon, not a sprint. Strong starts are certainly encouraged, but not getting off to one is far from a death knell.
Remember, the Red Sox dropped their first six games of the 2011 season before emerging as a viable World Series contender with their play from May to August. All of which was undone by their 7-20 collapse in September.
The point is that six-game stretches—especially so early in the season—rarely determine the course of a team's fortunes for the remainder of the year. The true measure of a team's postseason viability is its ability to string together a series of solid months and peak at the right time.
Hopefully, the Red Sox can achieve the latter in 2011 and replicate last season's ability to achieve the former.