Liverpool FC: 6 Things Kenny Dalglish Must Do to Keep Andy Carroll Firing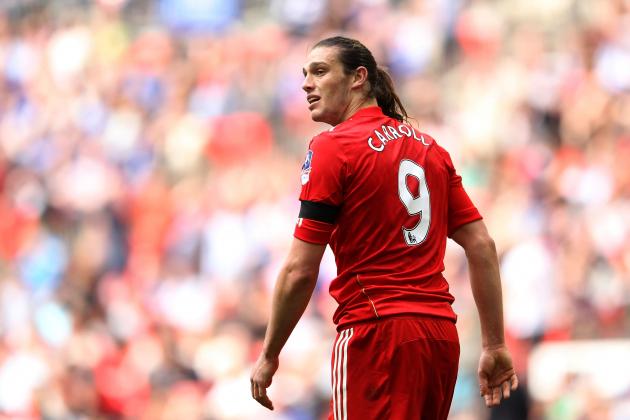 Scott Heavey/Getty Images

With that last-gasp winner against Everton in the FA Cup Semifinal on Saturday, Andy Carroll repaid the £35 million Liverpool shelled out for him last January.
So claims Jamie Carragher, according to the Guardian—but of course that was while emotions were still running high at Wembley.
If only it were that easy.
Just a week ago, Andy Carroll was reported to have admitted his struggles with his hefty price tag (according to the Daily Mail).
Two winning goals—both with his most famous attribute, his head, no less—later, Carroll will be bouncing with confidence, but his manager Kenny Dalglish remains the most important person to keep his star striker firing.
Let's take a look at six things Dalglish must do to sustain Andy Carroll's recent form—and, as usual, feel free to have your say below.
Begin Slideshow

»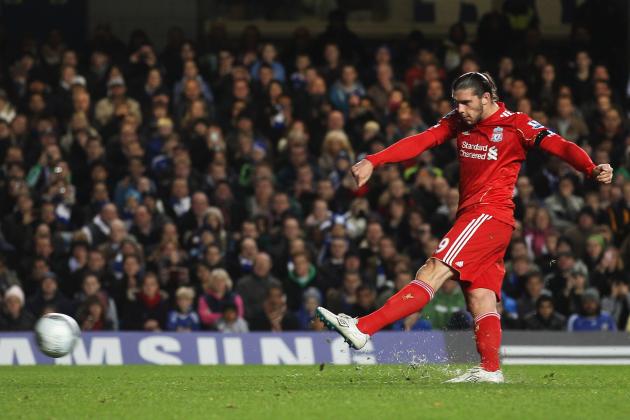 Clive Rose/Getty Images

Let's get the easiest one out of the way first.
It's common knowledge that Liverpool's Premier League season is just about over.
And with the FA Cup Final at the end of their season, Liverpool's remaining league fixtures should be dedicated to building for next season, because this season's results have frankly been unacceptable—as Director of Football Damien Comolli found out last week.
So what should Dalglish do in the league?
Well, for starters, he should let Carroll take Liverpool's penalty kicks.
While Carroll missed a penalty earlier in the season, he still retains a powerful left-foot shot—and it's been something of a common ploy for managers to give misfiring strikers penalty duties to get their confidence up.
And let's face it—it's not as if Liverpool boast a sterling record from the spot this season anyway.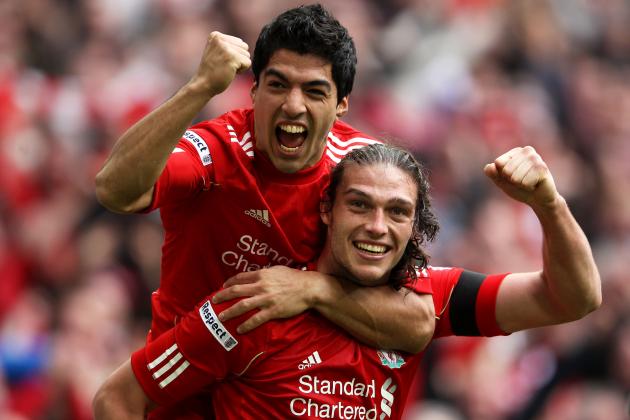 Scott Heavey/Getty Images

In Luis Suarez's first full season at Anfield, he's been seen and played more as an out-and-out striker than a second striker.
But not only does this place too much emphasis on his unreliable finishing abilities, it also wastes his much better all-round creative play.
Playing Carroll as Liverpool's lone striker would give him the line-leading responsibilities that he came to relish at Newcastle, while Suarez's movement and creativity would create space for the forward duo to attack.
This would also allow Suarez to slip in passes on the floor for Carroll, whose pace and finishing ability are underrated.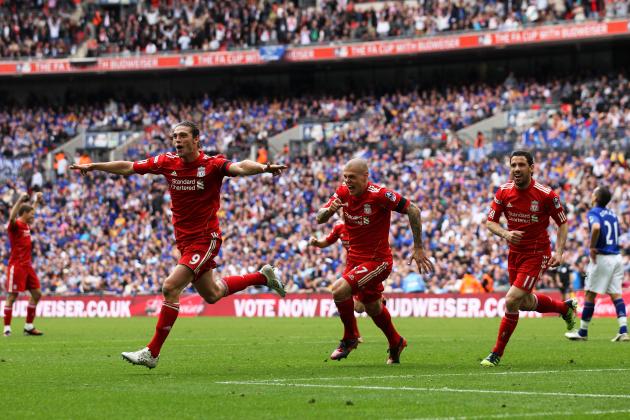 Scott Heavey/Getty Images

This suggestion is a bit of a gamble, I know.
But as much as the blame has been laid on Carroll for not tailoring his movements to Liverpool's pass-and-move game plan, so too the realization should be that Liverpool haven't exactly made him a key part of their tactical approaches.
Which, for a record signing, is curious to say the least.
Liverpool's apparent refusal to get players into the penalty box this season has been well-documented and immensely frustrating, especially because that's where Carroll does most of his work.
Aside from his flick-ons outside the box (which have led to many a goalscoring opportunity this season, including Dirk Kuyt's last-minute winner against Manchester United in the FA Cup), Carroll also gets on the end of deep crosses and knocks the ball down into good areas inside the box. But all too often, there hasn't been a single Reds player to take advantage of these chances.
So there is work to be done in training to get Carroll on his teammates' wavelengths, and vice versa.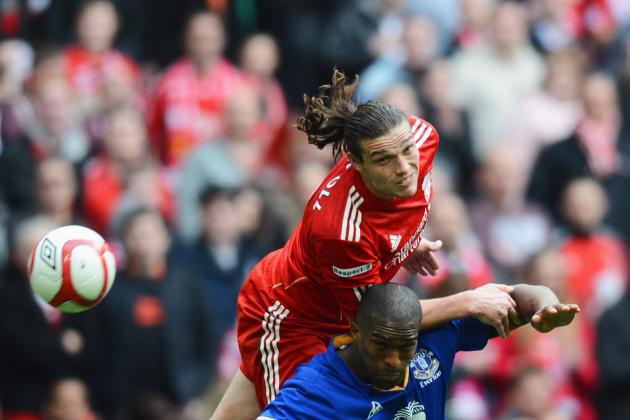 Mike Hewitt/Getty Images

In the past year or so, Liverpool's approach to corner kicks was to put a man (usually Kuyt) in front of the opposing goalkeeper. When Carroll has been on the field, he has often assumed that same role.
But he has too much more to offer attacking-wise than to be used as a mere obstacle.
A look at a highlights reel from his goals at Newcastle—and his winner against Everton this past weekend—shows that he presents a huge threat in the air from set pieces.
The ball should be delivered to him, for him to attack and score. Simple as that.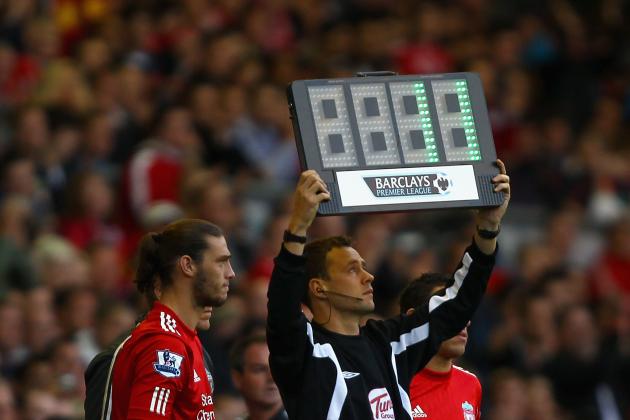 Clive Brunskill/Getty Images

The last two times Carroll has played through all 90 minutes, he's scored two match-winners at the death.
Coincidence?
Carroll is not a player who can come on as a substitute and change a game right away. He doesn't have the searing pace or the unpredictable trickery to do that.
But he is the type to grow in stature within a game, gaining confidence from his aerial duels and physical battles, and he has the ability to create a timely intervention with a goal or an assist.
Liverpool's record when Carroll starts stands at 15 wins, four draws and five losses, a 63 percent win rate. When he hasn't started, the record is eight wins, seven draws and seven losses, a 36 percent win rate.
Coincidence?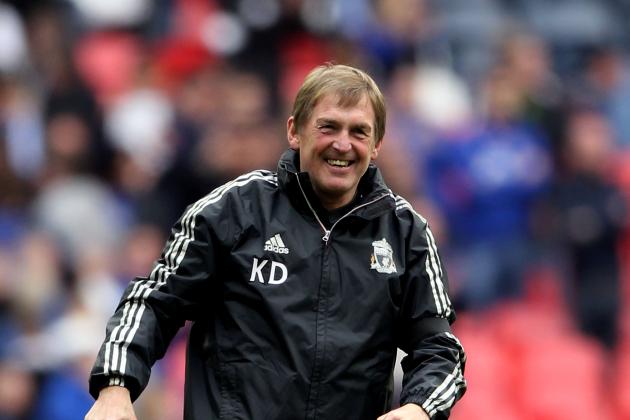 Scott Heavey/Getty Images

But the most important thing to keep Carroll amongst the goals is to give him an extended run in the first team.
Kenny Dalglish's rotation policy has seen in-form players relegated to benchwarmer status—and, in the case of Maxi Rodriguez, his most effective attacker relegated to nothingness—which has been to the obvious detriment of a team already severely lacking in consistency.
So with nothing much to play for except pride in the league for the rest of the season, he should decide on a first team he will be using next season and try to play them into some semblance of cooperation and form—with a few youngsters thrown into the mix here and there.
And Andy Carroll should be a fixture in the Liverpool starting XI until the end of the season.
By which point the debate will continue about his future as a Liverpool player.
If you liked this article, you might also be interested in 10 Things That Have to Change at Anfield Next Season. For more Liverpool match reactions and opinions, check out and subscribe to my blog, The Red Armchair, where I also host live match-day chats during select Liverpool games.