Colorado Rockies: The Bullpen Has Proved to Be a Strength
April 16, 2012
Justin Edmonds/Getty Images
On Sunday evening, the Colorado Rockies fell to 4-5 on the season. Many fans, along with local coverage, have been asking the question, "when is it time to panic?"
While it is far too early to hit the panic button, there are plenty of positives and negatives to take from the first nine games.
Drew Pomeranz, the prize piece from the Ubaldo Jimenez trade, made his season debut on Sunday afternoon. Pomeranz had a rough day, giving up five runs on nine hits in 4.1 innings. The Arizona Diamondbacks took advantage of Pomeranz any way they could, racking up five steals.
However, the story from yesterday's game was not Pomeranz; it was the dominance that the Rockies' bullpen has shown this season.
Yesterday was no different.
Josh Roenicke came in to relieve Pomeranz in the fifth inning and went on to pitch 2.2 innings, allowing only one hit on five strikeouts. Roenicke pitched as though he was the centerpiece from the Jimenez trade. He showed good command on his breaking pitch, while jumping ahead in the count.
Matt Reynolds and Rafael Betancourt each pitched an inning of relief as part of an effort to give the Rockies a fighting chance.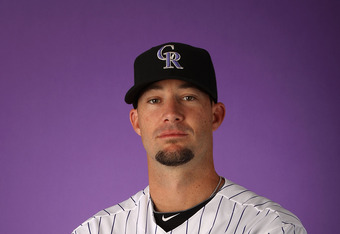 Christian Petersen/Getty Images
There has already been a noticeable difference between last season's team and this year's version. There is a fight in this team that has led to each of its four come-from-behind victories.
It has all been made possible by the bullpen.
Looking at yesterday, Pomeranz needed 100 pitches in just 4.1 innings. The Rockies trailed 5-0 before Josh Roenicke stepped in. While the Rockies lost 5-2, the bullpen was able to step in, allow no runs and provide the team with an opportunity to make another come back.
Go back to Juan Nicasio's long-awaited Coors Field debut. Nicasio needed 91 pitches to get through 2.2 innings, while walking five. Then the bullpen stepped in. Four relievers combined to pitch 6.1 scoreless innings, allowing no runs. The Rockies went on to win that game 7-6.
While there have been rough outings, other members of the bullpen such as Esmil Rogers, Rex Brothers, Matt Belisle and Josh Roenicke have been able to come into games and set a strong foundation for comebacks.
In games where the bats came alive, the work of starting pitching put the Rockies in a hole where it was necessary for a comeback.
If the Rockies hope to have any success this season, starting pitching absolutely has to step up. Jeremy Guthrie is responsible for the only win earned by the starting rotation and Jamie Moyer is the only starter with an ERA under five.
The Rockies have a formula for success, but only if the starting pitching can eat up innings and provide the offense with more help early in the games.
The bullpen can't do it all, but it sure has been a huge strength thus far.