Andy Lyons/Getty Images
April 16, 2012
Last month, the Patriots signed former Colts wide receiver Anthony Gonzalez to the roster. They gave Gonzalez a one-year deal worth $716,000 and a base salary of $701,000.
In so doing, the Patriots actually took advantage of three "loopholes"—two long-standing ones and one new one—in the Collective Bargaining Agreement between the NFL and the NFL Players Association. The only question is whether taking advantage of those loopholes will ultimately benefit the Patriots.
"Loophole" No. 1: No Signing Bonus
When new player contracts are announced in the NFL, one of the first questions asked is "How much guaranteed money did he get?" After all, NFL salaries, unlike those in, say, baseball, are not guaranteed.
Thus, it comes as a bit of a surprise that Gonzalez's contract included no signing bonus at all. The only bonus was a $15,000 workout bonus. This is an indication that either Gonzalez was eager to come to New England (as Brandon Lloyd appears to have been), or that there were simply no better offers on the table.
On the other hand, as we'll see, given the last "loophole," it does seem a bit strange that the Patriots didn't offer even a modest signing bonus of $10,000 or so.
"Loophole" No. 2: Split Salary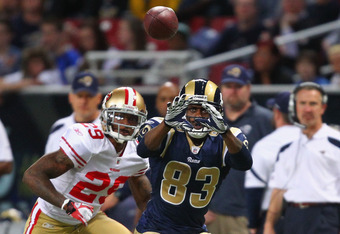 Like Anthony Gonzalez, WR Brandon Lloyd signed a team-friendly deal to play in New England.
Dilip Vishwanat/Getty Images
Gonzalez, now in his sixth season in the league, has had a tough run of injury luck in recent seasons. In all, he's been on the 53-man roster for just 11 games since the end of the 2008-09 season and has just five receptions, all of them in the 2010 season.
Thus, it's not surprising that the Patriots were concerned about the possibility that Gonzalez might not make it through the 2012 season and end up on injured reserve for a fourth season. Thus, Gonzalez's contract includes a "split salary."
For every week Gonzalez is on the 53-man roster, he'll receive about $41,000 in salary. If he ends up on injured reserve, though, his salary will drop to the minimum allowed by the league for injured players, about $21,000 per week.
"Loophole" No. 3: Paying Gonzalez an Extra $1,000
This may sound strange, but the last loophole employed by the Patriots was paying Gonzalez an extra $1,000 above the minimum salary allowed by the CBA. Instead of a base salary of $700,000, the Patriots gave him a base salary of $701,000. That extra $1,000 could cost them in the short run but could save them in the long 
This season, it could cost the Patriots an extra $161,000 in salary cap room. That's because Gonzalez's contract is not eligible for the Minimum Salary Benefit (found in Article 27 of the CBA). This provision—found in previous CBAs—was designed to give teams an incentive to keep "fringe" veterans on the roster.
The Minimum Salary Benefit works like this: a team gives an unrestricted free agent a one-year deal worth the minimum salary to which that veteran is entitled, plus a modest bonus (for 2012, up to $65,000 of bonuses). That player's salary is then reduced—for salary cap purposes—to the minimum salary for a player with two seasons' experience in the league ($540,000 in 2012).
Thus, if the Patriots had offered Gonzalez a salary of $700,000, $160,000 of his salary would be "forgiven" by the NFL for salary-cap purposes. But by adding that extra $1,000, his contract no longer qualifies for the benefit, and the full amount will count against the cap.
So far, it all sounds like bad news for the Patriots. So why did they pay that extra $1,000?
Because the Minimum Salary Benefit is both a boon and a curse.
It's a boon because it can provide salary cap relief (potentially up to $400,000 per player). But it's a curse because a team cannot choose to designate a contract as qualifying for the Minimum Salary Benefit. If it qualifies, the Minimum Salary Benefit must be applied to it.
This matters because of the new wrinkle regarding the Minimum Salary Benefit: if a player has signed a qualifying contract, then (1) the player cannot renegotiate a contract during the regular season, and (2) until the expiration of his contract, the only contract extension that can be signed is a new one-year deal that also qualifies for the Minimum Salary Benefit.
Put rather simply: unless a player is willing to stay at the vet minimum, he'll almost certainly hit the free-agent market again at season's end and be able to choose his next team.
The implications for the Patriots and Gonzalez are fairly clear: the Patriots must at least be considering the possibility of signing Gonzalez to a long-term deal, and they think that the ability to extend him before he can reach free agency outweighs the benefits of saving $160,000 in cap room this season.
Of course, all of this could well be moot, as Gonzalez is certainly not a lock to make the 53-man roster. But if he recovers and exceeds expectations, the Patriots will have a golden opportunity to lock him up long-term.
Like the new article format? Send us feedback!