NHL Playoffs: Brendan Shanahan's Discipline Decisions Are Embarrassing Hockey
April 16, 2012

Bruce Bennett/Getty Images
The NHL and league disciplinarian Brendan Shanahan's handling of player discipline in the 2012 Stanley Cup playoffs has been nothing short of embarrassing.
Shanahan's ability to perform his job at the level required of someone in a such a powerful position must be called into question after his mind-boggling player-discipline decisions this past weekend.
As Larry Brooks of the New York Post accurately points out via Twitter, Shanahan has received more criticism and questions about his ability to perform his job well than his predecessor, Colin Campbell, took years to rack up.
This is Shanahan's first year on the job.
In a couple of months, Shanahan has become the object of as much ridicule and derision as it took his predecessor years to accumulate.

— Larry Brooks(@NYP_Brooksie) April 16, 2012
And this is the same Colin Campbell who didn't suspend Boston Bruins defenseman Zdeno Chara for his scary hit on Montreal Canadiens forward Max Pacioretty last season.
Shanahan's job is a tough one, maybe even one of the toughest in sports, but he cannot use that as an excuse anymore given his inconsistent discipline decisions.
The #NHL Department of Player Safety has lost its way. "It's a hard job" is a cop-out. Inexplicable decision-making.

— Chris Botta (@ChrisBottaNHL) April 16, 2012
Last week, Nashville Predators defenseman Shea Weber drove an opponent's head into the glass in an attempt to injure, yet got off with just a $2,500 fine and no suspension.
On Saturday night, Ottawa Senators defenseman Matt Carkner sucker-punched New York Rangers forward Brian Boyle multiple times then continued to pound on him even though Boyle wasn't a willing fighter. Carkner received a one-game suspension as a result of the incident.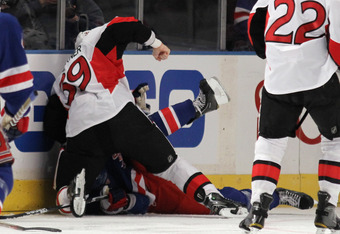 Bruce Bennett/Getty Images
These player-discipline decisions are a joke, and just when you think it couldn't get any more laughable, it does, and usually only a few days later.
Rangers forward Carl Hagelin's elbow on Senators captain Daniel Alfredsson, which also happened Saturday night, was an illegal hit and worthy of a one-game suspension, but he got three games instead. Three games for a rookie with no prior history? That's insane.
The Rangers released a statement on their official website regarding the Hagelin ruling, and it's hard to disagree with their comments.
The New York Rangers accept the NHL's three-game suspension of Carl Hagelin and will not pursue an appeal.  

However, we are thoroughly perplexed in the ruling's inconsistency with other supplementary discipline decisions that have been made throughout this season and during the playoffs. 
Here is the video of Hagelin's suspension, provided by Shanahan.
For a league that has put so much of an emphasis on head shots, and trying to take them out of the game after many top stars have suffered concussions in the past couple years, these disciplinary rulings make little sense and have no consistency.
Although this was a clear elbow and not something that should take place in an NHL game, Weber's act was far worse, yet he received just a small fine, which for someone like Weber who made about $7 million this season is like pocket change.
As for Carkner, he starts a fight on his own and then brings Boyle to the ice and continues to beat on him despite the Rangers forward not being able to defend himself. It was a disgraceful move where the only intent was to find Boyle and hit him repeatedly, whether he agreed to fight or not.
Here is the suspension video, provided by Shanahan.
This is not just dangerous, it's barbaric, and it made the sport of hockey and the NHL look awful. Yet, Shanahan decides that this uncalled for action by Carkner only should receive a one-game suspension. Weber's act, which made hockey look like wrestling, should have resulted in a multiple-game suspension but resulted in just a fine.
Shanahan even showed another example of Carkner doing the same thing earlier in his career, so he's a repeat offender, but he only gets a one-game ban. If that's not embarrassing, I don't know what is.
The inconsistency in the rulings is the most frustrating part of the league's handling of player discipline. Throughout the playoffs, which aren't even a week old yet, we have seen some really poor decisions on suspensions and non-suspensions that don't follow any sort of precedent at all.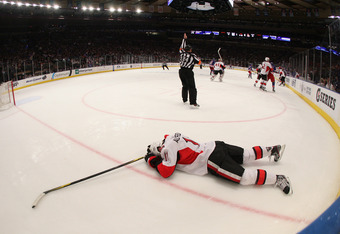 Bruce Bennett/Getty Images
Shanahan has put a lot of emphasis on injury over intent when making decisions on suspensions this season and in the playoffs, which is the wrong approach.
If a guy makes an illegal hit but the victim isn't injured, that doesn't make the dangerous hit any less egregious. Intent should be factored into any suspension decision more than injury, but Shanahan clearly doesn't view this way, which is unfortunate.
There is no connection at all between the Carkner, Weber and Hagelin rulings, as the Toronto Star's Damien Cox noted via Twitter:
Three games to Hagelin, a hilarious one to Carkner, none for Weber - anybody get any logical connection btwn these decisions?

— Damien Cox (@DamoSpin) April 16, 2012
Shanahan has proven time and time again this season that he isn't capable of performing his job as league disciplinarian to the level required to help the sport be as safe as possible. 
The players know the league cannot rule on disciplinary matters correctly, so they have no fear in their game. What's to stop a coach from sending out a goon to do something like Carkner did when the punishment will probably only be a one-game suspension?
If Shanahan and the league cannot show that they can accurately handle player discipline, then the department of player safety has to undergo a complete overhaul in the summer.
The NHL cannot afford to have Shanahan making the league look like a laughingstock any longer.
Nicholas Goss is a Boston Bruins Featured Columnist for Bleacher Report and has covered the team firsthand throughout the season. He was also the organization's on-site reporter for the 2011 Stanley Cup Final in Boston.