Arsenal: Will Andrei Arshavin Be a Gunner Next Season?
April 16, 2012

Arsene Wenger has steadfastly maintained that he sent Arsenal winger Andrei Arshavin out on loan to Zenit St. Petersburg "to get his confidence back."
If we were to take the Frenchman at his word, it would appear that Arshavin still has a part to play in the Arsenal script.
The 30-year-old Russian has played in five games for Zenit since joining his former club on loan in mid-February, starting three times. (This came out of seven potential games.) He has one goal.
But what a goal it was.
Arshavin helped seal Zenit's Russian Premier League title by sending home a wonderful volley in a 2-0 victory over CSKA Moscow on April 14. Zenit are now 14 points clear of second place with five games left to play in the season.
That goal might sum up Arshavin perfectly—an enigma capable of brilliance.
Arsenal fans have witnessed first-hand his scintillating displays of form, intrepid bursts of pace and dizzying industry that have a penchant of leaving defenders in a heap.
At times the little dynamo appears to have the ball on a string, yo-yoying it about the edges of the penalty area with aplomb.
But those interspersing bits of skill have become clouded by what many fans perceive to be laziness and indifference out on the wing. Consistency has appeared to elude him for nearly two years now.
And it is because of that loss of form that Arshavin seems to have run his course in an Arsenal shirt.
Whatever your feelings on the way he was used—Tomas Rosicky, in my opinion, was given the chance to prove himself in central midfield that should have been afforded to Arshavin far earlier in the season—is a matter of conjecture and matters little in the long run.
What is true is that Arshavin was at his best this season when allowed to operate in central midfield.
His finest match came on Oct. 25 in a Carling Cup bout against Bolton at the Emirates.
The Russian notched a goal and an assist in the 2-1 win, exerting an influence rarely seen in recent seasons.
He is often at his best when given space to turn and go at players in space. While pockets of space are available on the wing, Arshavin does not have the pace of an Oxlade-Chamberlain to exploit them consistently.
He can get past fullbacks and get his cross off or get into the area, but as he has often shown with the Russian national side, where he is the first-choice at AMF, he is far more effective when he can operate from a more central role.
It's there that his natural feel for technique and distribution truly blossom.
So why wouldn't Wenger give him a chance there? It is one of the more bizarre scenarios of recent seasons: He wants to put players in the position where they have the best opportunity to succeed.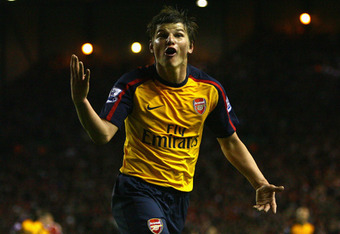 While some might feel Arshavin's nonchalant attitude on the wing would prohibit him from being given the gift of an audition in another position, the Russian may have provided help.
And given Arsenal's well-documented difficulties with providing service to Robin van Persie during the first stages of the season, Arshavin's link-up play might have helped mitigate that problem—perhaps even alleviating it altogether.
But now it appears he is on the way out of Ashburton Grove, the loan deal with Zenit the first chip in the eventual demolition of his Arsenal career (via SI.com).
Much has been made of Wenger's desire to get rid of some of the high contracts of fringe players, and Arshavin's £75,000 a week wages are a prime target.
So it is with mixed feelings that we prepare to say goodbye to Arshavin.
He provided some of the brightest lights of recent Arsenal seasons, and few will forget his captivating debut with the side back in 2009.
At that point, he was one of the premier attacking options in Britain, with six goals and seven assists in his first 15 matches in England (all competitions).
But like so many stars, the light that had burned so brightly never seemed the same after he failed to help Russia into the 2010 World Cup by way of a playoff against Slovenia.
He took that loss personally, and his form dipped because of it.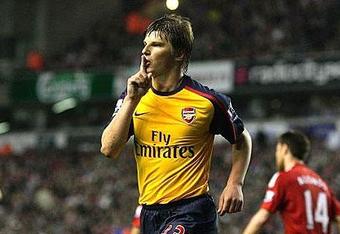 I've often felt that there is no room in football for true genius—Lionel Messi obviously provides the exception to the rule by displaying an aptitude for consistency that is downright prodigious.
Arshavin's genius, in my opinion, is the genius of the Van Gogh, the Gascoigne or the George Best—as erratic as it is brilliant.
The man with an eye for fashion design was capable of some of the finest displays of attacking ingenuity, but he was just as capable at infuriating viewers with his tendency to drift. Similar to an artist foundering in depression, unable to create anything of note.
It seems we won't see him in an Arsenal shirt again, making him the latest in a line of Gunners who showed great promise but never fulfilled what appeared for all the world to be...well, a world of potential.