Andrew Bynum, Pau Gasol: Which Big Should LA Lakers Lean on in Playoffs?
April 16, 2012
Harry How/Getty Images
To be honest, this is one of those trick questions. 
You really cannot have one without the other.  The Lakers are not the Lakers with either Gasol or Bynum playing second fiddle.
Realistically, if the Lakers do not lean on both of their big men in the playoffs they'll be out in the first round.
The Twin Towers of Tinseltown, Paul Gasol and Andrew Bynum comprise 14 feet of length when they are on the court together and enough scoring and defensive talent to drive opponents crazy and create opportunities for themselves and their teammates.
In Sunday's showdown with the Dallas Mavericks—a possible first-round matchup in two weeks—it was Bynum who scored 23 points and pulled down 16 rebounds.  But it was Gasol who made two corner three point shots in overtime to seal the victory for the Lakers.
If I did have to pick one of the two, I would argue that Bynum is the more critical component for obvious reasons:  The first-time All-Star has taken his game to a new level this year setting career highs with 18.6 points and 12.1 rebounds per game.  Prior to Sunday's game, the 7'0" center had upped those scoring numbers to 20.7 in his last 10 appearances.
Bynum put in 30 points against the Nuggets in a big home win on Friday and took down an incredible 30 rebounds in the prior game, a 14-point win over the San Antonio Spurs.  He is just the fifth Lakers player to reach that lofty goal and the first since Kareem Abdul Jabbar grabbed 30 rebounds against New Jersey in 1978.
In talking with L.A. Times Lakers beat writer Mike Bresnahan, the former Lakers great Elgin Baylor said of Bynum, "When I first saw him, I liked him. This young man had a lot of potential and could be a terrific player.  Getting 30 rebounds is no surprise because he's capable of doing it."
Bynum joins an elite group of Baylor, Jabbar, Wilt Chamberlain and George Miken who all had 30 or more rebounds in a single game for L.A.
Bynum is playing at an extremely high level and gives the Lakers that dominant big man who can do it all at both ends of the court.
But, let's not dismiss the big Spaniard from this conversation—Gasol brings something totally different to the table, and what he brings is essential to the team's success this year.
Without question, Pau Gasol is the best seven-footer in basketball at passing and mid-range jumpers.  He sometimes appears to be a point guard or small forward trapped in a very tall body.  A tremendous outside shooter, without those six points from Gasol in the closing minutes of overtime, the Lakers probably would have lost to the Mavs.
Gasol and Bynum seem to have figured out how to complement each other, with both of them getting similar amounts of touches on offense.  Gasol is not the rebounder that Bynum is, but he plays with passion and has proven to be a much tougher defender in recent games—Mavericks forward Dirk Nowitzki shot just 32 percent from the floor on Sunday in the game with L.A., much of that thanks to Gasol's defense.
Both players have their weaknesses—with Gasol, it is his tendency to come out too often and guard small, quick guards off rotations and get badly beat.  Bynum is his own worst enemy, getting technical fouls for losing his cool when teams double-and triple-team him.  He knows it, but the book is still out on how well he'll control it in the playoffs.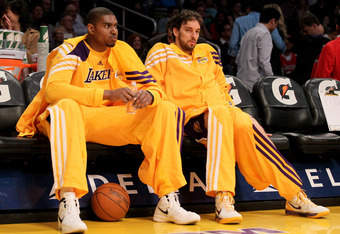 Stephen Dunn/Getty Images
A career 18.7 PPG scorer, Gasol has seen those numbers decrease this year.  But, like the rest of the team, he has picked up the slack in recent weeks—averaging just under 20 points in his last 10 games and shooting a shade over 50 percent from the field.  He also is taking down 10 rebounds, four assists and 1.5 blocks over that same stretch.
The Lakers also can lean on Gasol for his durability.  The hope is that Bynum will stay healthy throughout the postseason, but he does not have a great track record.  Gasol, on the other hand, rarely gets hurt and can slide over to the 1 if something were to happen to Bynum.  That makes him that much more valuable.
Based on their recent play, the Lakers appear to be turning on that proverbial switch.  Bynum, Gasol, Ramon Sessions, Metta World Peace, Matt Barnes—they all have turned it up a notch.  All while the league's leading scorer and possible MVP, Kobe Bryant, rests and recuperates from a severe shin injury.
So, while the Lakers need Andrew Bynum to play big in the postseason, they also need Gasol to play like he has the past few weeks for the team to legitimately have a shot.
Fourteen feet patrolling the paint on both ends of the court is just what this Lakers team needs to make a deep playoff run and have a shot at an NBA Championship.