Chicago Cubs: Theo Epstein Should Find Spot on Roster for Red Sox Castoff Bowden
April 20, 2012

Elsa/Getty Images
On March 15, the Red Sox designated a pair 25-year-olds for assignment. Former supplemental first-rounder Michael Bowden and catcher Luis Exposito were cleared from Boston's 40-man roster in order to make room for utility players Jason Repko and Nate Spears.
Boston's divisional rival Orioles were quick to grab Luis Exposito. Baltimore was lacking in catching depth in the high ends of the organization, so the move was simply procedural to provide insurance for Buck Showalter's club.
This leaves pitcher Michael Bowden. Bowden, a native of Winfield, Ill., is only 25 years old at this point and still holds some upside. An ugly 2009 call-up (9.56 ERA, 1.81 WHIP) hurt his stock, helping precipitate Bowen's move from starting prospect to reliever by the Red Sox. Whether the drop in his ERA, both at the major and minor leagues since then is a result of him being shortened up or just Bowden maturing is debatable.
The Cubs have already made a few waiver claims since Theo Epstein took over, grabbing pitchers Eugenio De La Cruz and Shawn Camp, and infielder Luis Valbuena.
The current issue is that the Cubs have no room for Bowden on their rosters, be it the MLB or 40-man. However, there are a few options to resolve this to claim Bowden while there's still time (teams have seven days to resolve waiver claims).
The first option is to simply designate one of the pitchers currently on the roster for assignment.
Amongst the players on the MLB club, the most likely options would seem to be veterans Shawn Camp and Rodrigo Lopez. Lopez and Camp have both outperformed Randy Wells, who holds a hideous 9.42 ERA through three starts at Triple-A Iowa this season.
As much as the Cubs brass likes the veteran depth at Triple-A, I have to believe anyone in their right mind is more confident in Lopez, Travis Wood or Casey Coleman starting a game over Wells right now.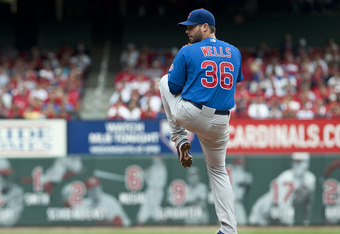 Ed Szczepanski/Getty Images
The second option is to make a trade and clear up a roster spot.
Teams with woeful rotations—such as the aforementioned Orioles—could inquire about someone like Travis Wood or Randy Wells, offering a prospect who isn't on the 40-man roster. The Cubs could also look to trade an infielder such as Blake DeWitt or Adrian Cardenas to a team in need of a boost there, such as the Phillies.
The third, and least likely, option to acquire Bowden would be to wait for him to clear waivers and then try and work out a trade with Boston.
If this were to occur, it'd likely be part of a bigger trade. With Boston's offense and starting pitching struggling, even the expiring contract of Ryan Dempster could look very appealing to the Red Sox, who currently sit in last place in the AL East.
Regardless of the method, look for team president Theo Epstein and GM Jed Hoyer to try and find a way to bring their former first-round pick into the fold for the Cubs going forward.