St. Louis Cardinals: Pitchers Who Will Get a Shot with Chris Carpenter out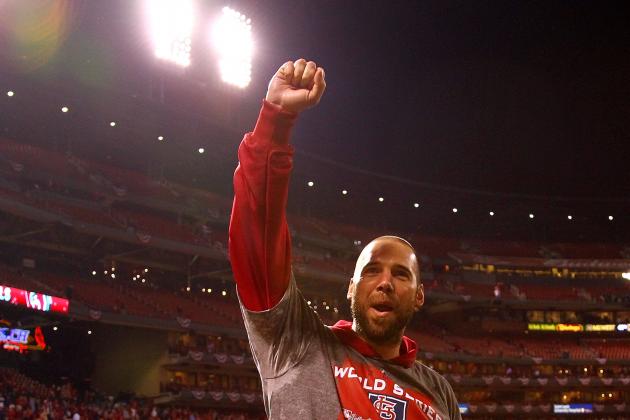 Dilip Vishwanat/Getty Images

The St. Louis Cardinals are attempting to defend their World Series title with some new faces due to the injury of Chris Carpenter.
Carpenter was the ace of the staff in the 2011 playoffs but is now dealing with a shoulder injury.
Some new faces will get an opportunity to step up in the absence of Carpenter, who should be able to return sometime this summer.
The Cardinals will need quality starts from someone to keep pace in the NL Central Division.
The division doesn't appear to be as strong as others, but the Cincinnati Reds should be improved and the Milwaukee Brewers still have a good lineup.
St. Louis fans are passionate about baseball and expect to compete in the division every year. The organization feels the same way and has positioned the Cardinals for another run this year.
To make a run for the postseason again, somebody is going to have to step up.
Here's a list of some pitchers who could get an opportunity to elevate their performance until Carpenter returns.
Begin Slideshow

»
Jeffrey Phelps/Getty Images

Lance Lynn opens the 2012 season as the fifth starter in the Cardinals starting pitching rotation.
So far, the former first-round choice of the Cardinals in the 2008 draft has not disappointed.
The big, right-hander is 2-0 in his first two starts. He's gone 12 innings, while giving up just six hits and two earned runs.
Most of Lynn's innings in 2011 came out of the bullpen, but Lynn is no stranger to a starting role.
Lynn worked as a starter in the minors and made two starts at the major league level last season before transitioning to the bullpen.
Lynn's arsenal includes a fastball in the 90s, an above average curveball, a two-seam fastball and a decent changeup.
Lynn is a power pitcher who has the ability to strike people out. In his first two starts in 2012 against the Chicago Cubs and Milwaukee Brewers, he has posted a total of 13 strikeouts.
Moving forward, Lynn may be more suited for the bullpen; however, this fifth spot is his to lose entering the 2012 season, and if he continues to get people out and make quality starts, he will solidify himself as a starter this year.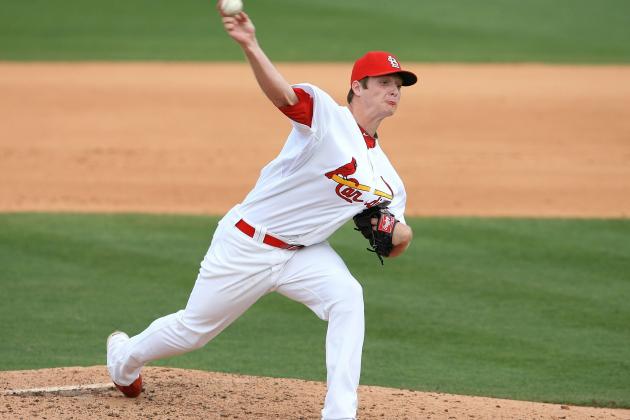 Doug Benc/Getty Images

Baseball America currently ranks Shelby Miller the eighth-best prospect in baseball and the best prospect in the Cardinals' organization.
Miller possesses a good build for a starting pitcher with a 6-foot-3 frame at 200 pounds. Miller uses that frame to help him hit high 90s with his fastball.
Miller averages around the low-mid 90s, but also has good downward movement to give him a good strikeout pitch.
He also uses a sharp, biting curveball and a changeup when he's on the mound.
His physical tools are outstanding, but he needs to get more consistent with his command, like most young pitchers.
His first two starts at the Triple-A level have been less than stellar. He's 0-2 with an ERA of 9.00, but has such good stuff that it will not continue.
Miller had an off-the-field incident involving alcohol in 2011, but the Cardinals do not seem overly concerned.
Miller gets to hone his skills at the Triple-A level to start the 2012 season, but do not be surprised if he's starting at the major league level very soon.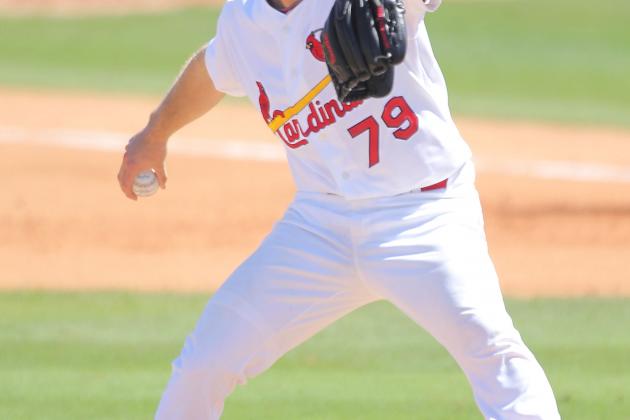 Marc Serota/Getty Images

Trevor Rosenthal is an intriguing prospect and seventh-best prospect in the Cardinals organization according to MLB.com
Rosenthal stands at 6-foot-2, 190 pounds, and has impressed people by the way he's moved up in the organization.
Rosenthal was a low-round draft choice (21st round) but continues to post good numbers while improving his stuff.
He's beginning the 2012 season at Double-A and is probably a stretch to make the major leagues. However, his stuff has major league potential and makes him a possibility.
Rosenthal normally is a low-to-mid 90s fastball pitcher but has topped out at 97.
He mixes that with an above average slider and a changeup which he's improving.
Like Miller, Rosenthal has gotten off to a rough start, posting a 7.27 ERA in his first two starts.
The Cardinals don't want to bring him up this season. He's still young and needs a few more years.
However, if the Cardinals face more injuries or the starters struggle, Rosenthal may be too hard to pass up.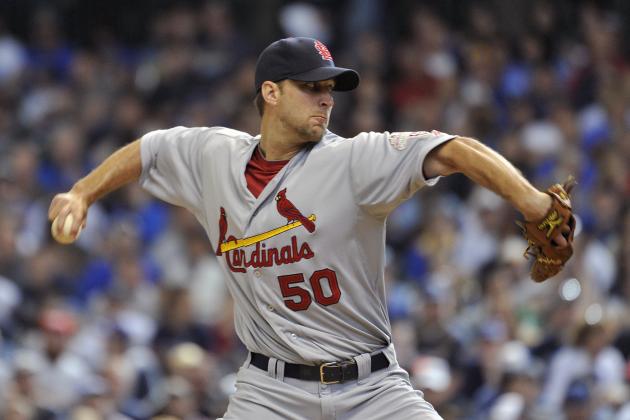 Brian Kersey/Getty Images

Adam Wainwright will get a different shot with the injury to the veteran Carpenter. His chance will be to become the ace of the staff.
The Cardinals will look for Wainwright to pitch like he did in 2010.
Wainwright was nearly unhittable that season as he posted a 20-11 record with a 2.42 ERA, striking out 213 batters in more than 200 innings.
However, Wainwright is coming off a right elbow injury that sidelined him the entire 2011 season, and he has not gotten off to a good start in 2012.
He pitched decent in giving up three earned runs against the Milwaukee Brewers in his first start. He followed that up by giving up eight earned runs in just three innings to the lowly Chicago Cubs.
Wainwright already has proven he can be the ace of this staff. Now, the Cardinals desperately need him to carry the load again.
For Wainwright, gaining command of his pitches again will be the toughest part. He's going to be rusty.
The Cardinals need him to shake off the rust quick. It's going to be a big challenge for Wainwright, but it's also a huge opportunity for him to position himself as the leader of this team without Carpenter and of course, Albert Pujols.