Ashley Young: The Blot on Manchester United's March to a 20th League Title
April 15, 2012

Alex Livesey/Getty Images
"It's a penalty definitely," claims Sir Alex Ferguson, responding to yet another of Ashley Young's shenanigans.
I was planted firmly in front of the screen as one of Manchester United's latest fans, cheering and urging, precisely because the blue half of Manchester must not win this year's title.
My feeling of solidarity with United's cause, however, received a massive blow when Ashley Young felt Ciaran Clark's leg early in Sunday's match, and took off in the air like a launched rocket.
But unlike Kim Jong-un's failed rocket a couple of days ago that broke off and crashed into waters off the Korean peninsula, this one succeeded. Such were the theatrics of Ashley Young that referee Mark Halsey quickly affirmed them with a shrill burst of his whistle.
Up he strode, arm outstretched, finger pointing emphatically at the penalty spot.
At that point no remonstration could rescue Aston Villa from being punished by a spot kick. I was very disappointed. The nature of Young's fall suggested it was a dive. In fact, I didn't need TV replays to tell me it was a dive, and I was right.
It was.
Beside these new-found wicked deeds of Ashley Young, for they are nothing if not wicked, what is more alarming to me is the haste by which referees rush to award United penalties. It has me battling furiously not to succumb to the demons of conspiracy theory.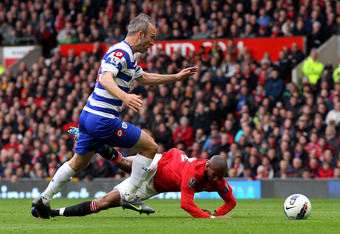 Alex Livesey/Getty Images
Nevertheless, one must ask: At the twilight of the season, when two sets of teams battle for their status, the one for top honors and the other for survival, why do referees feel called upon to help or haste Manchester United along its course?
Chelsea are still fuming at the two penalties Howard Webb awarded to Manchester United to help the Devils salvage that match. If few would argue that the first was a definite penalty, few would readily justify the second.
Here's how BBC Sport called it: "Rooney scored emphatically and he was on the spot again when Webb decided Welbeck had been fouled by Ivanovic, although contact was minimal."
Such loaded phrases such as "contact was minimal" are part of the problem, part of why cheats such as Ashley Young get away with their antics. Hailed apparently by their manager and teammates, they are emboldened to do it again.
One would have thought that after that clear and embarrassing dive of last week against QPR, it'd take Ashley Young a long time—say a year—to summon up courage to try that sort of mischief again. 
Clearly not, and why not?
After all, instead of condemning Ashley Young's dive for what it was, Sir Alex Ferguson claimed that "the boy (Derry) did just enough to off-balance Ashley and, being the last defender, the referee felt he had no option."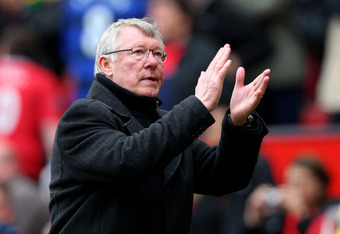 Alex Livesey/Getty Images
"Did just enough"?  Shaun Derry barely touched Young, and the touch wasn't sufficient to send Young flying in the air the way he did. It was a dive, clear and simple, and it is a shame that Ferguson tried to justify it.
Little wonder then that Ashley Young did again with 100 percent success just a week later. And what does Ferguson say again?
"It's a penalty definitely."
I am sorry, it wasn't.
Ashley Young and people like him are a disgrace to the game. When Manchester United finally win their 20th title, they'll do so with a nagging sense of guilt, that referees aided them in their quest.
They'll do so bar a full complement of legitimacy, for at the back of their mind they must know that their blue neighbors would be sneering at them, having clearly been shown to be referees' pets.
Condemn me all you can when you read these words, but I know that I am closer to the truth than away from it.
What is intriguing is that the outcry that accompanied Gareth Bale's dive at the Emirates has been wanting, gone AWOL, in the case of Ashley Young's  more blatant and costly one, certainly to QPR—were they to be relegated—and to Manchester City since it helps defeat them.
An outcry from the press, or an emphatic condemnation of Young's antics from his manager, would mitigate the situation.
As it is the closest to an outcry that I find from the press is this reportage by The Guardian titled "Manchester United's Ashley Young accused of looking for penalties." But it is just that, a report of tweets by those like me, who felt a sense of outrage against this latest charade by Young and a colluding referee.
The BBC resorted to that well-worn euphemism again—"contact was minimal."  Hear them:
Ashley Young, who won a spot-kick last week against QPR, was involved again, adjudged to be tripped by Ciaran Clark.

Contact between the pair was minimal but Wayne Rooney converted before Danny Welbeck made it 2-0 at the back post.
It is the old story of the wicked getting away with their evil and the innocent—Chelsea, Fulham, QPR, Aston Villa—getting punished. Meanwhile, the righteous—the press and the manager of the offending player—look away while spouting refined and learned nonsense.
Those who want to justify the entire thing might fire back that, "after all, Ferguson admitted that Young was too dramatic."
"Too dramatic?" Then from whence comes the claim that this was a definite penalty? It either was a dramatic fall or it wasn't. One can't speak from both sides of his mouth.
At some point, this has to stop. I hope sensible Manchester United fans see the point of all this.