NHL Playoffs 2012: Key Players to Watch in Game 2 of Panthers vs. Devils
April 15, 2012

Joel Auerbach/Getty Images
The Florida Panthers will look to even the series against the New Jersey Devils when they meet in Game 2 tonight. The Devils were able to take Game 1 by scoring three goals in the first period, eventually winning 3-2.
In their first playoff series since 2000, the Panthers are desperate to get a home win before traveling to Newark. A loss would be detrimental, as the team finished a mere .500 on the road (17-17-7), as opposed to 12 games over .500 (21-9-11) at the BankAtlantic Center in Sunrise.
Meanwhile, the Devils will be hoping to take a firm grip on the series before heading home. They were able to pull out a win in Game 1, but not without some close calls at the end. A solid win would seemingly all but end the Panthers' chances.
While all of the players on each team will be trying their hardest, some players will surely prove more effective than others. Here are some players to watch for in the second game of this first-round bout.
Kris Versteeg, Florida Panthers
Versteeg has been deadly against the Devils this season. In the regular-season series, he found the net five times—including once shorthanded—and added an assist as well. In Game 1, Versteeg picked up where he left off, scoring the Panthers' second goal of the game on the power play.
Versteeg played a key role for the Panthers in Game 1, but still played almost two minutes fewer than his regular-season average of 19:55. Expect to see him on the ice a lot more, especially if the Panthers need some points late.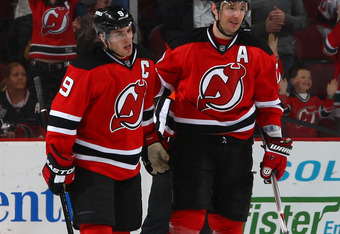 Chris Chambers/Getty Images
Ilya Kovalchuk, New Jersey Devils
It probably doesn't need to be said that you should watch Kovalchuk when he's on the ice. After all, he was skating for a game-high 27:16 in Game 1. Despite that, he managed just two shots and a minus-one rating.
Kovy's a workhorse—he ranked 18th in the league in ice-time per game at 24:26. The next-most by a forward was Martin St. Louis at 50th, with 110 seconds fewer. Kovalchuck is entirely capable of playing more than 25 minutes each game in the playoffs, especially considering that he plays in every situation.
Kovalchuk's two shots were especially troubling, considering that the team managed 38. Players who out-shot Kovy include Zach Parise, Dainius Zubrus, Travis Zajac, Marek Zidlicky, Patrik Elias and Ryan Carter. Nothing against those guys but, in most cases, Kovalchuk's probably a better shooter.
Expect for Kovy to put the puck on net a lot more frequently next game.
Jose Theodore, Florida Panthers
Theodore was announced as the starting goaltender, the day of Game 1. The choice could not have been an easy one for coach Kevin Dineen.
Theodore, though the starting goalie for much of the season, had been absolutely dreadful toward the end of the season. In his final seven starts, he went 0-3-4 and allowed 21 goals. On the other hand, his backup, Scott Clemmensen, played phenomenally down the stretch. In his final four starts, the goalie went 3-0-1, allowing just five goals on 132 shots.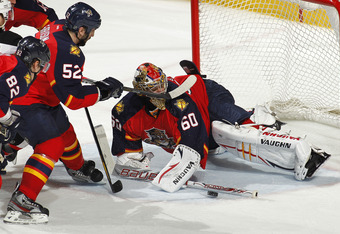 Joel Auerbach/Getty Images
Clemmensen, a former Devil, also has history on his side. In five career games against the Devils, he is 4-0-0 with a .937 save percentage and a 2.05 goals-against average.
Theodore didn't play horribly in Game 1. All three goals he allowed were in a first period where he face 26 shots. On two of the goals, he was left with an unmarked Devil blazing toward him with the puck, while the third involved an undressing by the hands of Patrik Elias. The goalie at least played well enough earn himself a second start, but unless he plays brilliantly in Game 2, a loss would likely cost him his job.
Patrik Elias, New Jersey Devils
Much like Kovalchuk, there isn't a lot on the Devils that Elias doesn't do. The 16-year Devil has been as reliable as they come. This past season—the season in which he played his 1,000th game—he recorded 78 points, tied for his third-most productive season.
In the playoffs, Elias is equally deadly, with 118 points in 139 games. One of those points came as a goal in Game 1. Will he be increasing that number in Game 2?
Well, it's definitely possible, maybe even likely. While Martin Brodeur might be the heart of the team, and Parise the leader, Elias is as important to this franchise as any forward ever has been. Any playoff success the Devils enjoy this year will be in part thanks to him.