Stanley Cup Playoffs 2012: Why the Call on Chicago's Andrew Shaw Was Wrong
April 15, 2012

Christian Petersen/Getty Images
At the 7:11 mark in the second period of Game 2 of the Western Conference quarterfinals between the Chicago Blackhawks and Phoenix Coyotes Saturday, Blackhawks rookie Andrew Shaw delivered a hit to goalie Mike Smith.
Nothing about the play was strange or out of the ordinary. Smith was playing a puck right behind the goal and it looked like he was having a little trouble with it, so Shaw came in attempting to put more pressure on the goaltender, who had his head down and ended up getting hit by Shaw's shoulder.
Smith remained on the ice for a few minutes while Shaw sat in the penalty box. After the TV timeout, it was ruled that Shaw was receiving a five-minute major for charging, as well as a game misconduct.
Smith looked like he might leave the game, but he didn't, and ended up playing over 70 minutes as the game went into overtime.
I know interpreting Shaw's hit on Smith is a matter of opinion, but I think the referees greatly overreacted to the hit. Or perhaps they were just over reacting to Smith's reaction to the hit. Also, I wonder if the punishment had anything to do with the hit he delivered in Game 1 on Radim Vrbata.
To me, Shaw showed no intent to injure, and there wasn't much he could do to avoid contact. He even said as much after the game.
I did not try to hit him at all. I tried getting out of the way. Unfortunately, I did make contact. It sucks when that kind of stuff happens, but I'm just glad that he was OK. He went to play the puck and his stick came up towards my face. I tried to get out of the way of it and unfortunately made a little contact.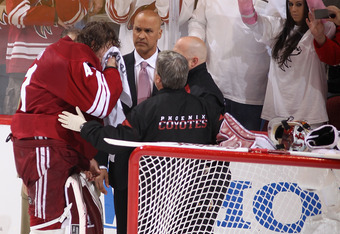 Christian Petersen/Getty Images
Here is how I view this. I understand the charging penalty; if the goalie gets hit in the head, I understand the player is going to get a five-minute major.
However, I don't understand how Shaw gets a game misconduct while Smith remained in the game. If Smith had left, I would understand him receiving the misconduct. 
With all that being said, it appears the NHL disagrees with my assessment of the play because it has scheduled a hearing for Shaw, which means a suspension is possible and probably likely. If Shea Weber wasn't suspended for his hit on Henrik Zetterberg, I can't see how Shaw gets suspended for this.
It will be interesting to see. The hearing will most likely happen Monday, so we will just have to wait and see if Shaw gets to play in Game 3 on Tuesday.
What do you think? Does Shaw deserve a suspension? Sound off below.
Make sure to follow me on Twitter @dachicagofan and check out my weekly Hawks podcast every Friday on my site The MG Experience.