Ohio State Football: Winning Fans Back the Right Way
April 15, 2012

The week started in Columbus with an ominous tone, as Matt Hayes of The Sporting News took his well-known axe to grind and honed it on Urban Meyer and his tenure at Florida.  The undertones from the investigation and article were clear: Meyer mismanaged talent at Florida and could lead Ohio State down the same path of ruin.
One would expect such an article would make for a terrible public relations week for Meyer and the Buckeyes.  However, the Hayes article ends up as a minor blip on the radar thanks to Meyer's handling of the situation and the open practice held on Saturday.
Meyer may have been hired with all the fanfare expected of the best coaching prospect available in 2012, but he is not simply riding on his reputation alone to bring the fans back following the Jim Tressel scandal and the first losing season in two decades in Columbus.  He is taking the bull by the horns and winning fans over, starting with students and alumni and going from there.
Let's start with Wednesday and the Big Ten Leaders Division teleconference.  It was no surprise that when Meyer took his turn answering questions, the Hayes article was asked about.  Meyer wasted no time in his response (quoted from our Big Ten blogger Adam Jacobi's piece on the response):
We were hired to graduate players. We did that. We were top 3 every year in the SEC in graduating and APR. We were hired to win games. We did that. We followed the rules. We did that. We recruited great classes. We finished in the top 5 every year."
"We did [give players preferential treatment]. We do that here. We did it at Bowling Green and Utah. If you go to class, you're a warrior and do it the right way on and off the field, you're completely committed to helping us win, you're going to be treated really good. You're going to get nice gear. You're going to get to move off campus if you like. You get treated really good. Guys that don't go real hard and aren't committed, yeah, it's real difficult."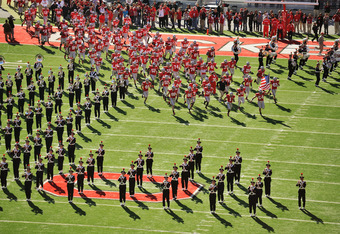 Jamie Sabau/Getty Images
With none of the sources of the Sporting News investigation willing to come forward and further defend these claims of how Meyer ruined the Florida football program, a direct response like this makes the case open and shut until more evidence comes out. 
Meyer does treat players better for better effort in the classroom and on the field, and those preferential treatments have already been on display in early reports of how Buckeye players have had to earn their way into Meyer's good graces.
Now whether this system leads to the "circle of trust" problem that was alleged to occur at Florida, only time will tell if the same happens at another high-profile football factory with top-level talent.  However, if it helps players come together and keep out of the trouble that ended the Jim Tressel era, then what happened at Florida will go down as an unfortunate end to a good six-year run.
However, the key is that Meyer addressed this issue like he did the problems other Big Ten coaches alluded to in recruiting season: head-on without apology.  As long as Meyer keeps his nose clean, this type of directness is exactly the change needed following the generally evasive and vague Tressel.  That change will win fans back right away.
Then Ohio State encouraged students to come out to watch practice on Saturday despite being a full week out from the spring game.  While other Big Ten programs struggled with the weather, Ohio State simply moved this practice indoors to the Woody Hayes Athletic Center and maintained the previous invitation to anyone with an Ohio State student ID.
From reports such as those at Eleven Warriors, it is clear over 3000 students, alumni still holding onto their student ID's, and family members packed into the indoor facility and sat at the 20-yard line to watch the Buckeyes take drills.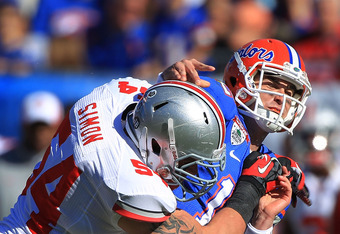 Scott Halleran/Getty Images
The drills were intense, as the players and coaches played full-contact like a real game.  In fact, this action may have been more live than what everyone else sees next weekend in the actual spring game.
Although this would have been a nice gesture in and of itself, the Buckeye coaching staff took this meeting with students to another level by setting up a field-goal kick at the end of the practice and letting the students circle around and make as much noise as possible. 
That led to the picture taken above at the header of this article, courtesy many sources on Twitter from whichever student leaked the picture.
How much more intimate can you get with a drill?  The players and coaches got to mingle and discuss questions with the students immediately afterward, and the Ohio State staff then gave tours of the facility to those in attendance. 
From all those who attended, this was a Saturday they will not soon forget.  And it is these building blocks with the student body that will reverberate throughout the fanbase as the 2012 season comes closer.
For a football program that perhaps went off the rails in the last year and a half, Meyer is building relationships with the fanbase and not holding the beloved Buckeyes away from those who make this football program such a phenomenon. 
Ohio State football is a lot like Kentucky basketball, and Saturday could become a kickoff routine that is as special every year as Big Blue Madness is in basketball season.
We've all seen first-hand how putting one of the best coaches in the sport in a top-level program works out in college sports, with John Calipari and Nick Saban bring titles back to Lexington and Tuscaloosa. 
Assuming the formula continues to work on the field as it did in Utah and Florida, Urban Meyer will have this program back among the elite in a short amount of time.
If nothing else, the directness with reporters and the openness of the Meyer era is a refreshing change that will benefit those fans who matter the most: students, followed closely by alumni. 
In an election year, that's change we can believe in.
-----------
David Fitzgerald is a Featured Columnist for Big Ten Football.  He can be reached on Twitter @BuckeyeFitzy and thanks for reading!