Tom Benson Will Make the New Orleans Hornets into Championship Contenders
April 14, 2012

Ezra Shaw/Getty Images
Tom Benson is a better owner than David Stern.
I just told you something you already knew.  But his business acumen and his track record with other sports franchises (most notably a Super Bowl XLIV Championship with the New Orleans Saints) is only part of the reason that the city of New Orleans is rejoicing that Benson has acquired the Hornets.
The most important thing about Benson, as far as New Orleans is concerned, is that he is a New Orleans guy.
He stepped in to buy the Saints in 1985 when he got word that the potential new owners were planning on moving the team.
He did so again when he heard the Hornets would be on the move, if sold to a group that included his brother.
With Benson on board, everyone can rest assured that the New Orleans Hornets are going nowhere, and now not just in terms of their playoff chances.
Benson brings stability to a franchise that has had nothing but question marks hanging over it ever since the NBA took over in December of 2010.
That stability will help make the Hornets a more attractive destination for players, including ones currently on their roster.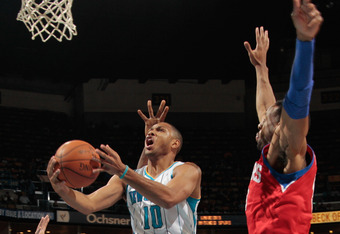 Chris Graythen/Getty Images
As a restricted free agent this off-season, the Hornets could choose to match any offer that another team might sign Eric Gordon to.  Now, Benson and his his general manager, Dell Demps, should make signing him their first priority.
Since returning from injury, Gordon has shown why he can be a franchise player.  His competitive spirit will draw both fans to the arena and potential free agent signees to the team.
If they retain Gordon with a multi-year contract, he will be able to look at his teammates next year and see two lottery picks, eager to help him return the Hornets to respectability.
The first pick could be as good as No. 1 overall, and everybody sees that being Kentucky's Anthony Davis.  At worst, given the Hornets' third-worst record, that pick will be the No. 6 overall pick.
The second of their picks is the one they received from the Minnesota Timberwolves via the trade with the LA Clippers.  The T-Wolves currently hold the 10th-worst record so that pick will fall between No. 10 and No. 13.
No matter what the actual lottery order ends up being, both picks should get plenty of playing time for a rebuilding team.  That may well result in yet another lottery pick the following season, thus adding to the young core of the Hornets.
Naturally, some of today's players will end up being traded or not resigned based on what needs the Hornets fill through the draft; regardless of who stays or goes, the team will have four young players to form the team's foundation for the next three to four years.
And while Tom Benson himself knows little about basketball, as Jeff Duncan of The Times-Picayune writes, Benson does know enough to let people who do know to plan the team's strategy.
He has a good GM in Dell Demps in place, and a promising young head coach in Monty Williams as well.
If his basketball people can make the right player personnel decisions (signing Gordon and making wise, non-"Greg Oden" type draft choices being chief among those), the Hornets will be on the rise.
Two to three years from now, this team could find itself playing in its first-ever Conference Championship.  A changing of the guard in the Western Conference is bound to happen as stars like Kobe Bryant, Dirk Nowitzki, and Tim Duncan fade.
Could they be replaced by Eric Gordon and his yet-to-be-named draft lottery teammates?
Could they bring a championship home for the yet-to-be-renamed Hornets?
Possibly.
And that possibility is more than the city of New Orleans could have ever hoped for before Benson bought in.