Zach Johnson: At RBC Heritage, It's All About Position
April 14, 2012

Scott Halleran/Getty Images
Hilton Head, SC -- As though he had been channeling golf course designer Pete Dye, Zach Johnson said scoring on this golf course was all about position.  The former Masters champ fired a 66 at Harbour Town Golf Links. 
"You can be in the left side of the fairway, right side of the fairway and be totally blocked out," Johnson said.  He certainly proved that on the par five, 15th hole.  Johnson was in the proper location off the tee, on the far right side, to give himself a look toward the green.  He attempted to lay up to wedge distance but pulled the shot toward the pond on the left.  It did not go in the water, but it gave him a bad angle to the flagstick.
"That's the beauty of this golf course," Johnson continued. "You have to position yourself and know the golf course."  
Johnson's third shot landed 50 feet from the hole and he two-putted for par instead of having an opportunity for birdie.  All caused by a poor layup. 
He bounced back with birdies at the 16th and the 18th, totaling five for the day.  He doesn't see really low scores happening at Harbour Town on Sunday.  
"You can't go out and shoot 64 or 65," Johnson insisted, despite the fact that David Frost shot the course record of 61 in 1984.   However, last year Brandt Snedeker came from six shots off the lead to win in a playoff.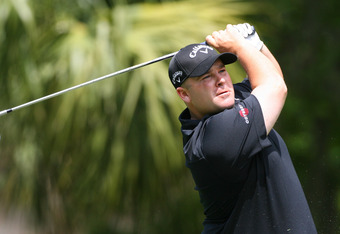 Hunter Martin/Getty Images
Still Johnson has his reasons for thinking scores won't be low. 
"There's so much trouble out there lurking.  Smallest greens on Tour, probably the smallest fairways on Tour," Johnson added pointing out that controlling trajectory and spin will be key for success on Sunday. 
He is three back of Colt Knost, a former US Amateur and Public Links champion who struggled to get to the PGA Tour, and four back of veteran Carl Pettersson who has won  five times on the PGA Tour. 
Knost had his own problems with position immediately off the first tee.  He was so nervous that he turned the 410-yard par four into a three shot hole and eventual bogey. 
"My tee shot went 190 yards," Knost said. "I could have got rattled pretty easy today after that start." 
But he didn't and was proud of the way he fought back with an eagle on the second hole, sinking a 40 foot putt from the fringe.   
"It was one of those ones I was trying to lag up there close," he said about the monster putt. "It looked good the whole way. It was right in the middle.  It was kind of a bonus."    
Knost said his goal on Sunday was to stay relaxed and enjoy the experience.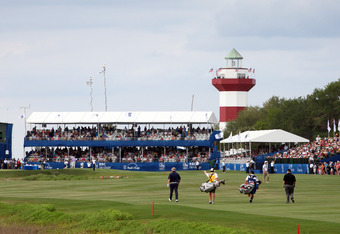 Hunter Martin/Getty Images
"I've been in that last group a couple of times, and I put so much pressure on myself to play well that I played horribly and didn't enjoy it," he admitted. "No matter what happens tomorrow, I'm learning a lot this week."
Two years ago at the Shell Houston Open, Knost was the third round leader and fired an 81 on Sunday.  
"There's going to be a lot on the line tomorrow," he said.   "I'm going to be just as nervous, but I notice I can handle it now.  I've won tournaments before, obviously not at this level. And I've been nervous before, and you've got to get through he first early stage and then settle in and play golf."
Kathy Bissell is a Golf Writer for Bleacher Report. Unless otherwise noted, all quotes were obtained first-hand or from official interview materials from the USGA, PGA Tour or PGA of America.