NHL Playoffs 2012: Ken Hitchcock Will Not Let Young Blues Team Panic
April 14, 2012

Christian Petersen/Getty Images
The NHL playoffs are simply a grind.
When the first round starts, you can forget what seed every team is, as it doesn't really matter. The only thing that matters is winning four games before losing four. If you do that, you survive. If you do that, you advance.
While many people expected the St. Louis Blues to steamroll the San Jose Sharks in this Western Conference quarterfinal series, a Martin Havlat game-winning goal in the second overtime Thursday night quickly reminded us how difficult it is to win in the playoffs. It reminded us that it truly is a grind to win the Stanley Cup.
However, one person who did not need to be reminded was St. Louis head coach Ken Hitchcock. "Hitch," as he is known, is not a newcomer to postseason play. He has taken three different franchises to the postseason, including taking the Dallas Stars to a Stanley Cup championship in 1999.
Certainly, Hitch knows how difficult it is to win when the postseason comes around. 
When a game goes on into a double overtime period, both teams are definitely playing a very good, closely contested game. With that being said, there is still knowing that, after a Game 1 loss in a series, you can quickly fall out of contention by losing Game 2. This causes many teams to panic.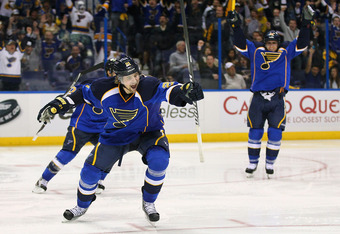 Dilip Vishwanat/Getty Images
The difficult thing for St. Louis tonight in Game 2 is displaying a sense of urgency, but not displaying a sense of panic. While some may consider making lineup changes, such as scratching winger Chris Stewart from Game 2, Hitchcock looks at it in a different way. Via ESPN:
When you lose in a hockey game, whether you've lost by one goal or whether you've lost in overtime or whatever, if you go into the next competition thinking that everything should be the same and expect a different outcome—I think that's a huge mistake.

I don't believe in that statement, just keep doing it over and over again and don't change anything. I think we're obligated to change.
Although some might see the changes in the Blues lineup as a sign of panic, it is far from it. Even if the Blues were to walk away with a win Thursday night, it likely would still have been a close victory in double overtime. Hitchcock is not looking for that. "We're not living on the fact that we played well and lost," Hitchcock said. "We want more."
The "more" that Hitch speaks of, would be a convincing win over San Jose; a win that shows that the Blues are not simply in these playoffs to survive, but that they are ready to adjust to the Sharks and be able to take the series over.
Although many outsiders have said the Blues will ultimately fall in the playoffs because of their lack of experience, Hitchcock's experience may be able to compensate for some of his players' inexperience.
He has obviously already instilled in his young players that there is no need to panic. After Game 1, there was no sense of panic in the young Blues players. It was not a casual nonchalant attitude either, but an attitude of confidence and belief.
"There's not much to say," forward Alex Steen said in the Post-Dispatch after Thursday's defeat. "It is what it is right now. Game 1. It's a long series. We knew coming in that it was going to be a long series. It's two tough teams, intense teams, fun buildings, so it's going to be a fun series."
Blues captain David Backes also echoed Steen saying, "The outsiders are always trying to find a storyline or reason or excuse. We've got a great group of guys in there and a lot of character. We'll climb that mountain that we have to climb."
Although the St. Louis Blues may be made up of a core of young stars without much experience, their coach is a grizzled veteran who knows what needs to be done. The St. Louis Blues will come out in Game 2 tonight, knowing what needs to be done to accomplish their goal. They will come out with a few adjustments and play the same style of defensive grind-it-out hockey that has gotten them to this point in the season.
"This is one game," Hitchcock said. "We played good, so did they."
Ken Hitchcock will make sure that his team stays focused.
These young St. Louis Blues will be just fine.