NHL Playoffs 2012: 5 Reasons the Red Wings Will Come Up Short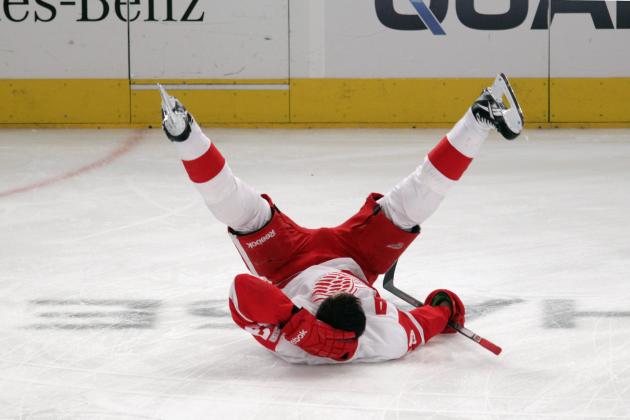 Bruce Bennett/Getty Images

The Detroit Red Wings fell to the Nashville Predators again on Sunday, and now trail in the series two games to one. Going in to Game 4 on Tuesday at Joe Louis Arena, the Wings need to make some serious changes to silence the critics after yet another weak performance in Game 3.
Whether it's lack of offense, too many penalties, or the fact that Nashville matches up extremely well against them—the Detroit Red Wings very well might be facing a rare first-round knockout from the Stanley Cup Playoffs.
The Wings surely had an amazing regular season and stormed into the playoffs as one of the top contenders for the Cup as usual, but Shea Weber and the Nashville Predators have hinted that it's either time for vintage Red-Wing hockey, or it's time to go home.
Here are the five reasons why the Detroit Red Wings will come up short in this year's Stanley Cup Playoffs.
Begin Slideshow

»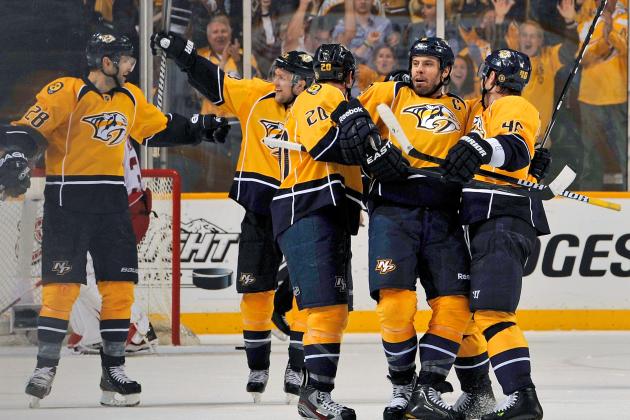 Frederick Breedon/Getty Images

The Predators have proven they deserve to be among the chatter as one of the prime contenders for the Cup, and surely do not indicate they will take this series lightly. As Shea Weber's cheap shots on a seemingly defenseless Henrik Zetterberg dictate, the Nashville Predators are playing through every whistle and truly show that "anything goes" in the Stanley Cup playoffs.
However, Shea Weber's botched suspension after emphatically slamming Zetterberg's face into the glass is a sign of things to come for the Wings.
The Red Wings have been outplayed in all three games against the Predators—something Head Coach Mike Babcock was forced to accept following Game 2, stating:
"We'll take the best-of-five and go back to our building and get out of here."
The prime reason the Predators are dominating this series is their defense. Anchored by goaltender Pekka Rinne and Captain Shea Weber, the Wings' high-flying forwards Pavel Datsyuk, Johan Franzen, Todd Bertuzzi, and Henrik Zetterberg have been held to an extremely disappointing six points—combined.
Following Game 2, the positive Babcock answered the bombarding questions with a "don't count us out" attitude as any great coach would, however the Wings have failed to control the game in each of the first three—something we are not used to seeing in Hockeytown.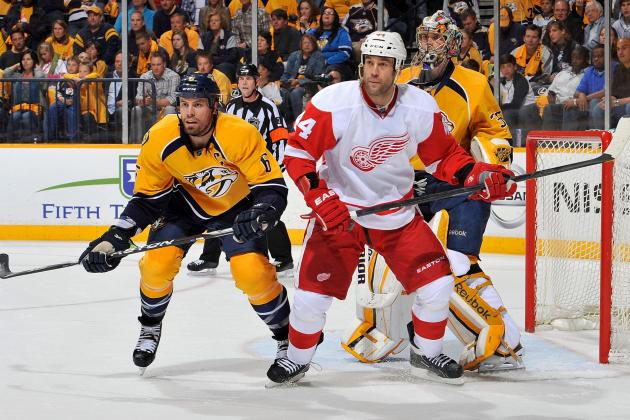 Frederick Breedon/Getty Images

Both teams have failed to continuously produce on offense as Nashville was 0-for-12 on the power play going into Game 3, and Detroit's leading scorer for the playoffs has just three points.
Until the late-game push by the six Red Wings skaters, the offense lacked a fire that is key in playoff success. Their first goal came off a great heads-up play by Pavel Datsyuk in which Pekka Rinne had no idea what was going on until the goal was scored. But aside from Pavel's impressive shift, the Wings didn't get many terrific chances on the offensive front.
In the television post-game press conference, Coach Babcock explained that in the first ten minutes "We didn't even win a faceoff and we looked flat on our feet."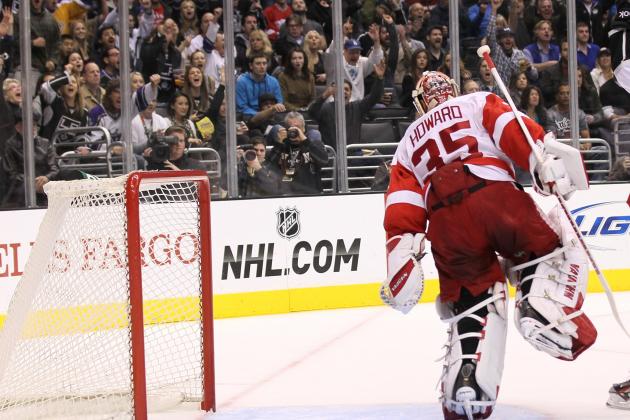 Stephen Dunn/Getty Images

The Red Wings killed off 37-consecutive power plays coming in to Game 3, but that success with one less man can only last for so long.
Nashville clearly had a weak power play in the first two games, but having a solid penalty kill doesn't always yield success in the playoffs as it tired out their core defenders. Spending a large amount of time on the penalty kill usually leads to unexplainable plays or garbage goals, forcing Howard to face awkward chances like in Sergei Kostitsyn's case—blowing past a tired Valtteri Filppula to create a two-on-one and inevitably sniping Howard to give the Preds a 3-1 lead in the game.
"We have to find a way to stay out of the box. It kind of kills your rhythm, trying to get four lines going," said Red Wings Captain Nicklas Lidstrom.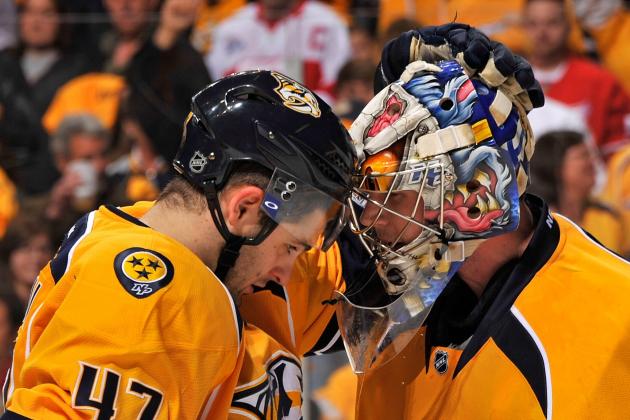 Frederick Breedon/Getty Images

Vezina trophy-candidate Pekka Rinne continued his incredible performance in Game 3, shelling 41 shots away. Rinne's style this series has forced the tired Wings to score uncommon goals like Cory Emmerton's ridiculous snipe in Game 2.
In the three games so far this series, Pekka Rinne has posted a .946 save percentage, killed off 14 Red Wing power plays and sports a 2.35 goals against average.
The most incredible part is that he is fresh off his best game, as 45 percent of his saves for the series were recorded in Game 3.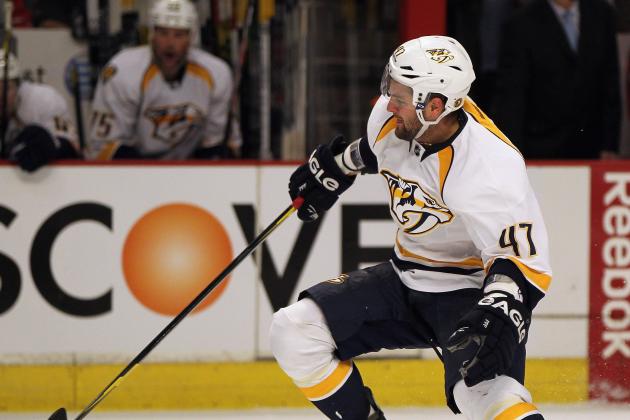 Jonathan Daniel/Getty Images

The former first-round draft pick recently returned to Nashville from the KHL, but has been heavily scrutinized for his weak performance.
Radulov is easily the most lethal scorer the Predators have to offer, however, his play hints at pure laziness, almost like he hasn't quite remembered what these games mean to everyone else.
However, Nashville is fully equipped with a great coaching staff that is as sure to light a fire under him as they are to believe in him:
"Rad is really competitive. The game is changing a little bit. It gets ramped up," Head Coach Barry Trotz said. "There's not going to be any freedom out there in the playoffs. You have to fight for space. Top players fight for space. Rad will do that."