Montreal Canadiens: 5 Candidates to Become Head Coach for 2012-13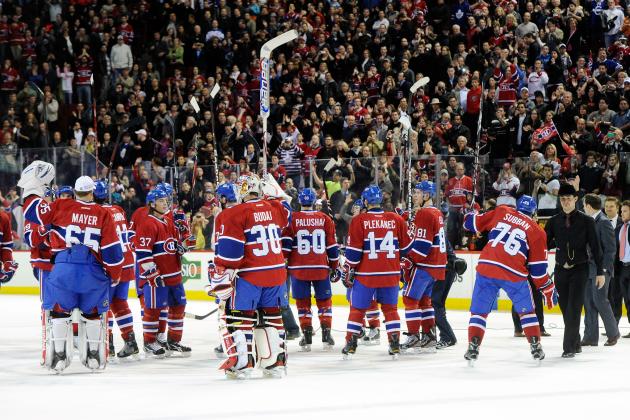 Richard Wolowicz/Getty Images
After a forgettable 2011-2012 season, the Canadiens are looking for a new coach to right the ship.
The Montréal Canadiens finished in last place in the Eastern Conference at the end of the 2011-2012 season with a 31-35-16 record.
Max Pacioretty led the team with 33 goals and 65 points after suffering a severe concussion and fractured vertebra near the end of last season, off-season acquisition Erik Cole paced Montréal with 35 goals, P.K. Subban emerged as a legitimate NHL defenseman, and Carey Price finished with a 2.43 GAA and .916 save percentage despite a 26-28-11 record and played in his second consecutive NHL All-Star game.
The team fired head coach Jacques Martin in December after Martin spent parts of three seasons with the Habs and named Randy Cunneyworth his interim replacement.
The Canadiens need to rebuild this season and hire an experienced coach to lead the storied franchise after a disappointing 2011-2012 season.
Begin Slideshow

»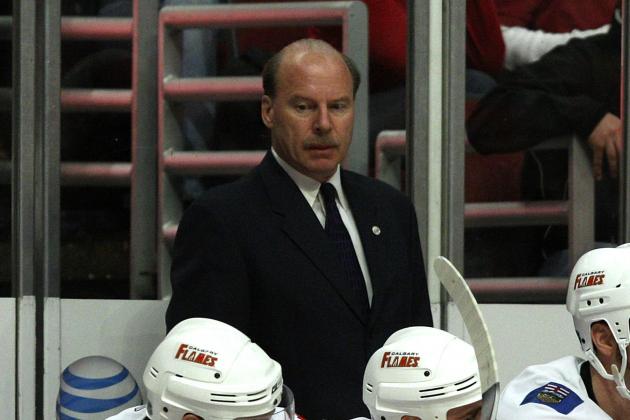 Jonathan Daniel/Getty Images
Keenan coached the Calgary Flames.
Keenan coached the New York Rangers to a Stanley Cup victory in 1994.
He started his career with Philadelphia Flyers and coached the Chicago Blackhawks before his Cup-winning tenure in the "Big Apple." After coaching the Rangers, Keenan served as the bench boss for the St. Louis Blues, Vancouver Canucks, Boston Bruins, Florida Panthers, and the Calgary Flames.
Keenan boasts a 672-531-147-36 record in over 1,300 games coached in addition to a 96-77 playoff record.
However, egos seem to clash wherever Keenan coaches. The unique personality of potential franchise defenseman P.K. Subban might not agree with Keenan's low-profile, all-business style. Keenan is also notorious for being extremely demanding of his goaltenders, something that might have a negative affect on 24-year-old Carey Price.
On an interesting side note, if Montréal offered Keenan the position, he would replace Martin, who replaced Keenan as head coach of the Florida Panthers in 2001.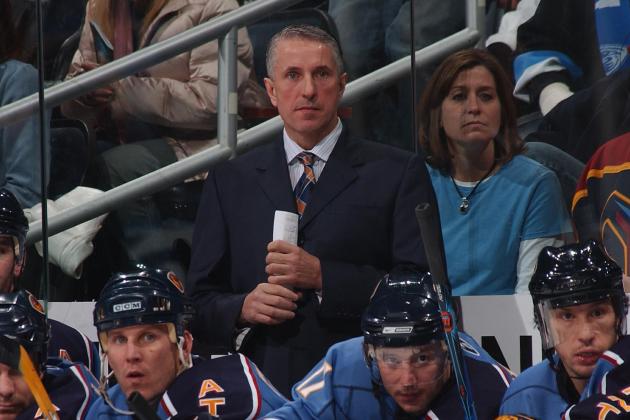 Scott Cunningham/Getty Images
Bob Hartley nehind the bench in Atlanta.
Bob Hartley won a Stanley Cup in 2001 as the head coach of the Colorado Avalanche despite never playing a game at the NHL level.
In parts of 10 seasons split between Colorado and the Atlanta Thrashers, Hartley compiled a 329-226-61-34 record.
Hartley currently serves as the head coach of the ZSC Lions in the National League A in Switzerland, but a head coaching job in the NHL might entice him to move back across the Atlantic.
Hartley might also be a good fit for the Canadiens as French is his first language, the prominent language spoken in the Province of Quebéc, and proficiency in the language is usually a requirement of Montréal's coaches. Hartley also has a home within driving distance north of Montréal, a lot closer than Zurich, Switzerland.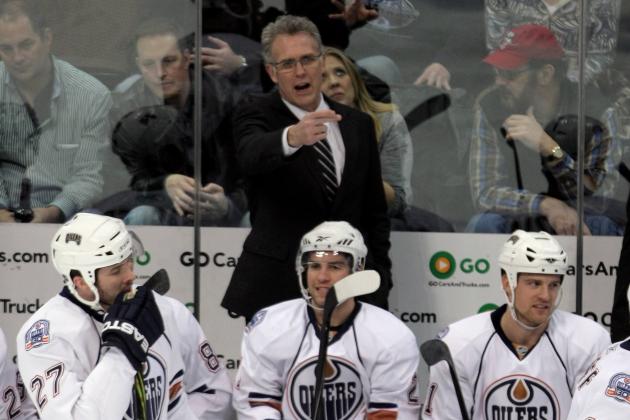 Doug Pensinger/Getty Images
MacTavish argues a call with Edmonton.
MacTavish coached parts of eight seasons in Edmonton, taking his team to the Stanley Cup Finals in 2006 with a defensive-minded trap system.
Known for an incident where he referred to a referee's call as "retarded," MacTavish might provide the spark the confidence-lacking Canadiens need.
Before becoming the head coach of the Oilers' franchise, MacTavish won three Stanley Cups skating with the Oilers and a fourth Stanley Cup in New York (under Mike Keenan).
His tight defensive system, which would fit in well with the Canadiens, was well-documented in the 2006 Stanley Cup playoffs when he guided his eighth-seeded Edmonton Oilers to within one game of hoisting Lord Stanley's Cup.
MacTavish spent his entire eight-year coaching career in Edmonton, compiling a 301-252-47-56 record and making three playoff appearances.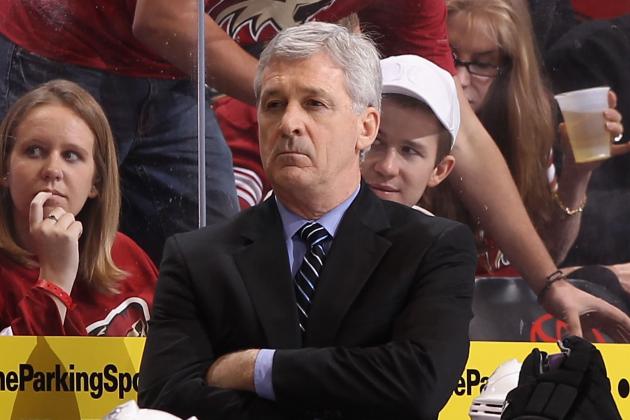 Christian Petersen/Getty Images
Murray looks on behind the Kings' bench.
The Kings released Murray in December after a subpar start to the 2011-2012 season. Before coaching in Los Angeles, Murray served as the head coach of the Washington Capitals, Philadelphia Flyers and Florida Panthers.
Murray has coached over 1,000 games in the NHL, and one more win would give him 500 in his career. A relatively no-nonsense coach, Murray might be the coach to organize the Canadiens.
Trading in the sandy beaches of Los Angeles for the snowy hills of Montréal may not be an ideal situation, but it's doubtful that alone would be reason enough for Murray to turn down a job offer from the Habs.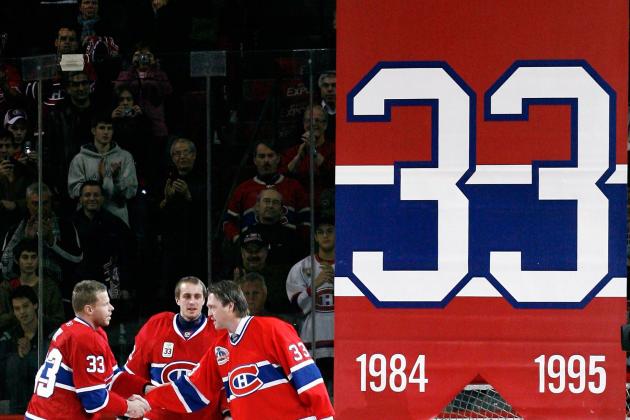 Richard Wolowicz/Getty Images
Roy's number #33 is retired in Montréal.
Roy infamously refused to play another game with the Montréal Canadiens after tension between the goaltender and head coach Mario Tremblay reached a boiling point.
The Hall of Fame goaltender and his former team made amends when the organization retired his famous #33 in 2008.
Reportedly, the Colorado Avalanche, a team with which Roy also won two Stanley Cups, offered him a head coaching position in 2009. Roy turned down the offer, but may consider an taking an NHL head coaching job now that his sons (Jonathon and Ferderick) are no longer eligible to play for his Quebéc Remparts team in the Quebéc Major Junior Hockey League because of age limits.
Roy has coached the Remparts since 2005.
Roy, one of Montréal's most prolific players, could put the team back on track and mentor young Carey Price into joining the game's goaltending elite if the Canadiens sent him an offer.