Duke's Marshall Plumlee: An In-Depth Look at the Redshirt Freshman
April 14, 2012

Kevin C. Cox/Getty Images
The name Plumlee is almost synonymous with new-school Duke basketball. They are the big men who have cemented themselves inside the blocks for the past four years.
Good, bad or indifferent, these boys from Warsaw have made Durham a home away from home. Mason, Miles and Marshall are the brothers Gruff who were supposed to solidify the front court and help Duke return to the promised land.
The youngest of the brothers, Marshall, is not a true freshman but he is a new face that will be see in Duke next season. He is the perfect place to start with a look at Duke's newest faces.
Like his older brothers, Marshall is a big man.  Peaking at 6'11", the often-referred "seven footer" is slightly different than the previous two Plumlees.  
Marshall is not as agile as brother Mason, but he may be a much better back-to-the-basket center. In AAU ball, he had no fear of backing down bigger and older players.  
AAU is also where he started to develop a jumper that often extends to the 17-foot mark.  A true center with that type of skill set often ends up being a lottery pick, but no one is saying that is what Marshall is.
Recruited as a four-star athlete and ranked 35th in ESPN's Top 100, many felt that he was there simply due to his family name.  
During his senior year of high school, he wasn't a beast.  He did average a double-double, but he didn't put up monstrous numbers that you would have expected from the 35th-ranked player in the nation.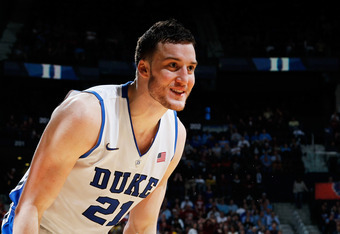 Kevin C. Cox/Getty Images
ESPNU's fourth-best center of 2011, he averaged a double-double in his senior year of high school, tallying 11.5 points per game and 10.3 rebounds.  Beastly, no, solid future contributor, yes.
Stepping in the doors in Durham, he was very skinny and deemed a project player.  Buried in the depth of his brothers, he was redshirted.  
This time was used to develop Marshall and help him gain size.  In the offseason, if he can continue to develop his jumper and continue getting big, then he can really be a huge surprise for Duke next year.
As a redshirt freshman, Marshall will use the time he spent on the bench to motivate him and push him to be better.
What Does Next Year Bring?
First and foremost, Marshall will not be a starter next season.  You can expect him to be a role player and minutes-filler for brother Mason.  Mason coming back is a blessing in disguise for Marshall.  
This will give him a better, more gifted big man to learn from while continuing to evolve on his own in the Duke system.  It also means that he alone won't be garnishing the entire front court load.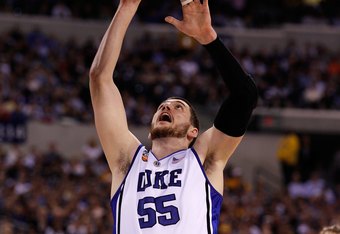 Jonathan Daniel/Getty Images
Ceiling?
Marshall does not have the athleticism and power to be the best center in the league next year. What he does have is the ability to grow and be a four-year contributor for Duke.  Best-case scenario: he develops into a double-double machine that can alter shots.  
Being a defensive player would be a welcome addition, but don't expect that.  What you will see is a player who goes from getting an occasional double team to a player who gets them often.  His passing will be a key skill as he will be expected to kick it out for the open shooter.
Worst Case?
The worst-case scenario for Marshall is that he never develops into his brothers' shoes. Consider failure being a Brian Zoubek who never contributes and finds himself buried on the bench due to foul trouble and the inability to stop the other team's best big man.
Marshall Plumlee was no surprise when he signed his letter of intent to Duke, but now that he will be playing, it is up to him to make the time matter.  If he cannot get better, then he won't play.  Ryan Kelly and Mason Plumlee will be pushed to the blocks and Duke will run a small lineup.
Duke's frontcourt may not be the ACC's best, but it could be worse!  Marshall will not be the best, but he will be a contributor for at least the next three years.