Boston Red Sox: Ellsbury's Injury Opens the Door for Change to Take Place
April 14, 2012

Elsa/Getty Images
Just when you thought it couldn't get any worse, Jacoby Ellsbury, last season's AL MVP runner-up appears to be sidelined for the next six to eight weeks with what is being called a shoulder dislocation.
 The Boston Red Sox simply did not need this right now.
 Frankly, they really could not afford this loss to the team at this point either.
 However, when life gives you lemons, you make lemonade.
The reality of the matter is that Ellsbury will be shelved for the foreseeable future and the team needs to do something to fill his slot. With Carl Crawford and Ryan Kalish already on the shelf, this outfield is in about as good of shape as Mankind was after being thrown off the top of a steel cage by the Undertaker.
There have been a handful of names floated around that would make sense to bring in: Marlon Byrd, Scott Podsednik and Brett Carroll to name a few.
The one name that makes the most sense in my mind would be Coco Crisp.
Is Crisp the most economical choice of the batch?
Nope. Considering he is on the books for two years and $14 million with the Oakland A's—it is a bit of a steep price to pay for a player that essentially will be here for a couple months as a fill-in for Ellsbury.
However, it is the most logical choice if the team is looking to shake things up a bit.
I propose trading Kevin Youkilis for Crisp and bring up Will Middlebrooks to play third base for the Red Sox.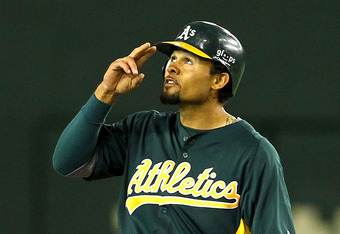 Koji Watanabe/Getty Images
If the team pulled the trigger on a move like this, they will be able to unload Youkilis to a team/general manager whom has long coveted him: Billy Beane.
This would act as the ultimate litmus test. If Youk has in fact been a cancer in the clubhouse—he would be gone. 
This move would also give you a DH for next season that more closely resembles the type of DH baseball is conforming to: versatile. This, of course, is assuming that David Ortiz is not brought back for one more season.
Crisp is no stranger to Boston and is a capable glove and has a career .275 batting average and .329 OBP—numbers that certainly will not sink this ship.
If Sox fans and ownership wants change for the better, there you have it—served up on a silver platter.