Jon Jones Picks Up New Sponsor for UFC 145: The UFC
April 14, 2012

Scott Cunningham/Getty Images
Since Jon Jones's main clothing sponsor Form Athletics recently folded, opportunities for sponsors were likely countless. But of them, Jones has selected a new sponsor for his fight against Rashad Evans at UFC 145—the UFC.
Yes, the UFC has decided to sponsor Jones, branding the fighter as their own in some oddly superfluous way. And while the challenger Evans will enter the ring as a man hungry for the belt and to end the bitter rivalry with a win, Jones will enter the ring likely dressed like a default character from a UFC video game.
Jones has responded openly to the new deal. According to MMAWeekly.com, Jones explains this opportunity as one that will allow him to keep his branding clean for the fight.
"We came up with a strategy to keep it clean and be sponsored by the UFC itself. I'm glad the UFC wanted to work with me as well, and I think that they trust that I'll never make them look bad. You never have to worry about me with a DWI or doing something crazy."
Jones also implied, perhaps without meaning to, that the UFC added its weight to the decision.
"I think I'm a good company guy. The UFC asks me to do anything and I always do it, and I never tell them no for anything. I've had to do more marketing than any other fighter because I say no to absolutely nothing. I don't think most champs are like that."
Of course, the UFC has every right to brand any of their fighters. Not only do they cut the checks, but they have numerous other marketing lines, including licensed gyms and, of course, merchandise.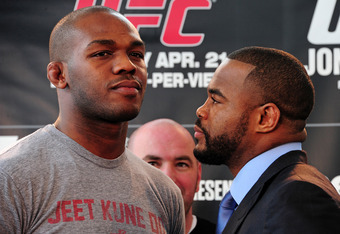 Scott Cunningham/Getty Images
Looking solely at the elements of such a decision, this doesn't appear negative. The UFC sponsoring one of its fighters for one fight doesn't mean a whole lot (even the UFC needs its marketing, even if this is hanging a picture of itself in its own office). It also helps Jones avoid worrying about searching for a solid contract in the midst of preparing for this event, leaving him more time for training, Twitter wars and side-by-side interviews with Evans.
Taken all together, however, this sponsorship is slightly disconcerting. Given Jones's status, it's likely he'd have the power to quickly and painlessly get whatever one-time contract he needed. Such a sponsorship is especially telling in a relationship between these fighters. It stilts the current rivalry, making it a bit harder to consider an organic war of history and personality. By now, the feud seems to include equal parts Jones, Evans and the UFC.
Nevertheless, it does make Evans that much more of an underdog by pitting him, if only symbolically, against a powerful and more visible opponent. When the event was already this exciting, such an excessive move simply raises the stakes for everyone involved, which is always welcome.