Aging Arena and Struggling Economy Will Force Kings to Leave Sacramento
April 13, 2012

Ethan Miller/Getty Images
An aging arena and a poor economy will ultimately force the Sacramento Kings to relocate to another city in the near future.
On Friday, a deal between the city of Sacramento and the Kings ownership for an entertainment complex worth almost $400 million fell through, creating even more questions about the team's future beyond next year.
The Kings have played at the Power Balance Pavilion since 1985, but the need for a new arena to help the team make more money isn't being satisfied.
The Maloof brothers (Kings' owners) recently hired an economist to study the city's economy.
"[NBA Commissioner David] Stern took issue with the timing by the Maloofs, who hired economist Christopher Thornberg to do a feasibility study. Hired earlier this week, Thornberg raised various red flags. Thornberg questioned the strength of the local economy and said the city's revenue projections were unrealistic.

The projections, he said, were based on flawed premises, such as 100% occupancy of luxury boxes when the NBA average is 85% and failing to project that those who will use luxury boxes will leave a void in courtside seat sales.

By Thornberg's estimation, the city's plan leaves them $15 million short, and there are no safeguards for the Maloofs in case of another economic downturn.
The Kings are 28th in the NBA in attendance per game, and rank 23rd in percentage of the arena filled each night. The team is not getting fans to show up to the games in numbers that will help the franchise succeed financially.
Considering the fact that the Kings probably won't be a legitimate playoff contender for many more years, it's unlikely that the team's low attendance figures will improve anytime soon.
The best option for everyone is to move the team. There is no shortage of cities that would welcome an NBA franchise with open arms.
Cities like Seattle, Las Vegas, Kansas City, Louisville and Pittsburgh are all possible relocation destinations with passionate fans who support their teams in good times and bad. 
Kansas City and Pittsburgh have an advantage over the other cities since they have built arenas over the last decade that are capable of housing a professional sports franchise.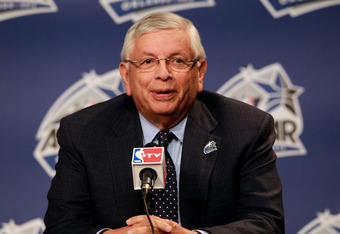 Ronald Martinez/Getty Images
The Maloofs are some of the worst owners in sports. They have been unable to make money, build a quality team, or secure a deal with the city for a new arena over the last decade.
If the owners aren't willing to fork over the cash needed for a first-rate arena, then the city's taxpayers shouldn't, either.
With Sacramento and the Kings both struggling financially, the best decision for everyone is to move the team to a city where there will be no lack of support from fans.
The Kings don't have a future in Sacramento, so there's no point in delaying their inevitable relocation by bickering over a new arena.