NHL Playoffs 2012: San Jose Sharks Did Not "Steal" Game 1 from St. Louis Blues
April 13, 2012

Dilip Vishwanat/Getty Images
The St. Louis Blues were heavily favored coming into this series, and for good reason. The Blues had a much better season than San Jose and beat the Sharks all four times they met during the regular season.
The biggest factor in many people's eyes was home-ice advantage. The Blues were the favorites, but few people expected St. Louis to make quick work of the Sharks. Most people picked a six or seven game series, which means that they probably expected San Jose to win two or three games at home.
If the Sharks had received home-ice advantage, I promise you many more people would have picked them to win this series. But the Blues' home record of 30-6-5 this season—combined with their two shutouts of the Sharks in San Jose's two trips to Scottrade Center—made them very tough to pick against.
Most people had it in their heads that if San Jose was going to win a game in St. Louis, they'd have to "steal" it.
Stealing a game is a concept used in all sports. The basic idea is that team A outplays team B, but team B comes away with the win. The saying is used especially often in hockey, because scoring goals often requires some luck, while not scoring goals often requires stellar goaltending.
There are several common criteria used for determining if a team won by "stealing" the game or not.
The first is shots on goal. The team that spends more time in the offensive zone and gets more pucks to the net is likely executing their game plan better than the other team. Of the 11 teams to out-shoot their opponents this season, 10 made the playoffs. This means that it is difficult to win when being out-shot, and if a team pulls it off, they may have been lucky.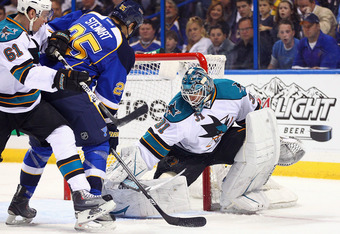 Dilip Vishwanat/Getty Images
In Game 1 of the Sharks-Blues series, St. Louis out-shot San Jose 42-34. Of course, it took over four periods for these teams to reach these totals. Through three periods, the Blues were out-shooting the Sharks 28-23. Considering the 2011-12 Sharks averaged 33.8 shots per game (No. 2 in the NHL) while allowing 28.6, and St. Louis took 30.1 S/G allowed a league-low 26.7, it certainly looks like the Blues executed their game.
However, looking at shots on goal in a vacuum can be dangerous. This is because not all shots are created equal. The most dangerous kinds of shots—shots coming off of rebounds, odd-man rushes and shots that the goalie can't see—are worth so much more than your standard slap shot from the point or wrist shot from a tight angle.
While the Blues did out-shoot the Sharks, the quality of their shots was not superior. San Jose played tough in front of their own net, keeping St. Louis out of Antti Niemi's eyes and clearing rebounds. Niemi also did a wonderful job not giving up juicy rebounds to begin with. The Sharks also limited their turnovers in the neutral zone, which stopped St. Louis from getting out on the break.
On the other end, the Sharks generated a good number of quality scoring chances. They entered the St. Louis zone with numbers at least as often as the Blues, and found their sticks on several juicy second and third chances. They crashed the net all night long, and actually failed to capitalize on more point-blank chances than St. Louis.
Another thing people look at when determining if a team stole a game or not is the "luck vs. deliberate" factor. Did a team score on lucky bounces or well-executed shots?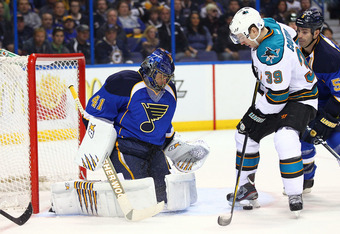 Dilip Vishwanat/Getty Images
Let's look at the five goals scored in this game. The first came on a Sharks' power-play. Dan Boyle skated beautifully as he always does with open space, distracting the defense with stick-moves while looking for a shooting lane. He found it, and put the puck right by Jaroslav Halak's blocker-side. Martin Havlat was in perfect position around the net, and got his blade on Boyle's shot after it passed Halak but before it got to the net.
St. Louis' first goal also came on a tip-play. The Blues started the third period with a dominant shift. 54 seconds in, Shark-killer Kevin Shattenkirk (2 G, 4 P, plus-2 vs. San Jose during regular season) fired the sixth of his 11 shots at the net. Patrik Berglund was parked right in front of Niemi, and redirected the puck over Niemi's right shoulder and into the net.
St. Louis' next goal came on the power-play. The Sharks penalty killers made the ill-advised decision to jump up into the play on a shot-handed bid, and the Blues broke out with numbers because of it. Alex Steen made a perfect pass to the trailing Berglund, who caught Niemi going the other way for his second goal of the game.
The Blues are always tough to play against, but when they have a late lead they are almost unbeatable. They are one of the best teams in the league at getting pucks deep and cycling lines, and they make it incredibly difficult for their opponents to move through the neutral zone. San Jose struggled mightily with this every time they met this season.
Despite St. Louis' lead-protecting prowess, the momentum they had built off of two third period goals and their home crowd, the Sharks pushed back. It was San Jose's grittiest, hardest-working line—Tommy Wingels, Anrdew Desjardins, Daniel Winnik—that eventually got the equalizer. Wingels drove the net hard with the puck, and Desjardins crashed just as the puck came out in front to slide the puck through Halak's five-hole.
St. Louis controlled the first overtime, but nobody could get one past either goalie. In the second OT, San Jose came out the more energized team. San Jose's second line of Martin Havlat,Logan Couture and Ryane Clowe delivered an awesome shift in which they seemingly decided "we're gonna end this game."
They worked off or each other until a perfectly executed cycle-play opened up Martin Havlat in the slot. Couture set a pick (good bet they wouldn't call it in double-OT), Clowe found Havlat and Martin put the puck right between Halak's legs.
Perhaps the most important factor for determining if a team "stole" a game or not is goaltending. Even if one team outplays the other, certain goalies will simply not be beaten on certain nights.
Niemi certainly dominated this game, and certainly outplayed Jaroslav Halak when it mattered most. Both goalies gave up one that they could have stopped (St. Louis' second and San Jose's winner), but neither was a soft goal. Halak did stymie the Sharks on many great chances, but the Sharks also blew some juicy rebounds that Halak allowed.
Niemi, on the other hand, did not give St. Louis any gaping nets, at least none that he couldn't cover. Alex Pietrangelo had an excellent chance late in the second when the puck came through the middle and Niemi seemingly had no time to get across. But Pietrangelo caught the puck on the backhand, and by the time he moved it to his forehand, Niemi got his pad across. Still, Pietrangelo elevated his shot, and Niemi had to make a remarkable glove save to deny him.
Yes, Niemi was right up there with Havlat for the biggest reasons San Jose won this game, probably ahead of him. However, Niemi did not steal the game. He didn't stop a ton of great St. Louis chances while San Jose got nothing at the other end. His defense played well in front of him, and his veteran teammates up front were able to execute the best shift of the entire game when it mattered most.
San Jose won this game with goaltending, defense, playing within themselves, grit and experience.
The Blues could certainly defend home ice from here on out, get one or two in San Jose and win this series. But if they do, they better get tougher in front of the net, get more from all of their lines and find a way to contain San Jose's best playoff performers, because the Sharks didn't steal Game 1 from the Blues—they beat them.