Fantasy Baseball Rankings 2012: 10 Hitters You Must Snatch off of Waivers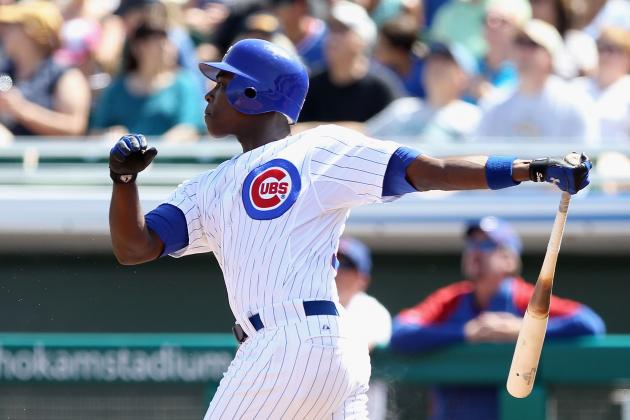 Christian Petersen/Getty Images

If you're in a 10-team league and need some added depth to your lineup, you're in luck.
With so many big name players off to slow starts this season, fantasy owners are looking to improve their offensive categories by rummaging through the free agent pool and waiver wire.
While it's still too early to tell who's a pretender and who's a contender, it is pretty obvious to see who's currently producing and can immediately bolster your lineup.
Here are 10 hitters who are still available in my ESPN league and are worth picking up for your lineup:
Begin Slideshow

»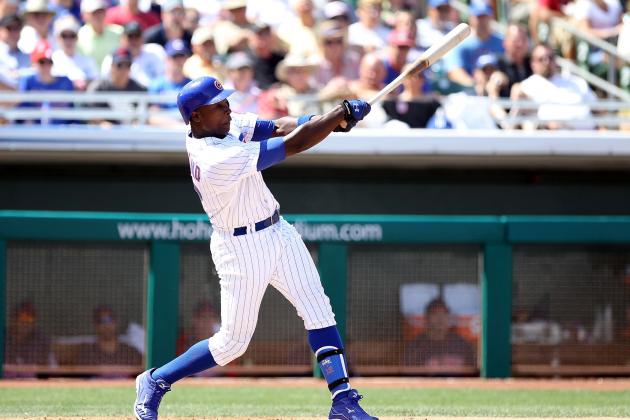 Christian Petersen/Getty Images

H/AB: 7-23 (.304)
R: 1
HR: 0
RBI: 6
SB: 1
Don't let the average fool you—it will go down.
His stats are somewhat reversed from what we normally see, with high home run totals and a low average.
While Soriano hasn't found his power stroke just yet, he should be good for at least 20 homers and 55-plus runs.
If you're looking to increase your home run total, here's your man.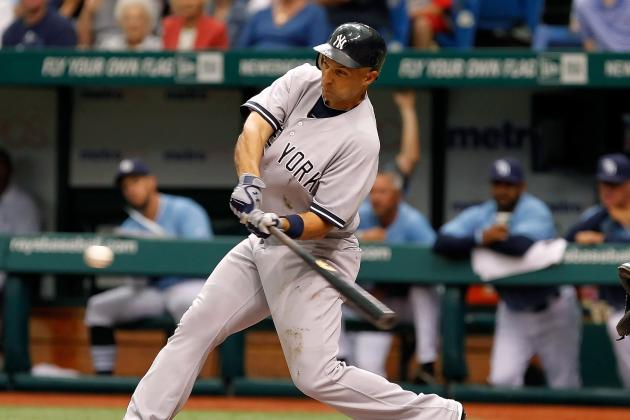 J. Meric/Getty Images

H/AB: 3-15 (.200)
R: 2
HR: 1
RBI: 6
SB: 2
Raul Ibanez will fill the DH role for the Yankees against right-handers, and will occasionally play outfield as well.
He began to heat up towards the end of spring training and has somewhat carried that into the beginning of the regular season and is making the most of his opportunities in New York.
Ibanez should see a steady diet of playing time against righties and should provide you with at least 20 dingers and 70 RBI by season's end.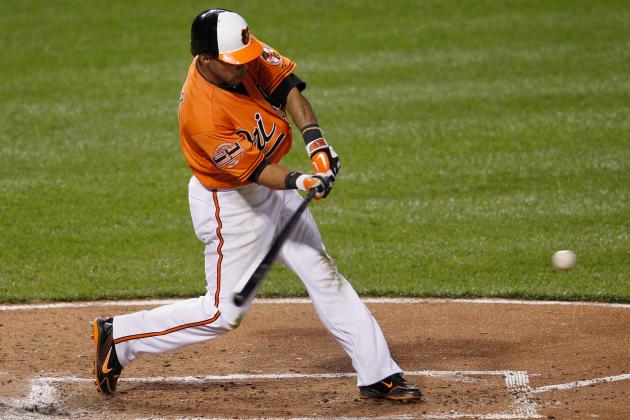 Rob Carr/Getty Images

H/AB: 7-22 (.318)
R: 3
HR: 0
RBI: 4
SB: 0
Robert Andino is playing well above his potential right now, posting an above projected average so far this season.
I would suggest taking advantage of Andino during his current hot steak before it runs out—plus you get the added benefit of putting him in at 2B, 3B and SS.
He's a guy you're probably not going to have on your team come September, but I see no reason not to pick him up for the time being until he slows down, which he will.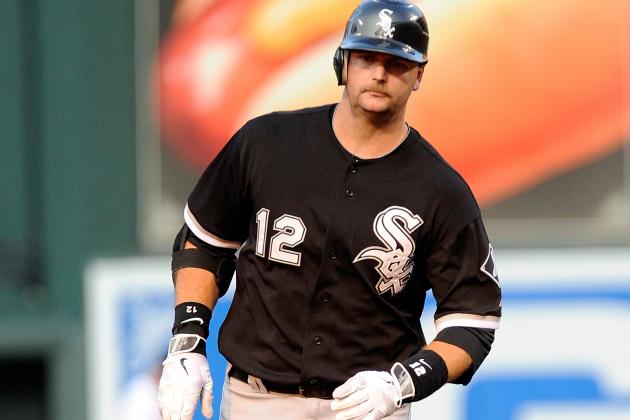 Greg Fiume/Getty Images

H/AB: 5-16 (.313)
R: 2
HR: 2
RBI: 6
SB: 0
Like Andino, A.J. Pierzynski is playing well above his potential right now, so reap the benefits while they last.
His last two games have seen him go 4-8 with two home runs, six RBI and two runs scored.
Pierzynski could serve as a decent backup catcher who will provide below average power but a decent average.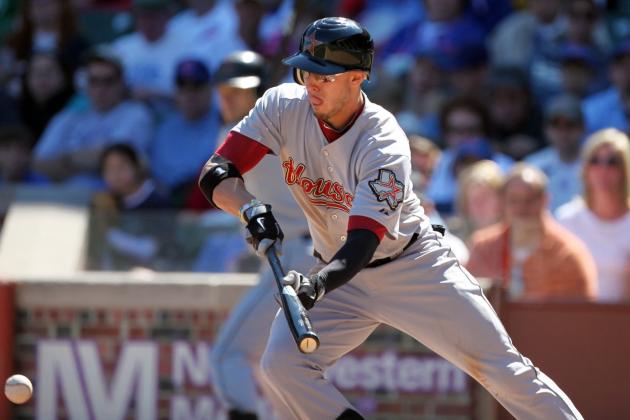 Tasos Katopodis/Getty Images

H/AB: 8-23 (.348)
R: 5
HR: 1
RBI: 2
SB: 3
Jordan Schafer is playing extremely well of late, collecting at least one hit in his last five games.
Though all three of his stolen bases came in the same game, it's obvious that Schafer possesses the speed and potential to boost your SBs.
He swiped 22 bags last season and has shown a nice mixture of speed and contact in the early going of 2012.
Grab him while he's hot and available.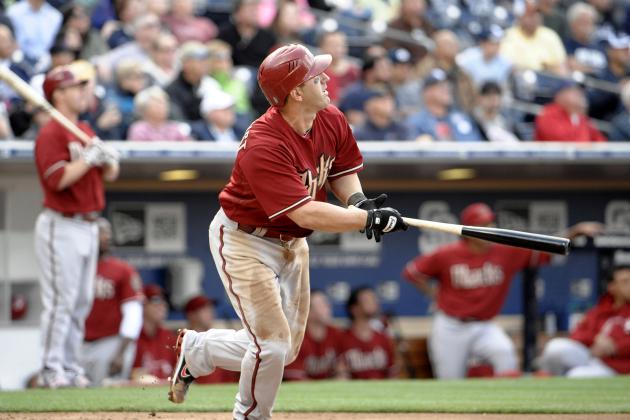 Denis Poroy/Getty Images

H/AB: 8-22 (.364)
R: 5
HR: 0
RBI: 0
SB: 2
Speedy Willie Bloomquist is off to a great start in 2012, scoring a run in each of his last five games.
Don't let his average fool you, as he's a career .265 hitter.
But he did steal 20 bags last season at the age of 33, and is projected 16 in 2012—though I think he's good for at least 20 again.
If you're looking to bolster your runs and SBs, grab Bloomquist while he's producing.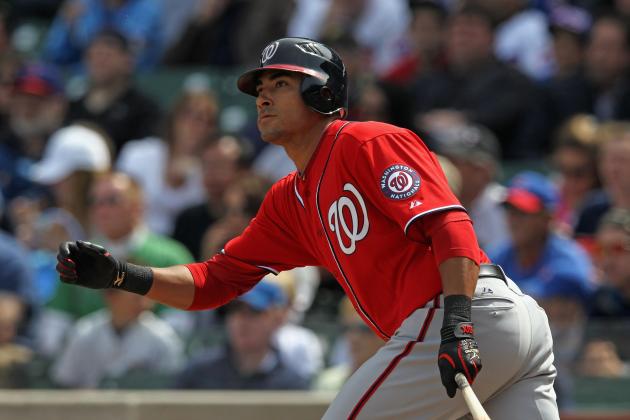 Jonathan Daniel/Getty Images

H/AB: 13-32 (.406)
R: 6
HR: 1
RBI: 2
SB: 1
Ian Desmond has arguably been the best fantasy shortstop thus far in 2012.
He has the most hits and is tied for the most runs scored by all shortstops, and has hit safely in five straight games—highlighted by three consecutive multi-hit performances during his last three games.
ESPN is projecting a .248 average out of the shortstop, but given what he's shown already, he very well may exceed that mark—especially given the fact that he's a career .266 hitter.
If you're looking to boost your batting average and runs, pick up Desmond.
You may find a diamond in the rough.
Rick Yeatts/Getty Images

H/AB: 9-28 (.321)
R: 3
HR: 1
RBI: 6
SB: 1
If you're looking for immediate, short term help, pick up Kyle Seager.
He's getting the playing time with Mike Carp out and may be sent back down to the minors once he returns, but for now, he's producing.
He's boasting three extra-base hits and a team-leading six RBI, as well as five hits in seven games and three multi-hit performances.
The Mariners will have a tough decision to make in another week or two, but you shouldn't as an owner.
Pick up Seager for next week's matchup.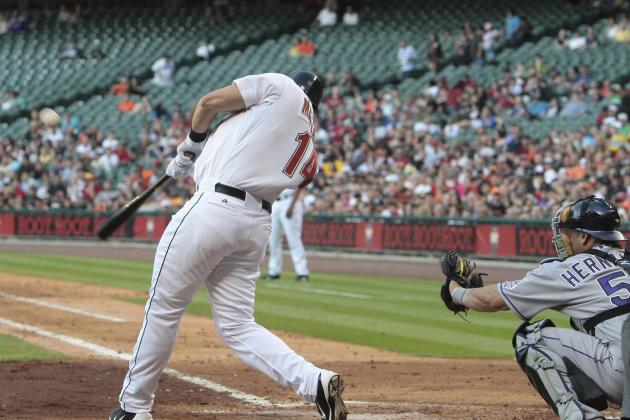 Bob Levey/Getty Images

H/AB: 8-22 (.364)
R: 3
HR: 2
RBI: 6
SB: 0
With hits in all six games played this season, J.D. Martinez is certainly a valuable pick up option in the outfield.
He certainly proved last season that he's a solid player—collecting 57 hits in 53 games—and has shown to be concrete again in 2012.
His average will obviously sink, but ESPN projects him to hit .285 to go along with 74 RBI, making him one of the best pick ups in 10 team leagues.
J. Meric/Getty Images

H/AB: 6-22 (.273)
R: 2
HR: 1
RBI: 2
SB: 0
I can understand why he's available, given the injury that sidelined him for most of the 2011 season.
And although he's off to a slow start, Justin Morneau still has the potential to be a viable fantasy option.
From 2006-2009 a healthy Morneau drove in 100 or more runs and 23 or more homers.
He'll be in the DH slot a lot this season, allowing him to solely focus on his offense.
Once he gets going, you'll regret not picking him up.
Follow Pete Schauer on Twitter @Pete_Schauer