Texas Rangers Must Heed Warnings of Pujols Saga When Dealing with Josh Hamilton
May 16, 2012
Rick Yeatts/Getty Images
Josh Hamilton, currently considered by many to be the best player in Major League Baseball, is in the midst of an incredible run to begin the 2012 season.
Already the batting champion and AL MVP in 2010, the sweet-swinging outfielder has elevated his game considerably for the Texas Rangers over the first six weeks of the campaign.
Leading the American League in nearly every offensive category, Hamilton actually sits ahead of all big league hitters in most major statistical evaluations, aside from batting average and on-base percentage.
Despite hitting .402 through this point, he somehow trails David Wright, who is off to a tremendous start himself, pacing everyone with a .408 average. Wright also leads baseball with a tremendous OBP of .497, getting on base at a clip reminiscent of Ted Williams. 
Hamilton leads MLB with 18 home runs, 45 RBI, an astounding .848 slugging percentage and a 1.305 OPS. His 112 total bases rank first in baseball, as does his unthinkable OPS+ of 240.
He shocked the baseball world last week when he crushed four home runs and a double in a home victory over the Orioles, earning 18 total bases and falling short of the all-time record by one. With his quartet of round-trippers, Hamilton tied the MLB record and became only the 16th player in history to accomplish the impressive feat.
Simply put, Josh Hamilton is wreaking havoc on opposing pitching staffs in 2012.
His production thus far has fans and media observers alike dreaming of shattered records and potentially historic statistical totals.
Though the season is still less than a quarter of the way through the schedule, Hamilton is on Triple Crown watch, with his supporters expecting him to become the first player to lead his league in average, home runs and RBI since Carl Yastrzemski did so for the Red Sox in 1967.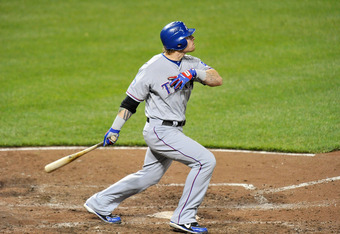 Mitchell Layton/Getty Images
The timing of Hamilton's scintillating surge couldn't be more fortuitous for the player himself.
A free agent following this season, Hamilton will potentially test the market for the first time in his big league career. If the Rangers don't extend his contract beyond the end of 2012, Hamilton will easily be the premier free agent available, and will undoubtedly earn significant attention from teams vying for his superstar-caliber talents.
This situation has led many around the game to echo a familiar refrain.
Calls for the Rangers to "give him whatever he wants" or to "do whatever it takes to keep him in Arlington" have come from various segments of fans and baseball pundits.
Of course, on the surface, it seems unthinkable that Texas could even consider letting Josh Hamilton walk away, taking his explosive game elsewhere. An incredibly popular player who has helped usher in a new era of success for the franchise, Hamilton is nearly irreplaceable.
Long-renowned for his prodigious baseball talents, Hamilton may be fully realizing his immense potential, just in time to cash in with a colossal deal as a free agent.
However, should the Texas Rangers tie themselves into a massive, long-term contract in order to retain their popular slugger?
Conventional wisdom says, of course you do what you can to keep him. Five-tool talents that play with the passion that Hamilton does are rare finds—types you can't simply replace. There is little to debate about that.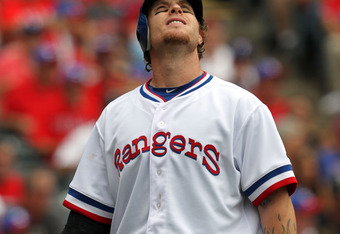 Layne Murdoch/Getty Images
There are however, significant considerations to make when contemplating Hamilton's long-term future as a Texas Ranger.
Inevitably, Hamilton's past as a serious addict surfaces in this conversation.
It's impossible to ignore, no matter how confident one is of the man keeping his demons at bay. The knowledge that he was once out of the game for three full years and nearly quit altogether due to a difficult battle with addiction will haunt the man for as long as he lives. His two relapses in the last three years only serve to underscore that fact.
This isn't about that angle, however significant it may be.
Nor is it about Hamilton's inability to stay healthy, despite the obvious importance of such a factor when considering the long-term future of an athlete.
This is about Albert Pujols and the St. Louis Cardinals.
No, I'm not talking about Pujols' wretched start to the 2012 season with the Los Angeles Angels of Anaheim. 
What I'm referencing is the highly similar situation that Pujols was in following the 2011 season.
Just after winning the second World Series of his career with the Cardinals, Prince Albert became a free agent and entered the offseason as baseball's most coveted player available.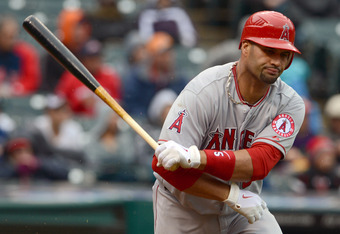 Jason Miller/Getty Images
Pujols had been a career Cardinal, produced a legendary run in St Louis, winning two World Series titles and three NL MVP awards. 
His influence in St. Louis was unquestionable, as was his value to the franchise. Prior to 2012, Pujols had been widely recognized as the best player in all of baseball and is one of the greatest right-handed hitters in the history of the game.
After 11 years of nearly-unprecedented success in St. Louis, imagining Pujols in another uniform was nearly unthinkable. 
In fact, throughout 2011, we heard the exact same things about Pujols' long-term future with the Cardinals as we are currently hearing about Hamilton in Texas.
Heard often last season were sentiments such as, "The Cardinals have to do whatever it takes to keep Pujols," and "You can't replace Pujols, give him whatever he wants, he's worth it." 
With a resume as impeccable as that of Pujols and two World Series titles during his career, it may have been difficult to argue with such opinions. St. Louis had experienced great success during the slugger's reign at Busch Stadium.
Predictions for life in St. Louis post-Pujols were dire.
There is no replacement for a .328 career hitter that averaged 40 home runs and 121 RBI over his 11 seasons as a Cardinal. Not only was he a tremendous hitter, but a fine defensive first baseman, a quality man and a leader in the clubhouse.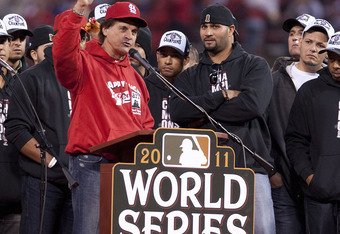 Ed Szczepanski/Getty Images
Aside from a difference in defensive position, that sounds a lot like Josh Hamilton.
Pujols though, was even more deeply entrenched in St. Louis than Hamilton is in Texas. The thought of him playing elsewhere didn't even seem possible to many. 
Once the afterglow of winning the 2011 World Series subsided, the Cardinals and their loyal fanbase faced a difficult, new reality.
Failing to extend Pujols' contract when he imposed a Spring Training deadline which would halt negotiations prior to the 2011 season, the Cardinals knew it would be an expensive battle to retain their star slugger.
When a bidding war ensued after the season, the Cardinals tried valiantly to keep Pujols in St. Louis, but their efforts eventually fell short as he was lured west by a ten-year, $240 million deal with the Angels. The massive deal broke hearts in St. Louis and cast a pall over the franchise whose immediate future now appeared grim. 
Fast forward to 2012.
In Anaheim, Pujols is currently languishing below .500 on an underachieving Angels club and is still trying to remember how to hit even as the calendar approaches June. 
Off to the worst start of his career, Pujols looks nothing like the three-time MVP destined for Cooperstown that he was during his time in St. Louis. In 36 games as an Angel, Pujols is hitting .212 with one home run, 14 RBI and a .536 OPS.
Few could have imagined this.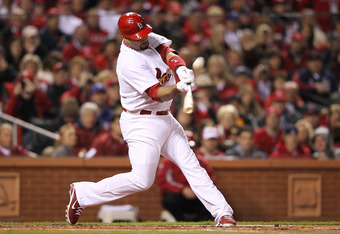 Jamie Squire/Getty Images
However, some will point to his drop-off in production last year, when he produced the "worst" season of his Hall of Fame career. Though he still hit .299 with 37 home runs and 99 RBI, across the board, his numbers were down from his own lofty standards.
Some considered it a warning sign that the once-invincible slugger had entered his inevitable decline phase.
Still, the Angels lavished an unbelievably rich contract upon him, ignoring any warning signs or concern over the length of a 10-year deal. They were determined to make a splash and they did.
Hamilton's career is littered with warning signs of various types, but many will attempt to see past those in an effort to lure an elite talent to their franchise. 
Though their is no decline in Hamilton's on-field production as of yet, evidenced by the reign of terror that he has recently unleashed upon American League opponents, it should be noted that the Texas star turns 31 next week. Any new deal that he signs for next year and beyond will be started just shy of of his thirty-second birthday, very similar to Pujols who turned 32 prior to the 2012 season.
At an age generally considered to be the tail end of a baseball player's prime, Hamilton will likely receive a king's ransom for far too many years. Whichever team gives him such a deal will be choosing to live dangerously, just as the Angels did. Similar to the way the Yankees did with A-Rod and Teixeira, the Reds did with Votto, Detroit with Fielder and various other teams with different players.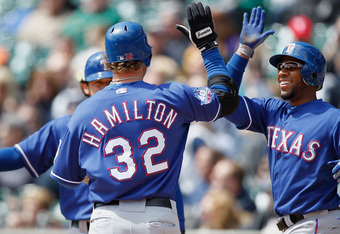 Gregory Shamus/Getty Images
It may be the Rangers, but it could be any number of teams that will give Josh Hamilton a massive deal that they will likely live to regret.
Don't the Rangers have to "do whatever it takes to keep him?" Isn't he so talented and integral to their team's success that they must "give him whatever he wants?" 
We heard all the same things about Pujols last year and with good reason.
However, consider this:
Following the departure of their star first baseman and the end of an era which many predicted would doom the Cardinals to immediate mediocrity, St. Louis is sitting pretty.
They currently lead the NL Central by 2.5 games, owning the third-best record in the National League.
Without the imposing figure of Pujols in the heart of their lineup, St. Louis is the highest-scoring club in the NL and leads their league in home runs, batting average, on-base percentage, slugging and OPS. In all those categories aside from runs and home runs, they lead the NL by a fairly wide margin.
By the way, they also saved themselves the $240 million that signing Pujols would've required.
In doing so, they were able to bring Carlos Beltran to St. Louis on a reasonable two-year deal for $26 million. Beltran has been a revelation, leading the NL in home runs and trailing only Andre Ethier by one in the RBI race.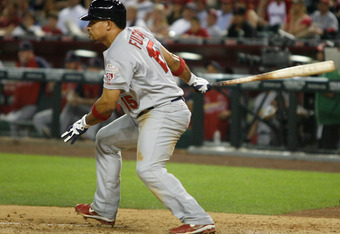 Ralph Freso/Getty Images
St. Louis also retained shortstop Rafael Furcal, a late-season acquisition last year. The veteran signed a two-year, $14 million deal to stay with the club and has been revitalized, hitting .359 through the first month-and-a-half. 
The lesson is that baseball is not a one-man sport. If you construct your team properly, you can cope with the departure of a superstar. This isn't the NBA, where the departure of a star player could potentially devastate your organization for years to come—Cleveland's Cavaliers immediately spring to mind.
Fortunately for Texas, they are not a one-man show. Although Josh Hamilton is an immensely talented baseball player, he is certainly no lone Ranger. They have a deep offense, a talented defense and a pitching staff loaded with quality arms.
The temptation to keep Hamilton in Arlington is certainly strong, but emotions shouldn't override good sense.
If it's going to take upwards of eight years and $200 million to retain the slugging star, the Texas Rangers might be best served looking for inspiration from the Cardinals.
Sure, the Rangers might want nothing to do with St. Louis unless it means a chance to avenge the World Series loss that the Cardinals handed them in 2011.
However, if Texas needs a blueprint for how to survive the loss of a beloved superstar and critical piece of their team, they need look no further than their nemesis from last season.
With a few savvy, club-friendly deals and a well-constructed team, the loss of Albert Pujols didn't devastate the St. Louis Cardinals and they now sit atop their division with a wad of cash in their pockets that they wouldn't have had if negotiations had turned out differently.
As difficult as it may have been to say goodbye to Pujols, baseball hasn't skipped a beat in St. Louis. The team is hitting, they're winning and the Cardinals are averaging over 42,000 fans in attendance, third in all of baseball, behind only the Phillies and the Rangers.
A similar scenario could play out in Arlington if the bidding war for Hamilton spirals out of control.
Sure, they'd like him to stay, but at what cost?
Texas could choose to let another team pay Hamilton to get old and fall apart, while they continue to build the well-rounded club that they have in recent years.
It doesn't have to end the same way.
Hamilton could be reasonable and stay for a contract that doesn't reach into the realm of the absurd. If he could be persuaded to stay for a deal in the neighborhood of five or six years and $125-150 million, I'd do it in a heartbeat. Hamilton is a great player, person and a fantastic story of redemption and perseverance. 
However, if it becomes clear that another team is willing to overextend themselves in order to make a big free agent splash with a ludicrous deal for Hamilton, go ahead and let them.
Simply remember that we've seen this play out before, and we're currently witnessing it again.
Ask St. Louis right now if they wish they had spent wildly to keep Pujols in a Cardinal uniform.
I bet you $240 million I know the answer.