2012 Fantasy Football Sleeper: Why the Law Firm Can Save You
April 13, 2012

Al Bello/Getty Images
When NFL free agency began, there were rumors of the Cincinnati Bengals pursuing some of the bigger name free agent running backs. With some linking Michael Bush, Mike Tolbert, Peyton Hillis and even Ryan Grant to the Bengals, few expected the Bengals to sign BenJarvus Green-Ellis. Now that they have, we think he will be a great fantasy football running back sleeper pick. 
The Bengals have a promising future on the offensive side of the ball with AJ Green and Andy Dalton emerging as playmakers in their rookie campaigns. The youth movement on offense hinted that the Bengals would prefer a younger back.
While some will argue that Bush (27) has a longer shelf life because of reduced carries in his career (632), Green-Ellis (26) was actually one of the youngest available free agents with any real promise of being able to start in the NFL.
The Bengals and offensive coordinator Jay Gruden probably thought there was a more glaring need than youth at the position, however. Despite continuous support from the coaching staff and front office, Bernard Scott has yet to live up to expectations in Cincy.
The hiring of Gruden may have even sealed his fate, as the new offensive system requires running backs to excel at pass blocking.
Scott has always struggled with picking up pass-blocking schemes since entering the league in 2009, and while he did see an increase in attempts and receptions last season, all expectations are that his role will reduce with BGE in Cincy.
Green-Ellis had his fair share of experiences pass-blocking in New England. That experience should automatically propel him to the top of the depth chart.
While Gruden has been coy about who will be the starter, according to Bengals.com, head coach Marvin Lewis says he envisions Green-Ellis as an every-down back.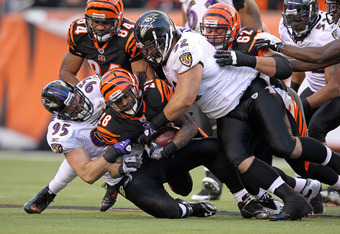 Andy Lyons/Getty Images
When speaking with Joe Reedy of the Cincinnati Inquirer, Lewis gave a glowing review of Green-Ellis saying, "His versatility, His ability to catch. To protect…. He does it all. He makes people miss. He's shown the versatility to do all the things you're looking for in that guy and he can be a three-down player if he needs to be."
Essentially Lewis is saying that BGE will be given every opportunity to be a full-time back, and Scott has every opportunity to ride the bench. While a splitting of carries may be how the Bengals start the season, we expect BGE to take over as a full-time back by season's end.
While working in a rotation in New England and obviously working more as a pass protector than running back, Green-Ellis' fantasy value was never very high. Coming on strong as a touchdown scorer these last two seasons, Green-Ellis has eclipsed the 1,000-yard mark once (1,008-rushing-yards in 2010).
Green-Ellis became expendable in New England after the Patriots drafted Stevan Ridley and Shane Vereen last season, but the former Patriots back has actually gotten stronger since his rookie season in 2008.
Green-Ellis should see anywhere from 15-20 carries per game depending on how confident the Bengals are in their passing game. Looking at his career averages and how Cedric Benson was used in Cincy last season, Green-Ellis could project to around 11 touchdowns and 1,150 rushing yards in 2012.
Of course, this would mean he would have to stay healthy all season and the Bengals would need to give him around 280 carries.
The numbers look great on paper, and would make Green-Ellis a great value if his average draft position is similar to his or Benson's ADP last season (65 and 68, respectively). The numbers projected would have made BGE a top 10 fantasy back in 2011 and, if given the opportunity, the new Cincy running back could fit that bill in 2012.
Of course, these are just projections, and considering BGE faces the 10th toughest strength of schedule for fantasy running backs, there will be skeptics. Still, the Bengals will likely draft an interior lineman in the first round of this year's NFL draft and improve their run-blocking in 2012.
Considering how versatile and intelligent BGE is as a football player, we stand by our prediction of BenJarvus Green-Ellis being a great 2012 fantasy football sleeper running back.
Related Articles:
-          2012 Fantasy Football Sleepers
Nick Sero is a columnist for TheSportsCannon.com, an NFL News and Fantasy Football Advice website. You can follow TSC on Facebook and Twitter, or email them for fast and FREE Fantasy advice.