Fantasy Football Sleepers: Can the Bills Defense Win a Championship?
April 13, 2012

Bob Levey/Getty Images
The Buffalo Bills have shown signs of improvement in the past, but ask a native Western New Yorker and they would probably tell you they'll "believe it when they see it."
Now, however, it looks like the Bills may finally be making a turn around and could have a surprising fantasy football sleeper candidate.
After starting the 2011 NFL season with a hot 5-2 record, the Bills dropped seven in a row allowing an average of 32 points per game. For the season, the Bills allowed the 30th most points per game (27.1) and were in the bottom seven in yards allowed. While those numbers seem daunting, the Bills still were near the top half of fantasy defenses in 2011.
Ranked 17th overall in our fantasy defense rankings, the Bills had some better fantasy showings because of their 20 interceptions on the year. The Bills takeaway numbers will surely only improve with the recent additions of Mario Williams and Mark Anderson, however.
Any cornerback worth his salt will tell you that a secondary's best friend is a pass-rushing offensive line. Despite racking up the second most interceptions in the AFC in 2011, the Bills featured the league's 27th ranked pass-rushing defense with only 29 quarterback sacks.
Obviously the Bills realized they needed to make a stand and had to add some pass-rushing specialists if they wanted to be able to sustain a run to the playoffs—especially in a division featuring Tom Brady.
After an injury-shortened season that saw him standing up as outside linebacker, Mario Williams signed with the Bills and will again play defensive end in their 4-3 scheme. 
Playing opposite of Williams on the line will be former Patriot, Mark Anderson.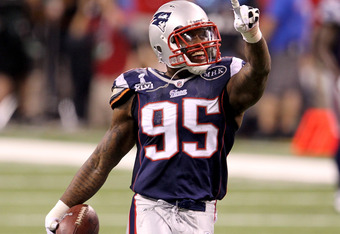 Andy Lyons/Getty Images
Mario Williams is heralded as the best defensive end in football, and rightfully so. He has totaled 53 sacks in just 82 games. Anderson could be the wild card of the Bills' recent signings.
Having his first productive year as a pass-rushing defensive end since a breakout rookie year in 2006, Anderson will look to salvage a career that started with real promise. Mark Anderson will likely be a starting DE for the Bills, but if he can't live up to his recent $20 million dollar contract the team could still turn to other options.
Shawne Merriman faced another setback to his tumultuous career when he had surgeries on his injured Achilles and shoulder. There is always the chance Merriman could once again become a devastating pass-rusher again, however. The Bills won't ask for the man once known as "Lights Out" to play linebacker in their 4-3 defense; instead, they'll look to ease him back in to play as a situational pass rushing defensive end.
The combination of Mario Williams and Mark Anderson immediately make Buffalo's defensive line arguably one of the best in football. At least, they appear to be one of the best on paper.
Kyle Williams (BUF) was a key factor in recruiting Mario Williams to Buffalo and should also see a revival from injuries. Williams played only five games last season due to a foot surgery that prevented a tear in his Achilles. Before being placed on IR, however, few argued he was the Bills best defensive weapon.
When Williams did go on IR, the Bills had the luxury of being able to move first-round pick Marcell Dareus in to the middle. Despite playing a few positions and missing some time for injuries of his own, Dareus ended a promising rookie year with 5.5 sacks and should only improve with the added skill around him.
Whether or not you agree the Bills have the best defensive line in football, you can't argue they have the most expensive. With over $180 million wrapped up in four very promising pass rushing defensive lineman; the Bills seem to be "all-in" on fixing their defensive woes.
Will the addition of Anderson and Williams be enough to catapult the Bills' defense into a top fantasy ranking? There is certainly the chance, though it isn't likely with the San Francisco 49ers, Houston Texans, Baltimore Ravens, Chicago Bears and Pittsburgh Steelers competing for the top five spots. 
While more free-agent signings and inevitable draft picks will change the landscape of the NFL, the Bills defense does not face an overly difficult schedule in 2012. In our most recent fantasy football strength of schedule calculations, we found the Bills to have the 10th easiest schedule for fantasy defenses this season.
While there are multiple variables to this situation—like how long the new defensive additions will take to find their grooves and what new weapons they could be facing on the other side of the ball—there is reason for hope in Buffalo. And if you're not a Bills fan but don't get the chance to draft a perennial top fantasy defense, don't forget about the Bills.
2012 could be the year for a top-10 finish for the fantasy football sleeper, Buffalo defense.
Related Articles:
-          2012 Fantasy Football Sleepers
Nick Sero is a columnist for TheSportsCannon.com, an NFL News and Fantasy Football Advice website. You can follow TSC on Facebook and Twitter, or email them for fast and FREE Fantasy advice.