Why 3 NL East Teams Will Make Playoffs: Early Results and Rotation Predictions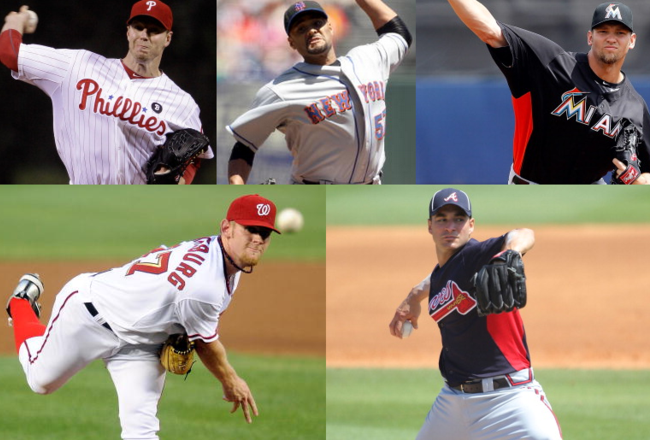 Ezra Shaw/J. Meric/Greg Fiume/Marc Serota/Getty Images

The Philadelphia Phillies look to be the big dogs in the National League East again this season. However, the talent in the starting rotations of the other teams in the division can keep these five teams close all year.
A week into the season and the NL East has two of the top five rotations in baseball based on starting pitchers' ERA. The Phillies are first with a 1.67 and the Washington Nationals are fifth, boasting a 2.41 ERA.
As far as strikeouts are concerned, the New York Mets' starting staff leads all of major league baseball with 37 and right behind them are the Nationals with 36.
This division is one of the best in baseball, and all five of these teams are good enough to make the playoffs in 2012.
The Nationals have drastically changed their pitching rotation for the better, as did the new-look Miami Marlins. The Atlanta Braves have a solid staff as well with young, dominant arms, and the New York Mets can have a viable starting staff if Johan Santana can remain healthy all season.
From top to bottom, the NL East pitchers will shine in the league this year and are already proving it.
Philadelphia Phillies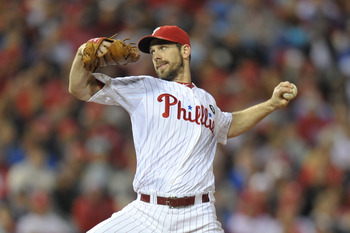 Drew Hallowell/Getty Images
The Phillies have the best rotation in baseball headed by Roy Halladay, who already is 2-0 and is the proud owner of a minuscule 0.60 ERA. Behind Halladay are Cliff Lee, Cole Hamels, Joe Blanton and Vance Worley.
Leaving Blanton out of the mix, the other four starters combined for a record 61-26 record last season. Blanton was limited in action and had a 1-2 record.
This stellar staff is only going to get better this season, as the veterans, Halladay and Lee, continue to dominate in 2012.
Lee is coming off of a career year where he went 17-8 with six complete-game shutouts. He also had 238 strikeouts in 232.2 innings while only walking 42. Numbers similar to this can be devastating to the rest of the National League.
Hamels is entering the prime of his career and started his season strong, striking out nine batters in 5.1 innings. He is on his way to another dominating year.
Worley is young and will only continue to get better learning from the aces that he pitches behind.
They are early favorites to be the best in this division but perhaps not by as large a margin as many believe. The other teams in the division are drastically improving and creating formidable staffs of their own, led by the Nationals.
Washington Nationals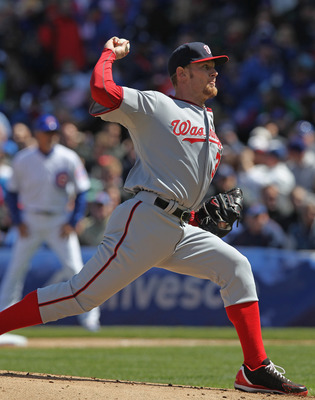 Jonathan Daniel/Getty Images
The Nats are quickly becoming a Cinderella story in the young MLB season. Despite battling injuries to Michael Morse and Drew Storen, they have managed multiple come-from-behind road wins that began in the eighth inning with a walk-off victory in their first home game. All of this would not have been possible if not for their elite starting pitching.
Their rotation begins with their ace, Stephen Strasburg, who, if not for an innings limit this year, would compete for the NL Cy Young. Strasburg has began the year red hot, only allowing one run on seven hits in 13 innings while striking out 14.
Gio Gonzalez is the Nats' new weapon. He was the No. 1 guy in Oakland and now will look to prosper as the second ace of this staff. In 10.2 innings this season, he has a 13 strikeouts and three walks allowed.
The X-factor for the Nats is Jordan Zimmermann. He was on a strict innings limit last season, but he's not limited this season, and he's poised to have a breakout year. In his first start of the season, Zimmermann gave up one earned run in seven innings while striking out four and walking none.
Edwin Jackson is the fourth man in the rotation who has the potential to have a solid year in the NL. He is also a new addition in D.C. this season.
Rounding out the rotation while Chein-Ming Wang is on the DL is Ross Detwiler. Detwiler is a 26-year-old who was great in his first start of the year, lasting five innings while only allowing two hits. He gave up no runs and struck out six batters. He is determined to force manager Davey Johnson to make a decision when Wang is ready to return.
The Nats' rotation can carry them to the playoffs this season and might be able to lead them over the mighty Phillies if they continue their dominance.
New York Mets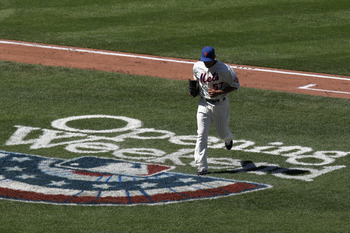 Nick Laham/Getty Images
The leaders in MLB for strikeouts from their starting staff are the New York Mets.
Their rotation hinges on the left arm of Johan Santana, who has been nothing short of phenomenal in his first two starts of the season. Santana has allowed one run in 10 innings while striking out 13 batters. His changeup is as good as it has ever been and if he can remain this dominant, the Mets will contend for a playoff spot.
The knuckler, R.A. Dickey, is second in the rotation and is coming off a 2011 which he compiled the most strikeouts of his career with 134. Dickey can pitch with anyone on any day as long as he has his knuckleball going for him.
Twenty-five-year-old lefty Jonathon Niese showed the league last season that he is a talented young pitcher who is on the rise. The Mets are hoping that Niese can be the future of their rotation and gave him a five-year, $25 million extension with club options for 2017 and 2018. He rewarded the Mets by taking a no-hitter into the seventh inning in his first start of the season.
The ultimate anomaly, Mike Pelfrey, continues to be a question mark for New York. He started the year strong, striking out eight batters in 5.2 innings. After an above-average 2010, Pelfrey unraveled in 2011, going 7-13. This year, he will try to find a balance and help the Mets.
Dillon Gee, another 25-year-old, is coming off his first full season when he finished 13-6 after starting 7-0. If he can lower his ERA and free passes a bit, then Gee can replicate these numbers and help the Mets significantly.
If New York can keep Santana healthy and have big years from their young arms, then they will be a viable contender for a wild-card spot in the NL.
Atlanta Braves
Chris Chambers/Getty Images
Despite a shaky start to the year, the Atlanta Braves feel as though they can contend with anyone in the National League.
Atlanta is led by Tommy Hanson, who is trying to rebound from an injury last season. In Hanson's first two outings, he only lasted five innings apiece but only gave up a total of three runs. Hanson is essential to the Braves' success this year as their young pitchers gain more experience.
Jair Jurrjens had a 2.96 ERA last season and hopes to replicate it this season.
Twenty-four-year-old Mike Minor is looking to have a breakout season in 2012. He had 77 strikeouts in 82.2 innings last season. If he keeps his strikeout rate high, he should have decent success in the NL East.
Brandon Beachy has some of the best talent on this ballclub. Last season, he pitched 141.2 innings and struck out 169. That strikeout rate will get this youngster far in the majors, and he'll try to keep it up this season.
Randall Delgado is filling in for injured the Tim Hudson in the beginning of the season. Delgado is only 22 years old but had a good first start of the season, throwing five innings while striking out six and giving up two runs. He will have to fill Hudson's void until early May when Hudson is expected to return.
The Braves have the talent to contend and are going to be among the top of the National League if their youngsters pull through for them.
Miami Marlins
Mike Ehrmann/Getty Images
The Miami Marlins made a ton of moves heading into the season, including hiring a new manager in Ozzie Guillen and making the additions of starters Mark Buehrle and Carlos Zambrano. Their rotation is a wild card but with a stellar offense, they are hoping it is enough to contend.
Josh Johnson is coming off a season where he only started nine games due to shoulder inflammation. He has some of the most talent in baseball if he can stay healthy.
Buehrle is pitching for the first time not as a member of the Chicago White Sox. He is a model of consistency, throwing over 200 innings and winning at least 10 games in 11 straight seasons. The Marlins are looking for some consistency, and Buehrle needs to be the rock of this rotation because the rest of it might waiver a bit.
Ricky Nolasco has shown signs of greatness at times but seems to always fall apart at one point or another through a season. He is coming off one of his worst seasons and needs to learn from Buehrle how to be more consistent.
Anibal Sanchez has yet to throw over 200 innings in his career but has had an ERA under 3.90 for three straight seasons. He struck out 202 last year in 196.1 innings while only walking 64. He can carry the Marlins and be a huge member of their rotation for years to come.
Zambrano was in serious need for a change of atmosphere and now finds himself in the toughest division in the National League. This is his chance to prove that he can do his talking from the mound and keep his emotions in check. He should be a sufficient No. 5 starter for the Marlins.
Take Care of Business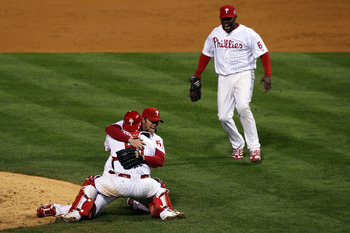 Jim McIsaac/Getty Images
At the end of the day, this division will be able to sweep the wild-card spots if its teams can survive the other rotations in the East beating up on each other throughout the season.
They will have to battle each other all season but as long as they handle the teams outside of their division, then all five teams can hold onto hope to play in October.
Maybe more teams will be able to join the Phillies from within the division in celebrating a trip to the playoffs.
Keep Reading

Philadelphia Phillies: Like this team?