Bobby Petrino and the Media Covering His Fall: Is There an Iota of Ethics Here?
April 13, 2012

Wesley Hitt/Getty Images
Bobby Petrino may not have an ethical bone in his body.
But then, the same could be said about some of the media covering this fiasco.
It is, indeed, ironic.
Many of the same media members who are congratulating Arkansas' athletic director Jeff Long for abandoning the "win at all costs" mantra to "do the right thing" have given little thought, it seems, to doing the right thing in their continued coverage of this train wreck.
We know this much: In the days after Petrino's firing, the Associated Press filed a public records request with Arkansas, seeking copies of Petrino's cell phone records for his university-issued cell phone, including text message and phone records.
The AP had the right to request those records, and the university—a public entity—was obligated to make them available.
But that does not make this latest attempt to keep this story alive the right thing to do.
In medicine, doctors adhere to the well-known Hippocratic Oath, which says essentially, "do no harm."
In journalism circles, a less well-known and certainly less adhered to oath is shared by those who respect the power of words and the damage they can do when used carelessly.
That oath is "minimize harm."
It's part of the Society of Professional Journalists code of ethics, and it comes down to this: Who gets hurt if we tell this story? And does the benefit to the public of knowing that truth outweigh that harm?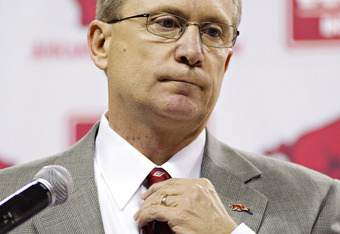 Wesley Hitt/Getty Images
So, we can tackle this first question first: Who gets hurt if we tell this story?
Well, clearly the latest crush of information that the AP unveiled makes Petrino out to be a bigger liar than before, so it hurts him. But, it's worth noting that the subject of your story being an unsympathetic figure does not mean you abandon all ethics in covering him. And it certainly hurts his family, causing yet more embarrassment and pain. And, it surely does not bode well for the young woman who was on the motorcycle with Petrino the day of the crash.
Next, we ask, does the benefit to the public of knowing that truth outweigh that harm?
For me, this is a no-brainer, as I cannot see any benefit of the public knowing the details of Petrino's texting and phone call history.
Prior to the release of Petrino's cell phone records he had already been fired. His affair with Jessica Dorrell was exposed. His $20,000 gift to Dorrell, the woman whom it appears Petrino placed in a job while the two carried on an affair, was revealed. The fact that he lied to cover up these facts had been all but confirmed beyond a reasonable doubt.
Releasing records documenting some 4,300 text messages and nearly 300 phone calls between Petrino and Dorrell will not change that, nor will it give the stakeholders in this event—namely the university, their ex-coach and his mistress—a deeper understanding of what went down.
It's just a gratuitous attempt to sell newspapers and garner Internet traffic.
And there's nothing ethical about that.